Dambuster Crash Sites - The Men Who Didn't Come Home
Posted on Friday 17th May 2013




By Chris Ward and Andreas Wachtel, extracted from Dambuster Crash Sites - 617 Dambuster Squadron Crash Sites in Holland and Germany and reproduced by permission of Pen and Sword Books Ltd.

Flight Lieutenant J V Hopgood - ED925, aj-m

Ostonnen, north-west of the Mohnesee.

At the time of his death John Hopgood was a mere twenty-two years old, and yet something of a veteran. A Londoner, he had passed out as a pilot at Cranwell on 16 February 1941.

A spell at 14 OTU at Cottesmore in Rutland followed, where F/L Nettleton checked him out for his Hampden solo. Nettleton, eleven months hence, would lead the epic daylight raid by elements of 44 and 97 Squadrons against the MAN diesel works at Augsburg, and be awarded the Victoria Cross as a result. In July 1941 Hopgood was posted to 50 Squadron to begin his operational career, and flew his first sortie to Bremen on 12 July as navigator to a F/O Abbott.

The fighter-style single-seat cockpit of the Hampden precluded a second pilot's position, and it became standard practice for the navigator/bomb-aimer's role to be undertaken by a qualified pilot. After operating once more with F/O Abbott, Hopgood carried out eight more Hampden sorties as navigator/bomb-aimer to a P/O Smith, before being posted to 25 OTU at Finningley at the end of October. While still with 25 OTU he began converting to Manchesters at Bircotes,and it was here that he came into contact with P/O Whamond, one of the future main stays of 106 Squadron. On 17 February 1942 Hopgood was signed off as a qualified Manchester pilot by W/C Lynch-Blosse, soon to be killed in action on his first sortie as commander of 44 (Rhodesia) Squadron. Hopgood was posted to Coningsby to join 106 Squadron, commanded at the time, as stated earlier, by W/C Allen. No 106 Squadron was already recognised as one of 5 Group's finest units, and over the ensuing year its reputation would flourish under its new commander. Hopgood's introduction to Manchester operations came as second pilot to Whamond on a mining sortie on 20 March, the day on which Gibson assumed command of the squadron. After two further operations as second pilot, he flew as captain of his own crew for the first time against Rostock on 23 April. No 106 Squadron was among the last in 5 Group to take on the ill-fated Manchester, but, thankfully, the type was approaching the end of its short period of service, and in May it was replaced by the Lancaster. It was Hopgood who saw Gibson safely through his conversion onto the type. Hopgood's first two Lancaster sorties were the thousand bomber raids against Cologne and Essen on 30/31 May and 1/2 June respectively. The former was an outstanding success, while the latter was an abysmal failure, but Hopgood came through both with flying colours. The remainder of his tour served to demonstrate his abilities, and it established his reputation as a first-rate pilot and captain. His press-on spirit ensured his status as a member of Gibson's inner circle, and the bond between the two men would prove to be fateful. Hopgood concluded his tour with 106 Squadron in October 1942 with a total of forty-six operations to his credit, and he was awarded the DFC on the 27th of that month. His next posting was to Station HQ Syerston in Nottinghamshire, where he carried out test flights in the new Hercules-powered Mk II Lancasters, and also instructed other pilots. This was followed by periods at the FIU at Ford and 148 5 Bombing Gunnery Flight at Fulbeck, where he flew half a dozen different types on various duties. He was awarded a Bar to his DFC on 11 January 1943. This sojourn ended on 29 March, when he flew to Scampton, and officially joined the newly formed 617 Squadron under Gibson on the following day.



A Luftwaffe officer stands amidst the shattered remains of John Hopgood's Lancaster near the village of Ostonnen a few kilometres beyond the Mohne Dam. Helmut Euler

On 16 May, John Hopgood took off with Gibson and Martin in a loose vic formation at 2139 hours. He was entrusted with the responsibility of acting as Gibson's deputy at the Möhne Dam in the event of Gibson's loss. As it turned out, Gibson survived while Hopgood did not. As the first to attack, Gibson had the element of surprise on his side. The German gunners realised they were the object of attention, but until Gibson's Lancaster thundered towards them, they didn't know if they were simply a navigation pinpoint or the intended target. They certainly had no inkling of how the attack would be pressed forward and from which direction. Gibson provided them with all the answers, and when Hopgood (as the second to attack) began his fourteen-second run across the lake towards the centre of the Dam at 0033 hours, the gunners knew what to expect. It wasn't the first time Hopgood had been fired upon that night. Flak batteries around Dülmen had scored hits, leaving the wireless operator, John Minchin, with a severe leg wound. Minchin unpacked his parachute within the confines of his cramped compartment and tucked it under his arm. He opened the hatch in the floor, and saw with alarm the close proximity of the tree-tops. Unless the chute opened instantly he was a dead man. He knelt at the edge of the aperture and as he rolled forward he sensed the silk being snatched from his grasp by the slipstream. The tail wheel whistled past his head as he tumbled, and then the canopy filled with air and arrested his fall. After the briefest descent he felt the hard earth meet him. Meanwhile, Tony Burcher had managed to extricate himself from the rear turret to reach his parachute. He was confronted with the sight of John Minchin crawling along the fuselage with a leg almost cut through. Burcher ensured his friend's parachute was firmly attached before pushing him through the rear door and holding onto the rip-chord. Sadly, it was in vain. Whether the gallant Minchin died as a result of his injuries or the fall is not known. Burcher strapped on his own chute and unpacked it as Fraser had done, then he plugged into the intercom to tell Hopgood he was leaving. Hopgood knew only seconds remained before the Lancaster tore itself apart, and he screamed at Burcher to get out. As the rear gunner stood in the doorway the aircraft was rent by an explosion as the fuel tank went up. Burcher was blasted into space and his back was hit a glancing blow by the tail plane. He landed heavily and was unable to walk, but he was alive. The shattered and burning remnants of the Lancaster fell out of the sky into a field at Ostönnen, six kilometres beyond the dam, and the bodies of Hopgood, Brennan, Earnshaw and Gregory were recovered by the Germans later that day.



tour guide
To find the crash site we travel along the A44 (E331) from the direction of Dortmund towards Kassel until reaching exit 56 (Soest/Mohnesee). At the junction we turn left onto the B229 heading towards Delecke/Mohnesee. We follow this road until reaching a large crossroads, at which we will see a sign for the Bismarkturm. Here the B229 is intersected by the B516. We turn right onto the B516 towards Werl. We follow the B516 as far as a roundabout, which is an intersection with the L745. We turn right onto the L745 in the direction of Ostonnen. We follow this road until shortly before an underpass leading back beneath the A44 (E331). A narrow right-hand turn just before the underpass takes us to a track on the left. We leave the car at this point and go on foot along the track towards the nearby motorway. After a few metres we come across a wooden post bearing a brass plaque. This is the closest convenient point to the crash site of Hopgood's Lancaster, which, it is believed, fell approximately where the motorway now stands.
Flight lieutenant w astell - ed864, aj-b
Near Marbeck, North of Raesfeld.
Earmarked to be S/L Young's deputy as A Flight commander at 617 Squadron, William (Bill) Astell was born in 1920 at Peover in Cheshire to an upper-class family. By the 1930s the family was resident in Chapel-en-le-Frith on the edge of the Peak District of Derbyshire.
Astell's father, Godfrey, was the managing director of J and N Philips, a textile company, which he ran from its main site in Church Street, Manchester. His mother's sister was a member of the Dundas family, whose sons (and therefore Bill's cousins) John and Hugh flew Spitfires during the Battle of Britain. John was killed, but Hugh survived to become the RAF's youngest ever Group Captain, and as Sir Hugh he became Chairman of the BET Group and Thames television during the 1980s.
The Astell family's affluence enabled Bill to travel extensively overseas to broaden his education and experience, and in 1936, at the age of sixteen, he sailed to Canada to visit relatives. He also took a trip to the White Sea in a trawler. He spent the end of 1937, most of 1938 and the first half of 1939 in Germany and France, and on his return to England he joined the RAF Air Reserve, undergoing training at an airfield in nearby Staffordshire. In September 1939 he was posted to Hastings to continue his training, before being posted to Salisbury, Southern Rhodesia, at the end of April 1940. He was awarded his wings in January 1941, passing out as a Pilot Officer, and he was immediately posted for duty in Malta. Before he had an opportunity to see action in the war, however, he was struck down by typhoid, and was forced to spend time first in hospital and then convalescing.
He finally joined 148 Squadron at Kabrit in Egypt in May 1941 and began operations as a Wellington pilot, attacking ports and landing grounds. A crash on 30 November left him with burns to his body, mostly his back, and cuts to his scalp and face, and although he did not consider himself to be seriously injured, he remained in hospital until February 1942. This was followed by a month's sick leave, which he spent in Kenya, before returning to duty with 148 Squadron and a new crew in March.
On the last night of May 1942, Astell took off to attack an enemy landing ground and failed to return, triggering the obligatory telegram to his family. Five days later Astell walked in to report being attacked by an enemy fighter over the target. Apart from wounding two of his crew, the engagement left his Wellington with an unserviceable rear turret and rudder controls, and a fire in the fuselage, starboard wing and engine nacelle. He ordered his crew to bale out, and four of them had time to comply before they ran out of altitude. Astell pulled off a crash-landing, and he and his navigator, P/O 'Bishop' Dodds, a former cleric, emerged from the wreckage with minor burns and began walking. After a few days a British patrol was spotted, and Astell moved forward to make contact, leaving his now ailing navigator hidden. He failed to make contact on this occasion, and was unable to relocate his navigator when he went back for him. Two days later Astell was picked up by Arabs and pointed in the direction of the British lines. He spent a few days in hospital in Tobruk, before being sent home via America, arriving back in England aboard the Queen Mary in September.
He was posted to Wigsley in Nottinghamshire, one of 5 Group's training stations, and also spent time at Hullavington and Fulbeck. Now with the rank of Flight Lieutenant, he was posted to 57 Squadron at Scampton on 25 January 1943 to undertake a second tour, this time on Lancasters, and it was here that he acquired his new crew. Operations followed to Milan, Nuremberg, Cologne, Berlin, Hamburg and Essen. After grabbing some sleep on return from the last mentioned on the night of 5/6 March, he went home on leave for what turned out to be the last time during his 57 Squadron service.
He returned to his squadron on 12 March and was posted to 617 Squadron on 25 March, not knowing what lay ahead. He managed one more spell of leave during the Dams training period, and while visiting his father at work, he accidentally ran into one of the secretaries, knocking her over and scattering papers over the floor. Picking her up he kissed her on the cheek, telling her he would see her on his next leave, with the prospect of that occurring after the operation for which they were preparing. All who knew Astell, particularly those of the
Astell's crew was fairly typical of those posted in as founder members of 617 Squadron, and it is interesting to delve a little more deeply into their individual backgrounds as representative of the squadron as a whole. Five of the crew had been together at 1654 Conversion Unit (CU) at Wigsley from October 1942 until their posting to 9 Squadron at Waddington two days before Christmas. They were navigator Floyd Wile, bomb-aimer Don Hopkinson, wireless operator Al Garshowitz and gunners Frank Garbas and Richard Bolitho. At Waddington they were teamed up with a Sgt Stephenson as their pilot, with whom they flew for the first time on Christmas Eve, carrying out circuits and landings. This association was not destined to last long, however, although Sgt Stephenson's disappearance from the scene is a little confusing. On the night of 8/9 January 1943 a 9 Squadron Lancaster failed to return from a raid on Duisburg, and Sgt Foote and his crew were all killed. Listed as the crew's flight engineer was Sgt M W Stephenson, who is assumed to be the pilot mentioned above. In 9 Squadron records, though, he is shown as a flight engineer, and not as a pilot flying as second dickey. There were seven men on board the missing Lancaster, not eight as was normal when a second pilot was being carried. Sgt Foote's regular flight engineer was not on the trip, and this leaves us with the conclusion that, if these Stephensons are one and the same, he must have volunteered to act as flight engineer at short notice. Had he survived, matters might have turned out differently for his former crew.



floyd wile
Floyd Wile was one of three Canadians in the crew. He was born in Nova Scotia in April 1919, the fifth of seven children. Following high school he worked on the land as a farm hand and in the lumber industry. He had shown an interest in radio during his youth and actually studied the subject for a year at technical school. He was also keen on sporting activities, particularly skiing, skating and swimming. Before enlisting in the RCAF he joined a local army unit in Yarmouth, Nova Scotia, but resigned after a month. At 5 Initial Training School he was noted as being slow thinking, hard working – the plodder type; while at No 8 Air Observer School he was described as average, with the comment, 'in no respect has he shown much aptitude for work'. Another report described him as a quiet lad, and backward through lack of experience in mixing. Three months later, however, his commanding officer at No 9 Bombing and Gunnery School called him outstanding and a brilliant trainee, who was very popular and had good self control. Despite this he passed out of No 2 Air Navigation School with a 'not outstanding, average NCO material' tag, but was commissioned as a Pilot Officer before leaving Wigsley in December 1942.

Abram Garshowitz
The other Canadians in Astell's crew were Abram Garshowitz (known within his family as Albert or Al) and Frank Garbas, who were great boyhood friends. Al was the ninth of twelve children, and was born in Hamilton, Ontario, in December 1921. He went to school locally, and afterwards worked in the family business selling new and used furniture. Frank Garbas was born in July 1922, ten years after his parents arrived in Canada from their native Poland. He was the fifth of nine children. Once in Canada the letter 'z' was dropped from the family name Garbasz, while his father became Stanley rather than Stanislaus. Even so, family life revolved around Polish traditions, religion and cuisine, and Polish was the dominant language spoken at home. Frank was a gentle, quiet person, who was very close to his mother, and also, as mentioned, to Al Garshowitz, with whom he played semi-pro American football with the Eastwood Lions before enlisting in the RCAF, having worked briefly for Otis, the elevator manufacturers.
donald hopkinson
Donald Hopkinson was born at Royton, Oldham, in Lancashire in September 1920 as a second child. Just four months later his mother died of cancer, and Donald went to live with his grandfather, and an aunt, uncle and cousin. After his father remarried, a half brother and two half sisters were added to his family. A keen cricketer, Donald attended grammar school in Royton, before working in the office of the local Co-operative Society. He enlisted in the RAF in December 1941.
richard bolitho
Richard Bolitho was born in Portrush, County Antrim, in January 1920, but was brought to England early on by his parents, who kept a hotel in Nottingham. Richard eventually moved in with his aunt, who ran a grocery shop in Kimberley, but after her death, his father sold the hotel and took over the shop. After attending school in nearby Heanor, Don worked for Ericcsons Telephones at Beeston, and enlisted in the RAF in November 1940.
john kinnear
The final member of the crew, flight engineer John Kinnear, did not become involved with Astell and the others until they had already carried out four operations with 57 Squadron. He was born in Fife, Scotland, in November 1921, and grew up to be a likeable, carefree young man who was mad about flying. He worked as a mechanic until he was old enough to enlist, and this he did in 1939. He was at 1654 Conversion Unit at the same time as the other members of his future crew, but does not appear to have arrived at 57 Squadron until later. He flew his first operations with the crew against Hamburg on the night of 3/4 March 1943 and Essen two nights later.
Astell wrote home for the last time on 14 May, and although tension must have been growing at Scampton, he took pains to keep any hint of it from his family. He enclosed a copy of his will, joking that the RAF takes on some funny ideas in telling all squadron members to make one. He closed by saying, 'There is no news at all from here. Lovely weather and a very quiet life'. Astell's will was witnessed by Henry Maudslay and Norm Barlow, and fate would decree that the lives of these three men and their crews would end within a few miles of each other in the flatlands of rural Germany between the Ruhr and the Dutch frontier a few days hence.
Astell took off from Scampton at 2159 along with S/L Henry Maudslay and P/O Les Knight as the final section of wave one. The three Lancasters remained in loose formation across the
Eyewitnesses were awoken by the sound of two aircraft thundering over their rooftops. By the time they had got up and gone outside to investigate, Astell was upon them, colliding with an electricity pylon. This proves that Astell was following the same heading as the others and was at about the same altitude. After hitting the pylon, the Lancaster erupted in flames, scraped over the farmhouse and crashed a few seconds later in the field behind the neighbouring farmhouse. The bomb did not explode on contact, but rolled into the field, on fire, for about a hundred yards before it detonated. Perhaps the attention of Astell and his crew was focused ahead, searching in the distance for the tell tale glow of exhausts from the other Lancasters, and this was the reason that they failed to spot a hazard to aircraft while they were flying at the ultra low level that had been discussed at the pre-operational briefing. We will, of course, never know the real reason. The incident took place at about 0015 DBST, and ED864 was the third of the nineteen Lancasters of Operation Chastise to be lost before any of the targets had been reached. The pylon struck by Astell was repaired and remains to this day where it stood in 1943.

tour guide
From Oberhausen or Gelsenkirchen we travel along the A2 (E34) as far as the Bottrop junction. Here we pick up the A31 in the direction of Gronau. We follow the A31 until exit 37 for Schermbeck. At the junction with the B58 we turn left towards the towns of Haltern and Raesfeld. We travel a short distance until meeting a major crossroads with traffic lights. We take a left onto the B224 and head for Raesfeld. We then follow the B224 into the centre of Raesfeld, where we join the B70 for Borken. We leave Raesfeld behind us and travel along a tree-lined rural stretch of the B70 still heading towards Borken. After we have travelled for a few minutes, and just after crossing the Döringbach (a small stream), to the right we see a farmhouse, and directly thereafter a narrow right-hand turn. We take that road as far as the first fork, where we bear left. Continue to the next fork and keep right. Continue, going over a crossroads, and eventually the road bends to the left heading due north. Shortly thereafter the Tücking farm appears on the left-hand side. We maintain our course, ignoring a road branching off to the right. We are now on narrow single-track roads linking the neighbouring farms. At the next crossroads we are at our destination. Immediately to our left is the Lammers' farmhouse and yard, and over our left shoulder the neighbouring Thesing house. Looking over the Thesing's roof we can see the top of the pylon struck by Astell's Lancaster. Turning right at this crossroads we have the crash site in the field on our left behind a high hedge. Maybe fifty or so metres further on is a gap in the hedge and a rampart across the ditch. Here you will find the stone and plaque mentioned above erected as a permanent memorial to F/L Astell and his crew who perished in this spot.
Guy Gibson at the time of handing command of 617 Squadron to W/C George Holden. In the picture also are the members of Gibson's Dams crew, four of whom died with Holden at Nordhorn on their way to the Dortmund-Ems Canal. 3rd from left: Taerum, 4th from left: Deering, 6th from left: Hutchison. 9th from left: Holden and 11th from left: Spafford. 5th from left: is Trevor-Roper, who was Gibson's rear gunner for Operation Chastise. He died in a Pathfinder Lancaster of 97 Squadron during the infamous Nuremberg raid of the 30/31 March 1944, when 95 heavy bombers failed to return. Gibson is 7th from the left, while 10th is Pulford, Gibson's much maligned flight engineer, who was killed in Bill Suggitt's Lancaster during a transit flight in February 1944.

Hopgood's grave at Rheinberg.



F/L J V Hopgood.



'He opened the hatch in the floor and saw with alarm the close proximity of the tree-tops. Unless the chute opened instantly he was a dead man.'



A small memorial post bearing a brass plaque, indicating the area in which Hopgood's Lancaster crashed.



'All who knew Astell, particularly those of the fairer sex, would testify to his open, friendly, charming nature, which made him immensely likeable...'



The charred remains of a crew member in the foreground (left of photograph), provides a stark and poignant image of war.

'Astell wrote home for the last time on 14 May, and although tension must have been growing at Scampton, he took pains to keep any hint of it from his family. He enclosed a copy of his will, joking that the RAF takes on some funny ideas in telling all squadron members to make one...'



The wreckage of Astell's Lancaster lies in a field behind the Lammers' farmhouse.

'Eyewitnesses were awoken by the sound of two aircraft thundering over their rooftops. By the time they had got up and gone outside to investigate, Astell was upon them, colliding with an electricity pylon... The pylon struck by Astell was repaired and remains to this day where it stood in 1943...'



The weapon; Upkeep.



The breach in the dam.



Memorial to 617 Squadron.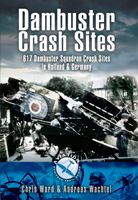 Further Reading
Dambuster Crash Sites

(Paperback - 176 pages)

ISBN: 9781844155682

by Chris Ward

Only

£12.99


Many of the 617 Squadron crews who took part in the famous attacks on the Mohne, Eder and Sorpe Dams and also the raids on the Dortmund-Ems Canal did not return. This book takes the reader to many of the crash sites that resulted. They include the coast off Texel, Rees, Marbeck, Emmerich, Hamm, Ostonnen, just north of the Mohne Dam, the former airfield at Gilze-Rijen in Holland and Castricum-aan-Zee, also Holland. The Dortmund-Ems Canal sites are Noordhorn, Recke, Bergeshovede, Ladbergen and Den Ham in Holland. All these sites can…
Read more at Pen & Sword Books...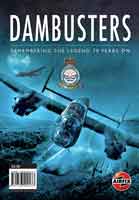 Further Reading
Dambusters

(Commemorative magazine)

ISBN: 9781783400133

Only

£6.00

RRP £6.99


The mission became popularly known as the Dambusters raid, and was immortalised in a 1954 war film. It was one of the most famous air operations of World War II.

Casualties for the raid were high. Eight of the original 19 Lancaster bombers were damaged or shot down, and of the 133 aircrew, 53 were killed and three captured.
On the ground, too, almost 1,300 people were killed, including 749 Ukrainian prisoners of war based in a camp just below the Eder dam.

…
Read more at Pen & Sword Books...
Of further interest...