Das Reich and D-Day
Posted on Monday 17th June 2013




By Philip Vickers

Das Reich, from the Battleground Europe series, was originally published in 2000 and in a second edition in 2003. This was followed by two French editions in 2000 and 2012. A German edition was researched but we were informed that this would be 'too hot to handle'.

As a result of its publication in French it was featured at the 2003, 22nd Foire du Livre in Brive-la-Gaillard, attended by the Minister of Culture and by Madame Chirac. A surprising number of old French Resistants and others described to the author their own experiences in France during the Occupation. One told of the Waffen SS in Montauban, their execution chamber in the basement of his family's hotel and that the Nazis had better maps of the town than did the local French authorities. All of these witnesses testified to their appreciation of Britain and of the SOE: 'Without you we would still be enslaved to Germany' was a typical comment. In 2004 an Exhibition was mounted at Bellac in the Limousin entitled La Route Maudite, Das Reich de Montauban au Front de Normandie. Organised by a member of the Association Resistance Ici. Marcel Chauveau (whose father had been a leading member of the local Resistance) this drew heavily on the book and I, as author, was able to bring Jacques Poirier (Nestor of Circuit DIGGER) as the guest speaker.

Because we live in Dordogne (a major Resistance region) and not far from Oradour-sur-Glane, I have been invited to speak there on several occasions.

There are some darker sides to this story. The Bellac Exhibition was deeply resented by the Communist FTPs as it showed how a 'capitalist country' (rather than the Soviet Union) had given birth to such an organisation as SOE and had furnished the arms, money, expertise and leadership which was essential to the success of the Resistance in the field. The organiser, Marcel Chaveau, was in fact hounded out of the Association and forced to resign.

Another dark aspect was the editing of the text for translation into French. References to Mitterand as a Vichy supporter; that Heydrich was of Jewish origins; and of de Gaulle ordering George Starr out of France in 1944: all had to be removed if the book was to be published. I asked, why? The powers behind the Gaullists, the Jewish lobby and the Vichyites would bring these issues to court and heavy fines would automatically be imposed. 'But all this is true' I protested. The French Editor agreed, except in the case of Mitterand: a newspaper in France at the time had printed a report that Mitterand was elsewhere in France and not in Lyons that day. I checked this with Tony Brooks who had been present in the crowd at Lyons that day. He laughed. 'Mitterand had many newspapers of that era destroyed and reprinted with revisionist stories as he liked to pose a Resistant.'

On the positive front two developments are of interest. First, I received a number of anonymous phone calls from a peasant whose local accent made understanding difficult. Essentially, he complained of inaccuracies in my account of Violette Szabo's action at Salon-la-Tour, inaccuracies which, he claimed, I shared with many other writers. Finally, on 10 November 2003, we got down to the facts. He would not give his name; he now lived in the Lot; he did not want to get involved with local affairs in Salon-la-Tour.

His concerns were as follows: (1) No Das Reich were killed by Violette, only two were wounded. (2) She was not interrogated by the bridge; she was already in a German vehicle. (3) Anastasie was not hidden in the pile of logs (faggots). He was 'too big', he was hidden in a railway wagon. The man who hid Anasatsie was still alive and 'has a photo'. His name was Claude Laclan. There were two printed references: Laclan wrote in L'Effective in 1957 and in Le Limousin Magazine in 1960. He co-operated with R J Minney, 'an Englishman'. He said his information came from eye-witnesses, members of his family. He wanted the account to be accurate.



The author at the Normandy Campaign 'Memorial de Montormel' near Chambois.

I said I would check this out. I checked with Jacques Valéry (President of Les Amis du Musee de la Resistance de Limoges) who was a great, Communist, supporter of SOE and who helped me with my book Das Reich. He finally came back and said that, although it was news to him, he had come to the conclusion that my telephone friend was most probably correct. This is clearly important as such issues run high in sentiment and concern in both the French Resistance and in German historical circles. I sent a copy of my Notes on the phone conversation to Tania Szabo but I received no response.
The second issue concerned Violette Szabo's present day significance. I remarked to Jacques Valéry that there was no memorial to her in Salon-le Tour and that it was a shame that this was the case. He immediately agreed and so put in motion the creation and unveiling of a memorial at the Clos-de-Sussac near her landing site at St-Gilles-les-Forets. Bob Maloubier and Jean Claude Guiet, of SALSEMAN 2, and her daughter Tania (who stayed with us for the ceremony) were present along with a large crowd of old Resistants , the French Prefect for the Region and many others involved. Now an Annual Commemoration is held there. I am proud to have been the instigator of this memorial to a heroic young Englishwoman who died in atrocious conditions in Ravensbrück in January 1945.
History, of its very nature, always requires updating (not revising) as new facts emerge over the years. Differences in historical accounts (in this case, British, French and German) and in frequent instances the banning of other versions, distort the view. The French were, and are, faced with the difficulty of the Alsatian involvement at Oradour as members of the Waffen SS 4th Regiment De Führer and the SS history Comrades to the End is still banned in France.
These events are not forgotten in the French countryside today and Kämpfe's widow visited Cheissoux in an endeavour to find out what happened to her husband. In our own Commune, only a few years ago, a local man lay dying in his home. He made a deathbed confession. During the Occupation the much respected Mayor had been murdered. No one could understand why. The dying man said, "I killed him. I know it was wrong. I was jealous of him and his reputation". Other witnesses to certain events have been willing to give me their evidence but they will not speak out amongst the locals. One went so far as to say that he feared for his life if he was to speak out, and this is fifty years after the events.
With the D-Day Anniversary we do well to remember the events of June 1944.
The cover of a commemorative document issued in France.



A report about the 'belle et courageuse' Violette Szabo's actions in August 1944.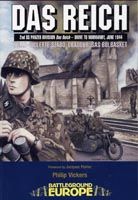 Further Reading
Das Reich

(Paperback)

ISBN: 9780850526998

by Philip Vickers

Only

£9.95


The infamous SS Das Reich Division was resting in Montauban, South West France when the Allies invaded Normandy in June 1944. When ordered to rush North, they ran into a series of French Resistance, SAS and SOE delaying actions. This ruthless Division reacted violently and their reprisals culminated in the Massacre at Oradour. This book tells the story of those heroic and tragic days from the British, French and German viewpoints.
Read more at Pen & Sword Books...
Of further interest...