Hopgood's Courageous Run
Posted on Thursday 23rd May 2013



Aviation artist Simon Atack has produced a most striking and emotive painting entitled Hopgood's Courageous Run, portraying the last seconds of RAF Lancaster ED925 AJ-M (Mother) under the command of Flight Lieutenant John Vere Hopgood DFC and Bar as he made his ill-fated attack on the Mohne Dam in the early hours of 17 May 1943.



Simon Atack writes, of the inspiration behind his latest work:
'I have been inspired many times to portray human stories and examples of outstanding courage. Few match that of 21-year-old Flight Lieutenant John Vere Hopgood DFC and Bar and his gallant crew of AJ-M Mother. It is a graphic example of outstanding courage and selflessness so often displayed by that generation of young people during World War Two.
'Here was a crippled aircraft flown for an hour by a seriously wounded skipper with badly wounded crew. 'Hoppy' pressed on with his attack on the Mohne Dam, flying all the way into the storms of relentless German fire. Right to the end, he fought to keep his blazing aircraft flying to a height that could give his crew a hope of escape. Three managed to bail out; two survived. Two families and their respective generations were saved by John Hopgood's selfless devotion to duty.'
As Gibson's Second In Command on Operation Chastise, Flight Lieutenant Hopgood was part of the leading element of three Avro Lancasters. He was flying alongside Wing Commander Guy Gibson in ED932 AJ-G (George) and Flight Lieutenant Harold 'Mick' Martin in ED909 AJ-P (Popsie) in the first wave of nine 'cooler' aircraft detailed to attack the Mohne Dam.
Flying at tree-top height to avoid enemy radar and fighters, the flight of three Lancasters ran into an unexpectedly intense searchlight and flak defence en route over Holland, just one hour's flying time from their target. AJ-M was coned in the beams and raked by enemy fire. Her port fuselage took the brunt and her wing was severely damaged; her port outer Merlin engine was hit, causing oil smoke to stream behind her.
Worse however was suffered by her crew.
Burcher the rear gunner was hit by shell splinters in the stomach and groin; Minchin the wireless operator had one of his legs almost severed by a cannon shell. Gregory, the front gunner was either killed or so seriously wounded that he was unable to answer his intercom or operate his turret.Burcher the rear gunner was hit by shell splinters in the stomach and groin; Minchin the wireless operator had one of his legs almost severed by a cannon shell. Gregory, the front gunner was either killed or so seriously wounded that he was unable to answer his intercom or operate his turret.
Hopgood had sustained a severe head wound. As Brennan his Flight Engineer tried to staunch the blood flow he was heard to say, 'Christ, look at the blood...'
Hopgood replied, 'I'm OK. Just carry on and don't worry.'



'Hopgood's Courageous Run', by Simon W Atack.



No thought was given to turning back. Nobody could have blamed them if they had done, but they pressed on, trimming the throttles to compensate for the loss of power from the damaged port outer engine and holding perfect formation with Gibson and Martin. All three Lancasters reached the dam.
Gibson made the first attack with his Upkeep Mine exploding underwater against the dam face. As Martin circled in the distance, awaiting his order to attack, Hopgood gathered himself for his, the second, bombing run-in.
Now, with full knowledge of the RAF's method of attack, the German gunners defending the approaches to the dam knew exactly where to concentrate their fire. Equipped with 20mm four-barrel "Flakvierling" anti-aircraft cannons, they poured thousands of rounds of tracer fire down the reservoir into Hopgood's path.
Into a blizzard of enemy fire, Hopgood fought to get his Lancaster down to the point where his twin spot lamps met their figure-of-eight, 60ft off the surface of the water. Further hits tore into her fuselage; no fire returned from her front turret. She became heavy on the trim but Hopgood held her down to the release point. John Fraser, his bomb-aimer, called 'BOMB GONE!'...
As the 5-ton mine skimmed the surface for the first time in a plume of spray, Hopgood's Lancaster took the full force of a 20mm cannon burst right into her starboard wing. Engines and fuel cell were hit and the starboard wing immediately caught fire. The Lancaster would have swung violently under torque as the trim fell to the straining portside engines. Hopgood used all his remaining strength to prevent the Lancaster from dipping a wing into the water. His left hand on the column, he desperately tried to correct the trim-wheel with his right. Still taking fire from the twin towers and from a third battery protecting the dam, Hopgood, his starboard wing ablaze, cleared the dam top. And so did his mine.
Released just a moment too late, it bounced over the crest and fell deep into the lee of the dam to destroy the power station in an enormous explosion.
For Hopgood there was only one course left. He ordered his crew to prepare to abandon aircraft. He would have known what would happen next. He opened the throttles to summon all the power that his doomed aircraft could give. With little hope remaining he gave his final order to jump. The hydraulics had failed so Burcher hand cranked his rear turret and released the door as Minchin dragged himself the length of the fuselage. Burcher helped the badly injured Minchin clip on his parachute, hauled him to the rear escape hatch and pushed him clear, pulling the rip cord of the parachute as he fell. Minchin's chute failed to deploy in time and he did not survive the descent.
'Get out you damn fool,' Hopgood shouted to the rear gunner. He was struggling to get enough altitude so that at least some of his crew could escape. He knew that he would not
At a mere two hundred feet above the ground, they were two of the lowest successful bailouts during the war. Both he and Fraser would become POWs for the remainder of the war.
As they fell into clear space, M-Mother's blazing wing collapsed and the aircraft fell, taking Hopgood and his remaining crew down with her.
Hopgood was just 21 years old.
Aviation artist Simon W Atack.



To view more of Simon's work visit: www.SimonAtack.com
Follow Simon on Twitter: @SimonWAtack
'I believe that if ever a man deserved the highest award for valour, it was John Hopgood. Guy Gibson justly deserved his award, but it is hard to find a more worthy candidate for the posthumous award of the Victoria Cross
about simon:
Simon William Atack began a lifelong creative obsession for drawing, as soon as he was able to pick up his first instrument; a biro pen! As soon as he was able to comprehend an aircraft in flight he discovered a passion for drawing and painting them, eventually learning for himself how to fly them. He is one of very few artists who can paint from the direct experience of flying an aircraft solo and with a pilot's working knowledge.
With a formidable art training behind him, he went straight out into the world and into....the Royal Air Force. He wanted to join the service having loved the life he'd experienced as an Air Training Corps Cadet and saw a spell in uniform as a finishing school in which he could get paid for seeing the world.
The bit of the world it showed was an unpleasant time of conflict for Britain's armed forces. Belize, Northern Ireland and the Falklands Campaign of 1982 were being enacted against the background of the 'Cold War' between NATO and the former Soviet Union. However, life went on. After Simon's commanding officer saw his sketches of groundcrews getting RAF and Royal Navy Harriers ready for a combat sortie over the Falklands, he asked Simon to make further drawings for the Squadron messes and offices. These were then seen by others with influence and soon he had become a service artist, painting and drawing the Royal Air Force Commands as they operated at home and overseas.
Knowing there was a wider world beyond the RAF that would enjoy the kind of art he wanted to make, Simon left the service in the mid-1980s to begin a professional career as a military aviation artist. His journey took him to the Guild of Aviation Artists (GAvA) where he was able to exhibit and enjoy meeting fellow minded souls. But one great moment for him there was meeting his boyhood painting heroes, the aviation artist Roy Cross and wildlife painter David Shepherd, both of whom were the most influential living artists in Simon's early career.
In 2000, Pat Barnard, the owner and founder of The Military Gallery, Bath had expressed an interest in Simon's maritime and naval battleship paintings. Pat was running a highly successful company with the talents of Robert Taylor and Nicolas Trudgian; both world class names in the profession. A series of warship paintings were commissioned by Pat and the success of these led to Simon exclusively joining Robert and Nick to paint aviation and maritime subjects under The Military Gallery banner for seven remarkable years with this world famous company of outstanding artists.
It was a memorable time which saw Simon's art flourish and his work elevated onto the world stage. Many of the paintings he produced during his career with the company are expertly regarded as some of the finest examples of a ship or an aircraft type executed on canvas.
Today, Simon W Atack paintings and pencil drawings are collected throughout the world, by galleries, museums, armed forces and private individuals. His work has embraced Film and TV drama, illustration for books and editorial features and his name is recognised as one of the world's foremost military aviation and naval artists.
He finds his focus has moved more towards the human part of the story in the paintings, the pilots and aircrews who had to face and endure aerial warfare in whatever aircraft were available to them at the time, as much as the aircraft itself. It's going to be a remarkable time ahead for his professional career...
And he still makes incredible concept drawings in Biro!



'I am not a pacifist. My paintings portray aerial combat with as much accuracy as possible, but I do not intend them to glorify war in the air.
'I want to respectfully honour the memories of good and courageous young people, regardless of their flag or nationality, and the aircraft in which they performed their duty, sacrificed their lives and won a better tomorrow for all of us.
I hope my passion for flying and historical aviation shines through in my paintings.'

Simon Atack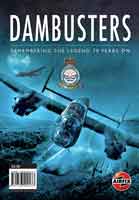 Further Reading
Dambusters

(Commemorative magazine)

ISBN: 9781783400133

Only

£6.00

RRP £6.99


The mission became popularly known as the Dambusters raid, and was immortalised in a 1954 war film. It was one of the most famous air operations of World War II.

Casualties for the raid were high. Eight of the original 19 Lancaster bombers were damaged or shot down, and of the 133 aircrew, 53 were killed and three captured.
On the ground, too, almost 1,300 people were killed, including 749 Ukrainian prisoners of war based in a camp just below the Eder dam.

…
Read more at Pen & Sword Books...
Of further interest...