John Patrick Kenneally VC: His Own Private War in the Battle of Djebel Bou Aoukaz
Posted on Tuesday 30th April 2013




By Bryn Evans, author of With the East Surreys in Tunisia, Sicily and Italy 1942-1945.

On 30 April 1943 in Tunisia, in the week long Battle of Djebel Bou Aoukaz, John Patrick Kenneally of the 1st Irish Guards resumed his own private battle against the Germans, for which he was awarded the VC. His exploits seem beyond belief - perhaps he deserved two VCs.

On his birth in Balsall Heath, Birmingham on 15 March 1921 John Patrick Kenneally was in fact named Leslie Robinson. His unmarried mother, originally Gertrude Robinson from Blackpool, then changed her name and his to Jackson, and brought up Leslie with financial assistance from his father, Neville Blond, a textile manufacturer in Manchester. At 18 Leslie Jackson joined the Royal Artillery TA, and served in an anti-aircraft battery. After returning late from leave, he was sentenced to a detention period at the Irish Guards' Wellington Barracks.

Despite the punishment Jackson was impressed with the Irish Guards, and requested a transfer to their ranks, which was rejected. He then deserted, and took up with a group of itinerant Irish manual workers. They gave him an identity card of one of the workers who had returned to Ireland. He used this card to enlist in the Irish Guards as John Patrick Kenneally.

In late April 1943 John Patrick Kenneally, at 22 years of age a Lance-Corporal in the 1st Battalion Irish Guards (or 'Micks'), found himself in Tunisia in the Battle of Djebel Bou Aoukaz. The Bou, as it was called, was a 700 foot high hogback ridge, four miles forward from Longstop Hill across the Medjerda Valley. Like Longstop Hill, which had only been captured in a tumultuous, costly battle a few days earlier, the Bou had to be taken to break open the route to Tunis.

The Medjerda Valley, with view of hills in the distance, and a typical rocky peak or ridge (or Djebel) in early March. (Private Collection)



In the heat of the Tunisian spring the scent of rosemary was in the air, as the assault on the Bou began. After capturing parts of the western Bou on 27 April, the Irish Guards held points 212 and 214, and dug in against a last despairing offensive by the Germans to repulse the Allies. Against a raking barrage from artillery, machine guns and Panzers, the Guards infantry hung on in their slit trenches.
On 28 April 1943 as the Germans were concentrating in company strength to make an attack against the 'Micks', Lance-Corporal Kenneally took it upon himself to charge alone down a bare slope, directly at the main group of some 100 of the enemy. Faced by this crazy brave figure, running towards them firing his Bren gun from the hip, the Germans scattered in a disorderly withdrawal. Two days later on 30 April the Irish Guards, in severely depleted numbers, observed the Germans gathering for another assault.
Unbelievably Kenneally repeated his first foray, this time with a sergeant at his side, and charged once more firing his Bren gun at the enemy. Despite being wounded in a leg, which caused him to hop with the support of a comrade between positions, Kenneally refused to hand over his gun, and carried on the fight. Once again the casualties inflicted on the Germans forced them to call off their attack. But Kenneally was not finished. For the rest of the day he continued to engage the enemy while wounded in the leg, for which he was awarded the Irish Guards' first VC of the Second World War.
'His actions. his extraordinary gallantry in attacking single-handed a massed body of the enemy and breaking up an attack on two occasions, was an achievement that can seldom have been equalled. His courage in fighting all day when wounded was an inspiration to all ranks.' (1)
These two heroic acts by Lance-Corporal Kenneally helped to save many lives, and influenced the course of the Battle for the Bou. Some might say that these two astounding exploits, in some eyes possibly viewed as reckless and suicidal, were fortunate to succeed. So what motivated John Patrick Kenneally to risk everything twice over?
John Kenneally VC, taken post-war as a Sergeant.



'Despite being wounded in the leg, which caused him to hop with the support of a comrade between positions, Kenneally refused to hand over his gun, and carried on the fight...'



Undoubtedly that unseen zeitgeist, that spirit which bonded him to his comrades and the Irish Guards, was part of it. And perhaps also subconsciously, could it be that he may have felt that the enemy was trying to destroy his new identity, and his new family.
One thing is certain, the name of John Patrick Kenneally, not Leslie Jackson, will never be forgotten in the annals of the Irish Guards, and in the history of the Victoria Cross.
For an embedded experience of the front-line fighting in the Tunisian campaign, read With the East Surreys in Tunisia, Sicily and Italy 1942-1945, by Bryn Evans.
Sources:
1. Laffin, John, British VCs of World War 2 - A Study in Heroism, Sutton Publishing Ltd UK, 1997.
2. Atkinson, Rick, An Army at Dawn - The War in North Africa 1942-43, Henry Holt and Co, New York, 2002.
3. Evans, Bryn, With the East Surreys in Tunisia, Sicily and Italy 1942-1945, Pen and Sword Books Ltd, UK, 2012.
4. Obituary, The Daily Telegraph, 28 September 2000.
5. Wikipedia, April 2013.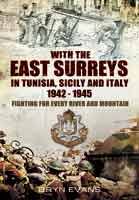 Further Reading
With The East Surreys in Tunisia and Italy 1942 - 1945

(Hardback - 240 pages)

ISBN: 9781848847620

by Bryn Evans

Only

£25.00


The East Surreys were in near continuous action from November 1942, when they landed in North Africa (Operation TORCH) through to the end of hostilities in May 1945. During these three years of bitter fighting they cleared the Germans from Tunisia, took part in Operation HUSKY, (the invasion of Sicily) and fought up through Italy as far as the River Po.

Trained as mountain troops, the East Surreys saw set piece and patrol action in the Atlas Mountains, on the slopes of Mount Etna and Monte Cassino,…
Read more at Pen & Sword Books...
Of further interest...