Lady Lucy Houston - The Unsung Heroine
Posted on Thursday 9th June 2016




By Miles Macnair

Lady Lucy Houston DBE was one of the most remarkable women of the last 150 years. After her unusual death in 1936 at the age of 79, her great friend and political idol Winston Churchill said that she was 'implacable in her hatreds .. insatiable in her kindnesses'. When he made his famous speech after the Battle of Britain, he must surely have been including her among 'the Few'. Indeed, it is for her contributions to advancing British aviation, at a time when government funding was being slashed, that she deserves to be best remembered. Without her impulsive generosity in 1931, we might never have had the Spitfire in time for that crucial victory. Yet her aviation exploits, including the Houston-Mount Everest flight, are only a part of the whole story.

If my book was a novel, readers might be justified in saying that it was just too preposterous, too fanciful and utterly implausible. Surely no single woman could possibly cram so much into a single life-span? A renowned beauty, her life story started with a teen-age love affair that broke her heart, but gave her a steely determination to achieve great ambitions. Her charismatic charm and wit enabled her to reach the pinnacle of the British aristocracy; and acquire a fortune that made her the richest woman in England. After the death of her third husband in 1926, a most unpleasant misogynist, some people even suggested that she had murdered him, while authorities tried to have her committed as mad.

From then on she lived modestly and donated half her fortune to numerous charities. She had been an ardent suffragist in support of women's rights and was one of the first five women to be appointed as a Dame of the British Empire in 1917, in recognition of her work on behalf of nurses in WWI. Above all, she was a great patriot in defence of the country she loved. She despised British politicians of all parties while denouncing the cancerous spread of communism following the Russian revolution and the murder of their Royal family. She possessed amazingly shrewd political foresight and believed that the flawed Treaty of Versailles would not bring lasting peace to Europe but merely an extended truce.

She accurately predicted that the next war would be won or lost in the air. She anticipated the blitz on London and offered to pay for squadrons of fighters for its defence, an offer that was rejected by ministers on the grounds that 'the budget could not be altered.' It was just this petty attitude that set her on a political crusade to overthrow the Government and try and persuade Edward, Prince of Wales to tear up the constitution when he became King. She deplored the way the Government was following the League of Nations' insistence on universal disarmament. She bought her own weekly newspaper to trumpet her message to the people about the country's weak defences and how they were starving the RAF of funds. When the Air Ministry refused to finance the RAF's participation in the 1931 Schneider Trophy race, Lucy undertook to pay whatever was necessary for Rolls Royce to develop a new engine and RJ Mitchell and his team at Vicker-Supermarine to build the winning S6.B aircraft - that became the Spitfire.

So why did I decide to try and bring Lucy's story to a new audience? I have had a life-long interest in aircraft which goes back to my childhood in Hampshire during WWII, when my mother was a volunteer driver for the WVS, taking a NAAFI van round local RAF stations dispensing tea, buns and cigarettes. Sometimes I would accompany her and I became entranced with the sight of Spitfires taking off on their next mission and the roar of their Merlin engines. (These trips were not without their hazards, as my mother never understood the difference between runways and taxiways. We had a few 'near misses'.) Then in the late 1960s a friend gave me a biography of Lucy Houston, suggesting that her story would make a brilliant TV documentary. At that time I did have some tenuous connection with the industry through my wife, but when I sent it to the documentary producer he curtly dismissed it as 'a novel'. From then on I vowed that one day, in my retirement, I would write a book to champion her memory and her outstanding legacy. I just hope I have achieved this... Not to mention, it would make a cracking film!
Lucy circa 1931. Amazingly, she is now over 70 and about to enter the most intensely active period of her whole life. (Keystone)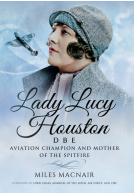 Further Reading
Lady Lucy Houston DBE

(Hardback - 248 pages)

ISBN: 9781473879362

by Miles Macnair

Only

£25.00


The life-story of Lady Lucy Houston DBE must surely be one of the most romantic and dramatic epics of the last one hundred and fifty years, yet nowadays she is a woman unknown. She was a renowned beauty with a sharp intelligence, and over the years she would exploit her charismatic charm, first as a teenager to entice a wealthy lover, and subsequently to lead three husbands to the altar.

She was an ardent and productive campaigner for women's rights, conducting outstanding works of charity during the…
Read more at Pen & Sword Books...
Of further interest...