On Spartan Wings - the Royal Hellenic Air Force
Posted on Friday 1st February 2013




Greek c-47s at hagaru-ri

By John Carr, author of On Spartan Wings.

Well before dawn on 4 December 1950 Flying Officer Vlassis Dedes, Royal Hellenic Air Force, was shaken awake in his billet at Itazuke air base in Japan.

'Get over to the ops room at five o'clock with the warmest clothes you've got,' said his commanding officer, Squadron Leader Andreas Gorenko. 'Your crew and two others are to operate against a North Korean bridgehead. Good luck.'

Dedes, still dazed from the three-week 6,500-mile flight from Greece in his Douglas C-47 Skytrain a mere three days before, stumbled through a hurried breakfast to join a briefing for crews of the 21st USAF Troop Carrier Squadron, with whose C-47s the Greeks operated.

Dedes forced himself to pay attention. 'You're to land at Yong Po airfield, between Hamhung and Hungnam up near the 42nd parallel,' the American briefing officer was saying. 'We have to evacuate wounded from Hagaru-ri. The place is encircled. Don't expect to find an airfield there. There's a narrow uphill strip that our marines made. It's uneven and icy. Yesterday we lost three planes there...'

Two hours later Dedes had loaded his C-47 and, ungainly in his heavy winter gear, was droning over the Sea of Japan in the company of two of the seven RHAF Skytrains making up what was officially known as UN Hellenic 13 (Korea) Flight, the Greek air force's contribution to the United Nations effort in Korea.

'Hey, it's the Greeks!' the Americans shouted as the 13th's blue and white roundels hove into view at Yong Po. Dedes and the other two Greek crews were led to a makeshift half-ruined billet.

'Gentlemen,' the briefing officer announced that evening, as the distant boom of Chinese artillery echoed off the snow-covered hills, 'bad weather this afternoon prevented us from evacuating the wounded. For those newcomers who arrived today, I'll repeat the general situation...'

Sixty miles from the airfield, at the village of Hagaru-ri, four Chinese divisions had encircled parts of the US 3rd Marine Division and 7th Infantry Division. The Americans had suffered serious casualties that had to be airlifted out urgently.

'Watch the airstrip,' the briefing officer said. 'The start is marked by a thick red line. There's enemy fire, so you can't circle the strip before landing. You'll fly at 6,000 to 7,000 feet and drop down as fast as you can, like helicopters. Keep an eye on the hill on your left which is held by strong enemy forces. Our Navy fighters are hammering it, but... That's all. Any questions?'

Dedes had about a million of them, but no-one spoke up.

Briefly glimpsing the strip through the murk, Dedes pushed the stick forward for his 'helicopter drop.' As the plane descended at an eye-glazing rate the USAF lieutenant in the right-hand seat smiled. 'I always keep 1,000 feet of extra height so my wife won't end up a widow,' he deadpanned.

As he landed there was a loud explosion on his right. He thought his starboard engine had gone, but it was US artillery opening up on the Chinese positions.

Thirty-five wounded Americans were loaded onto Dedes's C-47. 'Your presence here is better than three divisions would have been,' Second Lieutenant Charles O'Brian told Dedes, ice crystals forming on his moustache. Dedes, Tzovlas and Paraschakis flew two more missions from Yongpo to Hagaru-ri that day. The following morning, Dedes was assigned to ferry out the night's quota of dead and wounded.



Drawing of RHAF C-47 'Zeus'.



As he approached, Chinese machine-gun fire whipped past his port wing, narrowly missing the aileron. The village of Hagaru-ri was burning. On the ground two lorries were waiting with the bodies of eighteen Americans killed during the night. 'They were all frozen,' Dedes recalled, 'with tragic expressions just as they fell in battle.'
Less than a month had passed since the RHAF's 13 Flight began its 21-day odyssey from Eleusis air base near Athens on 11 November 1950 under Squadron-Leader Gorenko. The flight number was not picked by chance. 13 Bombing Mira (Squadron) had been the RHAF's sole combat squadron to survive the Second World War intact, operating first on the Albanian front and then as part of the RAF in North Africa and Italy. Its role in Korea, transformed from a bomber to a transport unit, was in recognition of that battle-scarred record.
After the fall of Hagaru-ri the North Korean and Chinese forces advanced into the south. 13 Flight ferried fuel, munitions and supplies to the forward lines, and flew out dead and wounded UN troops on the return trips from Koto-ri, Yongpo, Pyongyang and Seoul as those places fell one by one. Flying Officer Efthymios Tzamtzis could never quite get over the sight of dreadfully mangled American, Dutch and South Korean casualties, many of whom bled to death en route. Fog and enemy fire made landings and take-offs especially hazardous.
Crews of 13 Flight assemble before the 6,000-mile flight to Korea.



On 4 January 1951 Tzamtzis had just touched down at Wonju with a cargo of fuel when his C-47 skidded uncontrollably on the ice. He jerked the plane abruptly to the left, stopping it before it could hit a barrier. If he had hit, the 4,800 pounds of fuel would have up, incinerating the plane and everyone in it.
Squadron Leader Yannis Hatzakis suffered a throttle lever failure as he was making a hasty climb-out from Wonju, immobilizing the starboard engine. He had been coming in with a load of supplies but a hail of enemy fire made him abort the landing in a hurry. He requested an emergency landing, but the request was denied as the controllers at that moment were hastily evacuating the airfield! The co-pilot, Flying Officer Dimitris Papavasiliou, gingerly retracted the undercarriage and flaps while Hatzakis, scraping the hilltops, pushed the port engine to its limit. It took a couple of hours of circling for the C-47 to reach a safe 4,000 feet, just as Papavasiliou knocked the jammed throttle lever free.
Then as they were on the approach to Taegu, the throttle jammed again, this time in the forward position. The starboard engine was now running too hard for a landing, so Papavasiliou shut down the engine and feathered the propeller. On the ground, an American airman shook his head. 'Why the hell didn't you guys just jettison your cargo to lighten the plane?' he said.
'If we had, we'd have improved the enemy's food supply,' Papavasiliou replied in the best Spartan tradition.
On 26 May 1951 Flight Lieutenant George Tsitsoglou ran into worsening weather on a run between Taegu and Kimpo near Seoul.
Pilot Officer Anastasios Vamvoukas, flying through the same weather, wasn't so lucky. Losing height to try and get beneath the cloud, his C-47 got trapped among the ravines and flew into the side of one of them with the loss of all on board.
13 Flight's second fatal crash occurred on 22 December 1952. A C-47 flown by the flight's CO, Squadron Leader Panayotis Frangoyannis, had just touched down at Suwon at night when it collided with a Lockheed F-80 Shooting Star of the USAF's 36th Fighter Bomber Squadron about to take off. In the resulting fireball all on board the Greek Skytrain perished, including six wounded American servicemen and two nurses. An investigation found that Frangoyannis had mid-heard the instructions from the tower.
The village of Hagaru-ri was burning. On the ground two lorries were waiting with the bodies of 18 Americans killed during the night. 'They were all frozen,' Dedes recalled, 'with tragic expressions just as they fell in battle.'



Five days later Pilot Officer Vasilis Katsantonis's C-47 lost its port engine just after lifting off from Chinhae airfield. His port wing stalled, clipping the top of a pine tree and spinning the plane into a hill, killing the crew and nine American passengers.
Twelve RHAF airmen out of a total personnel number of 586 died in Korea, all of them promoted posthumously. The nineteen Greek officers and men who took part in the Hagaru-ri evacuation were awarded the US Air Medal, a decoration extended to all of 13 Flight's personnel in June 1953. The five C-47s remaining in 13 Flight flew home to Greece on 8 May 1955.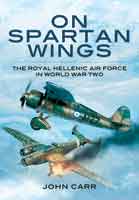 Further Reading
On Spartan Wings

(Hardback - 180 pages)

ISBN: 9781848847989

by John Carr

Only

£19.99


Rarely has an air force gone into combat as poorly prepared and outgunned as the Royal Hellenic Air Force had to when Mussolini's Italy dragged Greece into war on 28 October 1940. Without warning, as Italian forces poured over the frontier from Albania, the RHAF's paltry effective lineup of 128 battleworthy aircraft, most of them obsolete, were pitted against the 463 fielded by the Regia Aeronautica, whose pilots had honed their skills in the Spanish Civil War. On the Greek side, though, aces such as Marinos Mitralexis, with his audacious…
Read more at Pen & Sword Books...
Of further interest...