Pilots of the Caribbean
Posted on Thursday 17th April 2014




On 1 November 2013, Pilots of the Caribbean: Volunteers of African Heritage in the Royal Air Force opened at the Royal Air Force Museum in London. This multi-media exhibition tells the little-known story of the RAF's black personnel, commemorating and celebrating their vital contribution to the defence of freedom over time. 'Pilots of the Caribbean' also highlights the RAF's success in embracing integration and shows how the richly diverse nature of modern Britain owes much to the black men and women who wore air force blue.

'Pilots of the Caribbean' began in February 2011 with a visit to the RAF Museum by a group of black teenagers. When told that there had been black Spitfire pilots, the atmosphere became electric and the teenagers asked "Why haven't we heard this before?". It was a fair question, and we promised to mount an exhibition to bring the story to a wider audience. We later learned that these polite and enthusiastic young people were former gang members.




Air gunners Sergeant J.C. Dickinson RCAF and Sergeant Leslie Gilkes, 9 Squadron, 1943 (Courtesy of Audrey Dewjee). Sergeant Dickinson survived the war, but Sergeant Gilkes was shot down and killed on 3 August 1943. The Trinidadian has no known grave and is commemorated on the Runnymede Memorial.
The RAF Museum invited the Black Cultural Archives to co-curate the exhibition and their historian, Steve Martin, proved an ideal partner. We also received generous support from several individuals, including historians Stephen Bourne and Mark Johnson, who shared information drawn from his new book Caribbean Volunteers at War: The Forgotten Story of the RAF's 'Tuskegee Airmen' (Pen and Sword, 2014). The RAF Museum felt it did not have enough archival material to do the volunteers justice, so an appeal was launched inviting black veterans, their families and serving personnel to contribute to the exhibition. The response was immediate. The family of Flight Lieutenant Cy Grant lent us his flying log book; we received a 'Sword of Honour' identical to that presented to Air Commodore David Case, the most outstanding RAF officer cadet of 1977; and, perhaps most poignantly, Corporal Sony Campbell donated the pocket Bible she recently carried with her in Afghanistan.



Flight Lieutenant Cy Grant of British Guiana (Guyana), circa 1945. (The Grant Family)



'Pilots of the Caribbean' comprises 18 panels of text and supporting images as well as the biographies of 10 selected individuals. Among the biographies are those of Pathfinder navigator and diplomat, Squadron Leader Ulric Cross DSO DFC, Spitfire pilot and Olympic Gold medallist, Flight Lieutenant Arthur Wint and Jaguar jet fighter pilot, Flight Lieutenant Trevor Edwards. A film including thought-provoking interviews with veterans also features.



Flight Lieutenant Trevor Edwards, 54 Squadron, RAF Coltishall
The exhibition seeks to tell an often difficult story honestly, and it begins with a dispassionate description of slavery in the Caribbean. The narrative shows that despite the horrors of slavery and the injustices of the colonial rule that replaced it, many black people still considered Britain 'the mother country' and were prepared to fight in her defence. The black experience of the First World War is outlined and we highlight the story of Sergeant William Robinson Clarke from Jamaica, who in 1917 became Britain's first black pilot.



William Robinson Clarke, Britain's first black pilot.



William robinson clarke
William Robinson Clarke was born in Kingston, Jamaica, on 4 October 1895. 'Robbie' Clarke joined the Royal Flying Corps (RFC) in July 1915 and was selected for flying training. On 26 April 1917, he qualified as a pilot, receiving Royal Aero Club certificate number 4837. The young Jamaican was promoted to Sergeant and posted to 4 Squadron at Abeele in Belgium.
Sergeant Clarke flew R.E.8 biplanes over the Western Front. While on a reconnaissance mission on the morning of 28 July 1917, he and his observer, Second Lieutenant F.P. Blencowe, were attacked by five enemy aircraft. Clarke was wounded but landed safely.
William Clarke's Royal Aero Club certificate shows him in RFC uniform and wearing his 'wings.' Though born in Jamaica, the index card for the certificate describes him as 'British'.
The bulk of the exhibition concerns the 6,000 black personnel from the Caribbean, from Africa and from Britain who joined the RAF during the Second World War. Their motives for volunteering are examined with Flight Lieutenant John Blair DFC, one of 3,700 Jamaicans to serve, remembering that:
'We just knew deep down inside that we were all in this together and that what was taking place around our world had to be stopped.if Germany had defeated Britain we certainly could have returned to slavery.'
Flight Lieutenant John J Blair DFC, 1950s (Mark Johnson)



Flight Lieutenant john j blair - by Mark Johnson
My great-uncle, John Blair, has always been my role model and my inspiration.Born in rural Jamaica in 1919, the youngest of eight, he was educated in tiny country schools before attending teacher training college in Kingston.
Descended as he was from former slaves, John feared what might happen if the Nazis conquered Britain:
'While we were fighting we never thought about defending the Empire or anything along those lines. We just knew deep down inside that we were all in this together and that what was taking place around our world had to be stopped.Few people think about what would have happened to them in Jamaica if Germany had defeated Britain, but we certainly could have returned to slavery.'
John volunteered for the RAF in October 1942. He trained as a navigator in Canada and the UK and was then commissioned. Posted to 102 Squadron, between December 1944 and May 1945 he survived a full tour of 30 bombing operations and was awarded the DFC. John was well-respected by his colleagues and he was asked to remain in the RAF after the war, serving until 1963. Uncle John passed away in Jamaica in 2004.
John Blair came to fight for our collective freedom. Had men of his ilk not stood up and fought Hitler, I for one would not be here. My black father would have been enslaved anew and my Jewish mother would have been murdered. Indeed, this was the fate that befell her entire family in Holland.
Uncle John was also a 'pathfinder' for his people who overcame racism just as he struggled through flak and enemy fighters. In this he was greatly aided by the RAF which embraced the black volunteers and ensured they took their rightful place in the fight for civilization.
There is much we can learn from this tale of successful integration, as well as from the lives of all of its actors, black, white and of mixed heritage. Let us not waste the opportunity.
Warrant Officer Akin Shenbanjo served as a wireless operator/air gunner with 76 Squadron. In December 1944, the Nigerian was awarded the Distinguished Flying Cross (DFC). Shenbanjo is pictured with his crewmates who named their Halifax bomber 'Achtung! The Black Prince' in his honour. (Courtesy of W.R. Chorley)
The exhibition describes the challenges the volunteers faced on arriving in Britain at a time when very few white people had met a black person. We also show that the RAF was more advanced regarding race than civilian employers of the day, and the exhibition features quotes from veterans who state that the Service treated them with respect. Bomber pilot Squadron Leader Billy Strachan recalls:
'If one might have expected me to have suffered, if not discrimination, at least a constant barrage of racist jokes; I can confirm that this did not happen.'
It is difficult to determine exactly how many black personnel served in the RAF, and in which units, because they were fully integrated and their ethnic origin was not entered on their personal records. This being so, their contribution cannot meaningfully be separated from that of their white comrades. However, over 500 black airmen are known to have served as aircrew with Bomber, Fighter, Coastal and Flying Training Commands. And of these, 150 – or 30 per cent – were killed in combat or in accidents. About 100 of the volunteers became officers and 103 were decorated for gallantry or exceptional service. Sadly, the understandable focus on the inspirational story of the 'Tuskegee Airmen' (the black fliers who served in the segregated United States Army Air Force), has overshadowed the achievement of the RAF's black heroes.



Photograph showing Vincent Bunting as a Flight Sergeant in conversation with Group Captain Adolph 'Sailor' Malan, RAF Biggin Hill, January 1943. (RAF Museum)
Bunting and Malan
Born in Jamaica, Flight Lieutenant Vincent Bunting flew Spitfires from 1942 to October 1944, when he was posted to 154 Squadron, which operated Mustang fighters. On 27 March 1945, Bunting shot down a Focke-Wulf Fw190 near Lübeck in Germany.
Group Captain Malan was an expert fighter leader and tactician who later fought against apartheid in his native South Africa.
Combat Report filed by Warrant Officer Vincent Bunting, 27th March 1945. (RAF Museum)
After the war, most of the volunteers returned to the Caribbean and to Africa. They carried with them the RAF's dynamic ethos, becoming politicians, lawyers and teachers determined to change their homelands for the better. A number were active in the transition of the black colonies to independence and Flying Officer Errol Barrow and Flight Lieutenant Michael Manley became the Prime Ministers of Barbados and Jamaica respectively. Remarkably, one third of the passengers who came to Britain on the Empire Windrush in 1948 were airmen returning from leave or veterans rejoining the RAF. Among them were men of the calibre of Sam King MBE, who became the first black mayor of Southwark. He and other RAF veterans helped lay the foundations of Britain's black community.




Aircraftman First Class Michael Odunasu was one of a group of 60 black African volunteers who served with the RAF in this country. Sir William Rothenstein drew AC1 Odunasu in 1943 but nothing more is known about him.
'Pilots of the Caribbean' is a success story that reflects well on the volunteers, on their white comrades and on the RAF; which deserves to be seen as one of Britain's most progressive institutions. The response to the exhibition from the public and the media has been very positive and that it has received strong support from black and white people of all ages and backgrounds. The black youngsters who originally inspired the exhibition will be invited to a special viewing and we hope it meets with their approval.
Pilots of the Caribbean': Volunteers of African Heritage in the Royal Air Force runs at the RAF Museum London until 22 April before transferring to RAF Museum Cosford.
For more details about the exhibition, visit the RAF Museum website.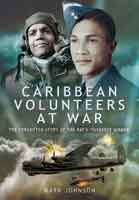 Further Reading
Caribbean Volunteers at War

(Hardback - 216 pages)

ISBN: 9781783462919

by Mark Johnson

Only

£19.99


All of a sudden there was the rush of an immense shadow coming towards him at terrific speed. It was the ground reaching up to gather him. The date was 26 June, 1943 and Cy Grant was the rarest of things - a black West Indian RAF crew member, blown out of his exploding Lancaster bomber.

The heroic exploits of the Caribbean men and women who volunteered their services to the Allied effort during the Second World War have, until now, passed by with little fanfare…
Read more at Pen & Sword Books...
Of further interest...