Queen Wilhelmina's Birthday
Posted on Tuesday 22nd November 2016



QUEEN WILHELMINA'S BIRTHDAY!
A little known incident in World War 2 is described in a new book about Bomber Command
entitled "The Night Hunter's Prey".
In 1941 The Netherlands were occupied by Germany and the Dutch Queen Wilhelmina was living in exile in Britain. Through Radio Oranj, a Dutch language station put out through BBC transmitters in London, the Queen kept in touch with her subjects and became an important focus for her defeated nation. The Germans were concerned about the influence her broadcasts were having and forbade any form of celebration of the Queen's birthday on 31 August.
The prohibition was largely ignored by the Dutch who cautiously gathered together to sing the national anthem and crouched secretly over illegal radios to hear the Queen's broadcast. To celebrate the occasion, the Queen had thousands of packets of cigarettes and Pascal boiled sweets prepared and asked the RAF if they could drop them over Holland on the night of her birthday.
Squadron Leader Martin Stephens, CO of the Training Flight, who before the war had been Shooting Editor of "The Field", was therefore tasked with the assembly of a high calibre crew to undertake this morale-boosting mission. First he selected one of his best and most experienced pilots, Flight Lieutenant Thomas McGillivray a New Zealander of Scots descent from Otago. He had already completed one operational tour and would shortly move to an operational squadron to start his second. An old friend of Stephens, Squadron Leader P C Pickard DSO, DFC, heard of the mission and asked if he could come; Pickard was a well known face as he had played the part of the captain of "F-Freddie" in Target for Tonight a widely distributed semi-documentary following the crew of a Wellington on an operation over Germany. Though he was one of the most experienced and successful bomber pilots in the RAF, he insisted on flying as second pilot on this trip as he did not wish to usurp McGillivray In his own aircraft. For a navigator, Pickard recommended Squadron Leader Alan Cousens DFC who was currently in a staff position at Group Headquarters and was considered one of the best navigators in Bomber Command.
For a rear gunner he chose his senior instructor, Flight Sergeant Alexander Ollar DFM, whom he tasked with selecting the best gunner/wireless operator he could find. Alec chose one of his most trusted instructors, Sergeant Wilfred Wooldridge who, like everyone else in this select crew, had already completed one operational tour.
Martin Stephens was not going to be left behind himself so, although he was normally a rear gunner, he placed himself in the front turret for this special operation. They took off at 9.45 pm in one of the Training Squadron's Wellingtons, No.3202, returning to Marham at 1.45 the next morning. There can be little doubt that the mission brought hope and cheer to the Dutch citizens who gathered for clandestine celebrations on their exiled monarch's birthday. Sad to record, not one member of this special crew survived the war.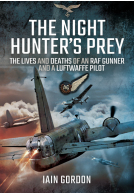 Further Reading
The Night Hunter's Prey

(Hardback - 272 pages)

ISBN: 9781473882508

by Iain Gordon

Only

£25.00


This is the story of two airmen – an RAF Rear Gunner and a Luftwaffe Pilot.

Alexander Ollar was raised in the Highlands of Scotland. He became an exceptional sporting shot and volunteered as an RAF Air Gunner in 1939. Helmut Lent enrolled for pilot training in the Luftwaffe as soon as he was old enough. Both were men of integrity and honour.

Alec completed his first tour of 34 operations with 115 Squadron and was awarded the Distinguished Flying Medal by the King.…
Read more at Pen & Sword Books...
Of further interest...