The 37th Division at Arras
Posted on Wednesday 5th April 2017




The 37th Division at Arras

A Pen and Sword title with an exceptionally vivid, first-hand account of the battle of Arras is Despatch Rider on the Western Front 1915-18, the diary of Sergeant Albert Simpkin MM, edited by his great nephew, David Venner

Albert Simpkin was attached to the HQ of the 37th Division. As such he was in prime position to observe and record the actions of one of the Third Army divisions that played a key role in the Battle of Arras in April 1917, taking the ridge top village of Monchy-le-Preux.

The Allied offensive was planned to start on 9th April, Easter Monday. Whilst Canadian divisions were preparing to attack the strategically important Vimy Ridge to the north of Arras, Albert Simpkin's 37th Division were encamped at Agnez Duisans, some 3 miles behind the city. The constant shelling of these back areas by the Germans in the build-up to the battle was very trying on the nerves. "Started around 02.00, one shell every 5 minutes with occasional intervals of 15 minutes, lasting 3 hours, a refined kind of torture" wrote Albert in his diary.

The meticulous preparations of the despatch riders were crucial to their success in the days ahead. They spent two days in March learning the run of the streets and the location of the dugouts – where signal offices and command posts were to be positioned - and reconnoitring the network of tunnels and cellars running under the town in all directions, continuing right up to the trenches. Albert's attention to detail during this period and his volunteering for duties over and above those allocated to him in the heat of the battle, were to earn him a Military Medal 'for gallantry at the battle of Arras'.

The poor weather conditions get frequent mentions in the diary: "intensely cold with occasional snow showers"; "very bad this past week, rain and sleet every day". The effect of the weather on the animals could not escape his notice: "Horses and mules are dying like flies from exposure and exhaustion; the sides of the roads are littered with their carcases. I counted almost a hundred on the road into Arras."

On the eve of the battle, Albert's Division were waiting in the Arras tunnels. He managed a few hours' sleep until awakened by an orderly at 03.50. Zero hour was 05.30 but Albert had to report with three other despatch riders to the General at 05.00. He notes in his diary:

"It was biting cold with a strong wind blowing. There was an uncanny silence. In a short time all Hell would break loose At that moment thousands of guns were trained on their targets with the gunners standing by waiting for the order to fire, the greatest bombardment the World had ever seen. Tens of thousands of infantry in the trenches were counting the minutes waiting for the barrage to commence which would give the signal for them to go over the top. The dressing stations were working feverishly, getting ready for the deluge of shattered humanity which would shortly descend on them. Many then alive and well would, in a few minutes, be gasping their last breath. A greater number would be wounded, some to die, others to be patched up to feed the war machine again. Those whom the Fates allow to come through unscathed will be put through the fire again and again until they are finally expended. War has no mercy. These were my thoughts as I sat waiting for Zero."

While Albert was waiting for his despatches, General Allenby of the Third Army and General Snow of the Corps arrived with their staffs. Albert called his group to attention and saluted. "General Allenby, clad in a big cavalry coat with the collar turned up, gave us a nod and a smile by way of a salute". An ADC told them that the infantry had taken the first line and the Germans were evacuating their second line. The 37th Division's task was to leapfrog this attacking division and push on to Monchy-le-Preux. Albert gives a detailed account of the action, including the disaster that befell the cavalry as it advanced in support of the attack:

"They were manoeuvring to enter the village when the German saw them and sent over a barrage of shrapnel and high explosive which almost wiped them out. Their brigadier was killed. The streets were choked with dead and dying horses. A second cavalry advance shared the fate of the first. A barrage hit them with deadly accuracy, men and horses fell like ninepins, many badly wounded, to stagger and fall."

The village was eventually taken, with the aid of infantry reinforcements and tanks. Albert, an engineer by training, took a particular interest in the products of army mechanisation. "When the shelling stopped I walked over to one of our abandoned tanks. A shell had pierced its plating and set fire to the petrol. Fortunately only one man was killed, the others escaped by taking shelter under the tank. It was called 'Lusitania' – a name which seems to be unlucky."

On the 13th April when his unit had returned to their base behind the lines he reflected: "Have had no more than 6 hours' sleep in past five nights and have not taken off my clothes." However, a week later he noted that the staff had been pleased with his work. The despatch riders certainly had put in the hours 'beyond the call of duty' – often in extremely dangerous situations. Albert, as sergeant of his section, seems to have been singled out for commendation with the award of the Military Medal.

Written By David Venner
Albert Simpkin's Military Medal and 3 campaign medals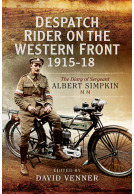 Further Reading
Despatch Rider on the Western Front 1915–18

(Hardback - 204 pages)

ISBN: 9781473827400

by David Venner

Only

£19.99


This book is a skilfully abridged version of the diary of a First World War motorcycle despatch rider, Sergeant Albert Simpkin, who was attached to the HQ 37th Division. The diary entries, and some longer descriptions of the main actions of the Division, provide a fascinating record of the life of a despatch rider on the Western Front; one day dodging shell holes and ammunition limbers to take his despatches to the front, the next observing the quaint but often courageous lives of the local populace. Throughout the diary are…
Read more at Pen & Sword Books...
Biographical note: After graduating from Edinburgh University, David Venner had a career in countryside management. He is now a family history advisor in North Devon. He has written two previous books: The Venners of Somerset and Devon (privately published) and Information for a Rural Community (British Library). David is married with two grown-up children and a grandson.
David Venner with his Great Uncle's Diary
Albert Simpkin portrait on joining up, 1914
Albert Simpkin on Triumph Model H motorcycle at time of the Battle of Arras, 1917
Of further interest...