The Action-Packed Diary of a WW1 Cavalryman
Posted on Friday 20th February 2015




For more Great War stories based on soldiers' letters and diaries, see Letters From The Trenches by Jacqueline Wadsworth.

The Great War conjures up images of Tommies mired in flooded trenches, nervously eyeing the enemy across No Man's Land during a stagnant war of attrition, writing home about rats the size of cats and water-filled shell holes that swallowed men whole. It is therefore refreshing – if that's the right word – to discover accounts of the early months of war, when fighting was still mobile and energetic, and ground was being won and lost.

It's a story that is told remarkably well in a diary that I used in my book Letters from the Trenches that was kept by Sergeant George Fairclough, not a volunteer of Kitchener's Army but a former regular soldier who saw action in the Boer War and served in India, and was recalled as a reservist in 1914. Leaving his wife, Cissie, and young daughter in Colchester, he set off with the 4th Queen's Own Hussars to fight on the Continent and there he documented the first months of the conflict.
George Fairclough serving in India in 1912, with his wife, Cissie, and his daughter, Olive.



They set sail across the English Channel on August 17: 'A beautiful day, we met a fleet of French ships, there were cheers on both sides, we expect to reach Le Havre tonight and disembark in the morning...We entered the harbour, a fine big place, and started landing the horses – a hard day's work down in the hold. We marched to a station at 12.00 and then for the front – four more hours of hard work...no chance to write to Cissie. I am forbidden to say anything about our movements and all letters are censored.'
Fairclough records the carnival-like welcome the British Expeditionary Force received in France: 'The streets were thick with people cheering like mad, giving away flowers and all sorts of fruit, chocolate, tobacco, cigars, cigarettes, beer, wine, cakes and bread, they are vastly different to English people.' Days later his entries became more grim as the British are forced to retreat from the war's first big battle at Mons, Belgium:
'A heavy thunderstorm came upon us and we stood in pelting rain until it cleared then we mounted and worked around a flank after a squadron of uhlans [German light cavalry]. We halted at a farmhouse (in close order) for a little while and the men had taken the opportunity of taking their clothes off and strapping them to their saddles when all of a sudden a terrific fire of shrapnel and canon shell burst from a concealed gun battery.
'They had got the range exactly right and every shell was played right among the squadron. The first shell burst a little to my front left and almost cut the horse on my left clean in two without touching the man. The second shell struck a man in the troop in front and appeared to simply blow the man and the horse to pieces – another struck a captain of the 16th [Lancers] and blew him to pieces too. No troops could live under such fire and the brigade scattered. About 80 of the 4th [Hussars] met at a level crossing and as we seemed to be surrounded a French staff officer and two of our officers led us towards Landrecies, a town about 10 miles away, as it was the only way that appeared open. As we moved away a shell struck a cottage near us and took off the roof.'
Fairclough goes on to describe the Allies' counter-offensive at Battle of the Marne, the digging of the first trenches, and the rapid onset of disease that became a scourge of trench life: 'Our infantry got within 400 yards of the enemy trenches but had to retire, the stench from the unburied bodies is overpowering, hundreds of dead lay unburied. Enteric is reported to have broken out among the enemy,' he wrote on September 26.
George Fairclough was the son of parents who, although illiterate themselves, made great efforts to ensure their son had a good education at school in Lancaster, where he grew up. They would have been proud of his journal that was full of well-observed detail. Fairclough was quick to notice, for example, how motor transport was beginning to relegate mounted troops to the sidelines: 'We were sent to assist the French force that had been driven out of their positions, but our men weren't required after all as some French infantry reinforcements had arrived in motor lorries after travelling all night. There is not much use for cavalry at the present.'
He also commented on a military system that favoured officers over men. When one was awarded a Distinguished Conduct Medal he wrote: 'What for? – No one knows. I was never away from him from the time we came out until he got wounded and I know he never did any more than the rest, far less in fact that some of us.'
George Fairclough began the war as a committed and enthusiastic soldier, however, an incident in November 1914 left him bitter and disillusioned. He was wrongly accused of being drunk when he was in fact exhausted after nights without sleep, court-martialled and imprisoned, and although the authorities quickly released him when they realised a mistake had been made, Fairclough's loyalty to the army had by then evaporated.
In a miserable letter to his wife he wrote: 'I was quite content to stick to the trenches and if it was willed, to die there if they'd played the game, but now all I want is HOME, I've done my bit.' The sad story is told in full in Letters from the Trenches. Fairclough ended up serving for the entire war, although he was hospitalised in 1915 after being caught in a gas attack.



George Fairclough pictured in later life, having survived the Great War.



Jacqueline Wadsworth graduated from King's College, London, with a degree in Geography, and worked for several years as a newspaper journalist, punctuated by spells of backpacking abroad. She is now a freelance writer, specialising in history and sport. When not at her desk she is a keen runner, cyclist, follower of Liverpool FC, fan of American roots music, and supporter of The Donkey Sanctuary. She lives with her family near Bristol.



George Fairclough was 21 when he first joined the Army.



Cissie and Olive Fairclough waited at home in Colchester while George fought in the Great War.
'I was quite content to stick to the trenches and if it was willed, to die there is they'd played the game, but now all I want is HOME, I've done my bit.'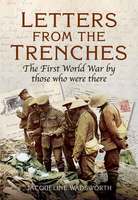 Further Reading
Letters from the Trenches

(Hardback - 208 pages)

ISBN: 9781781592847

by Jacqueline Wadsworth

Only

£19.99


A history of the First World War told through the letters exchanged by ordinary British soldiers and their families.

Letters from the Trenches reveals how people really thought and felt during the conflict and covers all social classes and groups – from officers to conscripts and women at home to conscientious objectors.

Voices within the book include Sergeant John Adams, 9th Royal Irish Fusiliers, who wrote in May 1917:'For the day we get our letter from home is a red Letter day in the…
Read more at Pen & Sword Books...
Of further interest...