The Lengthening War
Posted on Wednesday 3rd August 2016




An Article By Michael Goode based on their book The Lengthening War, published June 2016 by Pen & Sword Books

The First World War was arguably one of the primary tragedies in human history. The death and destruction it caused led to a continent's (and to a lesser extent the world's) marked determination to remember in order to never forget. Any generation coming to terms with a war which led to the destruction of four empires and killed at least 10 million men would try to do the same.

But what did it mean to be a part of that generation that lived through the war? What was living through the war actually like? That's what I've been working on over the last five years. Back in 2011 I was helping my Grandfather clear out his attic, in a dusty old trunk we came across a curious small brown package. I opened it up to discover a compact, neat and beautifully written Great War diary. It was something of an Antiques Roadshow moment! This diary was written by my Great Great Aunt, Mabel Goode, who was living in York during the war and by 1915 had two brothers at the Front. In reading the diary it became clear that its main value is just that – it's a diary, a record of someone's experience of something over time. So what does the diary tell us? That in living through it, one cannot escape witnessing how the war twisted and turned, mutated and metamorphosized, over its ever-extending expected end.
Mabel the diarist, Circa 1904
A Lengthening war
We always find it hard to recapture what it was like to like to live pre a result. Try to summon that feeling of fear or excitement before you knew the outcome of a big political or sporting event. Now try to think about what it must have been like to live through the war (the war you knew was an event of a momentous scale) not knowing when or how it would end. Then add in the feeling that it's taking longer than expected and not going as well as hoped – even now the heart would quicken. That's exactly the sense the diary gives. Extract after extract records a war increasingly straying from the path so confidently expected at its outset.
A snippet from 17 August 1914 captures part of the initial feeling when the war started:
There has been a splendid response to the Prince of Wales' War Relief Fund, £1,200,000, in 10 days. One wonders a little, will it really be all wanted and all the hospitals that are prepared all over the country.
Here Mabel makes it clear at the war's outset that she considers the preparations for casualties overdone. Her tune starts to change when just eight days later she wrote:
Namur has fallen. And the French troops have therefore been obliged to fall back on the French frontier and the English, although they held their position at Mons, have been obliged to retire also, in conjunction with their Allies. So the first important news is bad just when we had hoped that the Allies would have inflicted a crushing defeat on the Germans. It is sad, as it will certainly prolong the War.
An example of the destruction brought on by the war and witnessed by Mabel's brother at the Front
Another extract on 7 May 1915 makes it clear how the war has worsened, by now already lasting longer than Mabel and most expected:
The effects of the asphyxiating gas used by the Germans near Ypres is too horrible. Those who do not die at once, suffer from slow, increasing suffocation, lasting sometimes one or two days. This is because the gas causes a foamy liquid in the lungs which increases and gradually fills all the lungs and then the mouth and then you die. It is the most horrible form of scientific torture. And those who do not die from the suffocation, always suffer from acute pneumonia. What fiends they are! They say half the soldiers who came into hospital suffering from the gas only, quite unwounded, have died.



Having seen how the war differed from confident expectations and changed the rules of engagement, one of the later extracts in 1916 shows us how the war also came for civilians in previously unprecedented ways:
I awoke in the night and heard distant crashes. Zepps surely, thinks I, and I jumped out of bed to listen at the window. Sure enough, in a few minutes came more reports [….] For half an hour or so, the booms and crashes came at intervals. Then came several crashes, followed by Pop! Pop! "Anti-Aircraft guns" I thought. Presently came a steady humming, growing quickly louder. I decided to go out and see if I could see anything […] It was a still, starlight night. The humming had become a loud throbbing and up there, showing against the stars, was the long, black, threatening shape of the Zeppelin. It was a most thrilling, weird sensation, standing out there by myself and watching it approaching rapidly. […] Meanwhile the Zepp passed, apparently exactly overhead. I gazed at it and prayed a silent prayer that it might not drop a bomb just then. […] A few minutes after it got out of sight, we heard several bombs dropped.
Mabel's brother Henry at the Western Front, circa 1916



These extracts provide just a snippet into what proves to be the tragic theme of the diary: a day by day, week by week story of a war that grew and changed far beyond contemporary expectations and what that was like to live through. Nothing captures this better than the fact that Mabel gave up the diary at the end of 1916 – something never fully explained but contextualised by the war wearied tones in the final extracts. Put simply, this wasn't the war she wanted to record, wasn't the war people expected to fight, but was the war a continent found itself trapped in. We learn a lot in understanding how something like that came about and what it was like at the time to be an audience member (and occasionally an actor) in that grimmest of plays.
One of many pictures taken by Mabel during the War. This one of troops entraining at York Station to leave for France
the author - Michael goode
Mabel Goode (1870-1954) was the youngest of three. She was principally raised by her step-mother, both her parents having died before she was ten. From 1881-7 the family lived in Heidelberg, Germany, meaning she knew the people that became Britain's great enemy in her lifetime. In later life, Mabel lived quietly, as a slightly eccentric vegetarian in the Lake District and funded holidays to Italy with paintings, never marrying (although a love story exists). Mabel recognised the Great War as the most important event of her life and recorded it from 1914-16. The editor of this diary, Michael Goode, is the Great-Great Nephew of Mabel Goode. Michael read History at Gonville & Caius College, University of Cambridge and worked on projects for the Fitzwilliam Museum, University of Cambridge.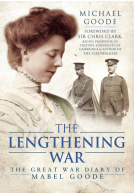 Further Reading
The Lengthening War

(Hardback - 196 pages)

ISBN: 9781473851511

by Michael Goode

Only

£19.99


The First World War was an event so important, so catalytic, so transformative that it still hangs in the public memory and still compels the Historian's pen. It was a conflict which, by the end of the struggle, had created a world unfamiliar to the one in existence before it and brought levels of destruction and loss all too unimaginable to the generation of minds which created it. Despite this, we still find it hard to picture what it was like to live through this war. Right from its start,…
Read more at Pen & Sword Books...
This is a strong narrative of the War, easy to read, mixing news with personal feelings and events (often revealing gap between official news and reality).

The diary captures the author's growing disillusionment with the war, as it gradually encroaches on her life.



Of further interest...