Tunisia's Toll - In 1943 the East Surrey Regiment Paid the Price
Posted on Wednesday 19th September 2012




In the final days of the Tunisian campaign in April and May 1943, two battalions of the East Surrey Regiment were called on to play their part. Their two commanding officers, and many of their men, paid the ultimate price.

At El Alamein in late October 1942 the British Eighth Army defeated the Afrika Korps, and sent Rommel's troops reeling into retreat. Soon after on 7 November the Anglo-American forces of Operation Torch landed in Morocco and Algeria. Yet it was only a beginning. Six months later in April 1943 a decisive break through in the subsequent Tunisian Campaign, and final victory in North Africa, still seemed as elusive as ever.

To the north west of Tunis on its coastal approach, the Americans were held up by German defences on Green and Bald Hills. In the south General Montgomery's Eighth Army found its armoured divisions nullified by the enemy's positions in the hills and ridges around Enfidaville. In the central west north of Medjez el Bab and some thirty miles from Tunis, the British First Army continued to fight for dominating, German held peaks in the Medjerda Valley.

The distant minarets of Tunis, shimmering like a mirage, were tantalizingly close, yet remained out of reach. In the Tunisian capital's French run bars and restaurants, Axis troops still relaxed in their off-duty hours. They still believed that they would soon be reinforced, and be able to drive the Allies into a withdrawal, as Rommel had done so many times before.




Lilac Blossom leaves a bitter perfume

On 20 April the East Surreys' 1/6th Battalion held the Djebel Djaffa hill in the Medjerda river valley. Two months earlier the East Surreys' 1st Battalion had been driven back from Djebel Djaffa, before regaining it. Some men of 1/6th Surreys must have thought lightning would not strike twice. Yet it did.

In a night attack on 20/21 April, the Germans launched Operation Fliederblute (Lilac Blossom), against First Army positions, which included hills such as Djebel Djaffa. By dawn on 21 April the Herman Göring Division's infantry, some of whom rode on Panzers up the lower slopes, had forced 1/6th Surreys to withdraw, and taken Djebel Djaffa's summit. The deepest German incision reached to within a few hundred yards of 4th Division HQ.

In command of 1/6th Surreys was Lieutenant Colonel HAB Bruno MBE. He had originally been commissioned in the Hampshire Regiment, was 45 years old, and a veteran of the First World War. On the morning of 21 April Bruno was ordered to immediately lead the 1/6th Surreys in a counter attack to regain Djebel Djaffa.

With Allied planning in the final stages for another thrust to capture Tunis, Djebel Djaffa had to be regained. It commanded the road through the Djaffa Pass to the Tunisian capital. The only option was to make a frontal assault up Djebel Djaffa's near bare, rocky inclines. Many of the 1/6th Surreys had only a few weeks of combat experience behind them. And the only cover was the odd clump of scrub.

In the afternoon sun of 21 April, the Surreys began their assault to retake Djebel Djaffa. Lieutenant Colonel Bruno himself took command of C Company in the uphill attack, as the German machine guns opened up. Despite the withering fire and men going down everywhere, Bruno led the Surreys on, directing fire as much as they could onto the German positions.

They seemed to be within twenty yards of the summit when it became suicidal. Laying down smoke for cover, 1/6th Surreys pulled back from Djaffa's slopes. On re-grouping they found that they had lost 68 men, 26 wounded and 42 dead or missing. Bruno was one of those unaccounted for.

However the Germans had been even more heavily depleted, and thinking the smoke heralded a decisive final push by the Surreys, they too withdrew from the peak. The Surreys second in command, Major R. O. V. Thompson took charge, and the next morning the Surreys again climbed up Djebel Djaffa's slopes, dreading a hail of enemy fire. It never came, and they took the hill unopposed. As they feared, however, they found the body of their Colonel Bruno near the hill's crest and buried him there with their other dead.




The Medjerda Valley, familiar to many who served in Tunisia. (Author's photograph)



The tumultuous battle of longstop hill
On that same night of 21/22 April under the command of Lieutenant Colonel Wilberforce, 1st Surreys began to move into position some six miles north of Medjez el Bab to attack Longstop Hill. The Longstop Hill feature, known locally as Djebel el Ahmera, with its adjoining peak Djebel Rhar, was two miles in length and some 800-feet high. It was really a mountainous, hog's back ridge of hidden folds and defiles, abutting and commanding the whole Medjerda Valley. Until it was seized and the Allies' left flank fully secured, nothing could move down the valley to begin the main attack on Tunis.
From their original complement of close to 800 officers and men when they landed in Algiers, the 1st Surreys were down to around a meagre 200. Before dawn they went to ground near the small cluster of dwellings of Chassart Teffaha, close to Longstop Hill.
All day on 22 April 1st Surreys, and their fellow 78th Division battalions, 5th Buffs, 6th Royal West Kents and 8th Argylls dug in, using shallow gullies and depressions wherever they could find them in the open ground. They lay up as still as possible in the hot sun, trying not to attract enemy fire.
At 8 pm men's' hands went up to their ears. The artillery fire of 400 guns, which would last all night, shattered the evening and signalled that the battle for Longstop Hill had begun. At 11.30am the next morning the Surreys and the Argylls got to their feet and began their slow climb. As the men advanced through the spring corn and flowers, German machine guns and artillery began to scythe them down.
German troops arrive in Tunis in late 1942. (Private collection)



During the blistering five hour battle which ensued, the COs of 5th Buffs, 6th Royal West Kents and 8th Argylls were all lost. Major John Anderson took command of the Argylls, and despite being wounded led about 40 officers and men onto Longstop's summit. For personally leading his men from the front, again and again into German machine gun and mortar pits, Anderson was awarded the VC.
Having overcome an earlier collapse from illness, the 1st Surreys' Lieutenant Colonel Wilberforce took overall command of all battalions, as they fought to occupy every part of Longstop Hill and Djebel Rhar. Wilberforce was just thirty-eight, first commissioned in The King's Own Yorkshire Light Infantry, and had only taken command of the 1st Surreys in October 1942, immediately prior to their embarkation in Operation Torch.
With the summit in the hands of 78th Division, Wilberforce set about organising Longstop Hill's defence, against possible counter-attack, and the continuing heavy fire from nearby hills. He walked round all the positions, with just a soft hat, smoking his pipe, encouraging everyone with his carefree manner and a high spirit. By 27 April the whole of Longstop Hill and Djebel Rhar had been secured, enabling Wilberforce and the Surreys to be relieved. The route to Tunis was opening up.



The fall of tunis - and another east surreys commander
On 7 May the Allied armour rolled into Tunis, taking Axis forces by surprise. Some enemy troops were caught emerging from shops and bars in stunned surprise. On the same day the 1st Surreys' CO, Lieutenant Colonel Wilberforce, was killed by an enemy shell. On the eve of the final victory in North Africa, the two East Surreys battalions had lost their inspirational commanding officers. Like so many others, in two crucial actions when the battles could go either way and death was all around, they had led from the front.
By 15 May all Axis forces had surrendered, and more than 250,000 taken prisoner. Even Goebbels, Germany's head of propaganda, admitted it was on the same scale as the Third Reich's disastrous defeat at Stalingrad. Lieutenant Colonels Bruno and Wilberforce had lost their lives alongside their men, yet their leadership had helped open up the path to Tunis.



Bryn Evans, a brief biography:
Bryn Evans writes extensively across a range of categories, business management, travel, sport, military history or fiction, and his work has been widely published.
The Queens Royal Surrey Regiment Association has published a series of his articles over recent years in their Journal. While researching this book, he has met veterans and their families world-wide, and visited the battlefields in Tunisia, Sicily and Italy.
Bryn lives with his wife, Jean, in Sydney, Australia.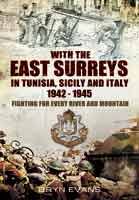 Further Reading
With The East Surreys in Tunisia and Italy 1942 - 1945

(Hardback - 240 pages)

ISBN: 9781848847620

by Bryn Evans

Only

£25.00


The East Surreys were in near continuous action from November 1942, when they landed in North Africa (Operation TORCH) through to the end of hostilities in May 1945. During these three years of bitter fighting they cleared the Germans from Tunisia, took part in Operation HUSKY, (the invasion of Sicily) and fought up through Italy as far as the River Po.

Trained as mountain troops, the East Surreys saw set piece and patrol action in the Atlas Mountains, on the slopes of Mount Etna and Monte Cassino,…
Read more at Pen & Sword Books...
Of further interest...