Untold stories from the Desert Air Force – Eighth Army's enforcer in the Second World War
Posted on Friday 16th May 2014




From his newly released book – The Decisive Campaigns of the Desert Air Force 1942-1945, Bryn Evans shares some edited excerpts below.

It is now not well recognised that in the North African and Italian campaigns of the Second World War, Allied air power, particularly the Desert Air Force (DAF), was the single most decisive factor. Both air force and army commanders well knew this at the time. Eighth Army and DAF fought their way through these campaigns as one entity, until the final victory in northern Italy in May 1945.

The crucible in which this partnership was formed, was three years of desert war in North Africa. Late in the afternoon of 26 October 1942, and three days into the final Battle of El Alamein, Rommel's last hope for resupplies of fuel, the Italian oil tanker Tergestea, was within two miles of the Axis-held port of Tobruk. Earlier at noon an attack by Beaufort and Bisley bombers had sunk the oil tanker Proserpina (4,809 tons), in which six out of ten aircraft were lost.

So critical was the supply situation for Rommel's Panzerarmee Afrika, that both sides were committing every resource possible in the struggle over Axis supply channels. A second operation by Beauforts failed to locate the remaining ships, which were still on schedule to reach Tobruk, and would do so before a squadron of night-flying Wellington torpedo bombers would be available to intercept. Since these supplies were so crucial for the Axis army, it was decided to risk an operation by No. 38 Squadron RAF, using their own Wellington torpedo bombers for the first time at dusk.

Flight Lieutenant Lloyd Wiggins, a twenty five year old Australian from Adelaide, would lead the attack. At 1540 Flight Lieutenant Wiggins led three Wellington bombers in formation, with the aircraft of Pilot Officer Bertran and Sergeant Viles in Nos 2 and 3 positions respectively. The weather and visibility were good, with minimal cloud. The three aircraft proceeded at 100 feet until they were about 60 miles out to sea. They then turned westward, and proceeded parallel to the coast until they were approximately 60 miles north east of Tobruk. Navigation was perfect and they were able to make an immediate approach in formation.

In the first dusk attack ever attempted by 38 Squadron, the three planes headed straight for a large merchant vessel, the Tergestea (5,890 tons), thought to be carrying both army supplies and fuel, and lying perhaps two miles outside Tobruk harbour. There were many destroyers escorting the Tergestea, but they were taken completely by surprise. It was not until the aircraft were beginning their run within two miles of the Tergestea that frantic signalling took place from the destroyers to the merchant vessel. Wiggins' bombing run came in with a dark sky behind the three Wellington bombers, whereas their target, the Tergestea stood out against the sun setting in the west.




Tergestea oil tanker.



All three aircraft dropped their torpedoes at a distance of around 500-600 yards from the target. The three torpedoes were seen to be running straight towards the Tergestea, which appeared to be stationary, perhaps at anchor in the water. Of six torpedoes launched, three ran well, striking the Tergestea, and causing an enormous explosion. The aircraft crews then observed a huge column of black smoke, surging up from the Tergestea to an estimated 3,000 feet.
After dropping his torpedo Flight Lieutenant Wiggins chose to take his aircraft climbing straight over the top of the Tergestea, attracting the greatest concentration of anti-aircraft fire from the escort destroyers. Despite his aircraft suffering multiple hits, Wiggins was able to maintain his escape flight beyond the range of the destroyers' guns.
Sergeant Bertran was able to turn away to starboard, and received lighter anti-aircraft fire. After releasing its torpedo, Sergeant Viles' aircraft was seen to stagger, probably from receiving fire from the destroyers. The last that was seen of Viles was his aircraft breaking away to port. Both Wiggins and Bertran completed their return flights safely to base.
A further operation that night reported that there was no sign of the Tergestea, which must have sunk. It was later learned that the cargo of the Tergestea comprised 1,000 tons of petrol, and 1,000 tons of ammunition. Left with no new fuel supplies, Rommel's Panzerarmee Afrika was unable to effectively re-deploy or counter-attack, and in the face of Eighth Army's attack was left with no option but to retreat.
*



The first formal origins of the Desert Air Force (DAF) had come in November 1941, when Air Marshal Tedder appointed Air Vice Marshal Sir Arthur 'Maori' Coningham in command of a number of RAF squadrons in Egypt, to form the Western Desert Air Force (WDAF). Its charter was to provide close air support to Eighth Army in the Western Desert of North Africa, and later in February 1943 it was renamed simply as the Desert Air Force (DAF).
During the three battles of El Alamein from July to November 1942, DAF began to assert an ascendancy over the Axis air forces, the Italians' Regia Aeronautica and the German Luftwaffe. Inevitably, like most air force operations, the exploits of DAF airmen went unseen except by the pilots themselves. Prior to the final battle of El Alamein, two Spitfires had been modified to intercept high level reconnaissance flights by the Luftwaffe's Junkers Ju86P bombers.
On 6 September a Ju86P reconnaissance flight was again spotted, and Pilot Officers Genders and Gold scrambled their high altitude Spitfires. The Junkers bomber was about fifty miles east of Alexandria, but when it saw the fast closing Spitfires, it turned back out to sea. Increasing their speed, Genders and Gold gave chase.
Spitfire Mk VB 92 Sqn RAF.



Genders caught up with the Ju86P first, and machine-gunned its fuselage and starboard engine, which gave out smoke. With only three gallons of fuel remaining, and now 100 miles out to sea, Genders had to turn away. At a few thousand feet lower altitude, Gold watched the crippled Junkers bomber as it lost height, then finished it off.
While Gold had sufficient fuel to return to his base at Aboukir, Genders ran empty when still out of sight of land. He baled out, somehow survived his dumping into the sea, and began to swim southwards. For twenty one hours he swam, before being washed up onto an empty Egyptian beach. After an amazing open sea swim, he luckily found help, and returned to Aboukir. Genders and Gold had downed two of the three Ju86Ps in nine days. The two pilots had reduced the Luftwaffe's high altitude reconnaissance operations over the rear of Eighth Army to an ineffective level.
*



By the time of El Alamein, the USAAF 57th Fighter Group was now operational in its own right, flying in joint operations with DAF, and making an immediate impact. In a raid on 25 October on the Luftwaffe's airfield LG20, a Bf109 base, Lieutenant Lyman Middleditch Jr, of 64th Fighter Squadron, was in a group of eight Warhawks. As they pulled away after dropping their bombs, they were attacked by five Bf109s. Middleditch took on two 109s on Lieutenant Hartman's tail, pulling a tight turn to hit one of them with a full burst, and sent it crashing into the sea. Two days later, on 27 October, he was flying top cover in an eight-plane formation when they engaged two approaching formations of Bf109s. Middleditch hit one 109 on his first pass and saw it pour smoke and fall into the sea.
Instantly three more 109s were on to him. He kept turning into the enemy fighters, using the advantage of a Warhawk in a tight turn against a 109, and hit another to see it too crash into the waves. Middleditch caught one of the other two 109s with a burst into the centre of its fuselage, flipping it into a cartwheel dive and a watery grave. The remaining 109 soon fled. A few weeks later Middleditch was awarded the DSC by Major General Lewis H. Brereton, Commander of Ninth Air Force, and AVM Sir Arthur Coningham, Commander of the DAF. Later Middleditch went on to become an ace in early 1943.
For four days before the third and final battle of El Alamein, DAF imposed what we now describe as a No Fly Zone. Dominance over the Axis air forces was sustained, and prevented any significant impact on the battle by Axis aircraft. The multi-national DAF had led the way in establishing Allied air superiority. Now the challenge was to keep it.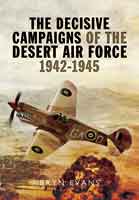 Further Reading
The Decisive Campaigns of the Desert Air Force 1942-1945

(Hardback - 223 pages)

ISBN: 9781783462605

by Bryn Evans

Only

£19.99


Compared to the RAF's Fighter and Bomber Commands, the Desert Air Force (DAF) is far less well known, yet its achievements were spectacular.

DAF led the way in North Africa and Italy in pioneering new tactics in close Army-Air Force co-operation on the battlefield, DAF and Allied air forces gave Allied armies in North Africa and Italy a decisive cutting edge.

While the Axis forces used the many rivers and mountains of Tunisia and Italy to slow the Allies advance, DAF was there to…
Read more at Pen & Sword Books...
Of further interest...