Victoria Crosses at Sea
Posted on Tuesday 21st June 2016




jack mantle and the story of a unique victoria cross

By July 1940, the Battle of France was over and, as Winston Churchill said, the Battle of Britain was just beginning. Soon, Messerschmitt Bf 109s, Dornier Do 17 bombers and Junkers Ju 87 Stuka dive-bombers, operating from airfields in France, less than an hour's flying time away, were raiding and strafing towns, harbours and installations all along the English south coast.

On 4 July the Commander-in-Chief Portsmouth, Admiral Sir William James, wrote the following:

"Bombing has started in earnest and Portland has had a bad time from the dive-bombers, and we have lost six ships out of one convoy."

On the same day as Admiral James was writing, a force of more than twenty Stukas raided Portland and attacked the 5,500-ton armed merchant cruiser Foylebank in the harbour. HMS Foylebank had been requisitioned by the Admiralty in September 1939 and converted into an auxiliary anti-aircraft ship and fitted with machine-guns, 2-pounder pom-poms and four twin high angle 4-inch gun turrets. The actions of one of its crew on that memorable day would make history.

That man was Leading Seaman Jack Foreman Mantle who was amongst those who manned Foylebank's starboard 20-mm pom-pom. Mantle had proven his skill as a gunner, who was already about to be Mentioned in Despatches for his earlier gallantry while serving in the Naval Control Service in the Thames. He was also one of the first naval gunners to bring down an enemy aircraft on convoy protection service, whilst handling a Lewis gun on board a French ship.

Harbour Master Edward Palmer was on duty on a launch in Portland Harbour on 4 July:

"Out of the sun they came, enemy dive bombers. Diving straight down onto the guard ship, machine-gunning and bombing. Hell let loose, about twenty planes, they appeared to have caught us napping. I immediately told my crew that we were going in to pick up the hands and ratings who were jumping and being blown into the water alongside of her. There was a barge with work people alongside of Foyle Bank [sic], a bomb dropped alongside the barge, turning it upside down.

"We got alongside and started to pick up the survivors and dive bombers kept coming, machine-gunning and bombing, lifting the launch almost out of the water. Well we loaded the hands on board until we could not carry any more and made for the nearest jetty. Some poor fellows were in a sad mess. We landed as quickly as we could and went back for more. By this time the enemy dive bombers had done what they had come to do, the Foyle Bank was on fire and sinking."

When the Ju 87s attacked, most of Foylebank's crew were at breakfast, and had little time to respond to the sudden attack. Despite this, two of the enemy aircraft were brought down. Foylebank, though, had suffered terrible damage. Whilst the Luftwaffe's action against the anti-aircraft ship lasted for barely eight minutes, twenty-two bombs had found their mark and some 176 of the Foylebank's 300-strong crew were killed; only forty of the survivors remained uninjured. These deaths mark the heaviest wartime loss of naval personnel in home waters.

Early in the action on, Jack Mantle had his left leg shattered by the blast from a bomb exploding nearby, but he remained at his gun, and when electric power in Foylebank failed he went on training and firing the gun by hand. He was wounded again many times but continued to fire the gun. As his citation said, 'Between his bursts of fire he had time to reflect on the grievous injuries of which he was soon to die; but his great courage bore him up till the end of the fight when he fell by the gun he had so valiantly served'.

Mantle's gallantry had been witnessed, and although Foylebank was sunk, her commanding officer, Captain H.P. Wilson, sent in a report on the conduct of her crew which, as Admiral James wrote, 'would gladden your heart. I am recommending a Leading Seaman, Mantle, who behaved too magnificently for words and died at his gun, for the Victoria Cross.' The posthumous award was gazetted on 3 September 1940, to Admiral James's delight. The Cross was presented to Mantle's parents by King George VI at the Palace in June 1941.

When those who knew Mantle were interviewed later, they seemed surprised that he had won the VC. 'Jack didn't seem to be the heroic type,' his mother said. 'He was so gentle that we all used to say he ought to have changed places with his eldest sister, who is the toughest of the family. He was such a quiet, earnest boy. He never was brilliant at school. He had an intense dislike of pain. He was always afraid of the dentist. What he liked most as a youngster were days in the country with the Boy Scouts.'

Jack Foreman Mantle was born on 12 April 1917 at 11 Harvard Mansions, St John's Hill, Wandsworth, London, the second child of six children (and second of three sons) of Lisle John Foreman Mantle, an insurance company claims assessor, and Jennie May (née Jackson). He went to school at Taunton's Southampton, where the family moved and his father worked in the Borough Engineer's office. After leaving school, he worked on a farm for a year, thinking of following his elder brother Peter who was farming in New Zealand, but then joined the Navy as a Boy Second Class when he was sixteen, on 2 May 1933. He was rated Able Seaman on 12 October 1936 and Acting Leading Seaman on 1 February 1940. As his mother said, 'he took to the sea at once, and became a regular swot and studied to get on'. He served in the cruiser HMS Decoy before the war, on the China Station, and during the Italian-Abyssinian confrontation of 1938.

Mantle, who was 23 when he was killed, was buried in Portland Royal Naval Cemetery. In 1954 an appeal was launched to raise £2,500 to build two cottages in his memory on Portland Hill, to be occupied by ex-naval men, but only £500 was collected and it was spent instead on a sun lodge for the patients in the grounds of Portland Hospital. Jack Mantle never married.

Of all the VCs won by the Royal Navy, only one was awarded for an act of gallantry in the United Kingdom itself. That unique distinction goes to Leading Seaman Jack Mantle – an ordinary man who performed an extraordinary deed.
An artists depiction of Leading Seaman Jack Foreman Mantle during his VC action (Historic Military Press)
Leading Seaman Jack Foreman Mantle (Courtesy of Andy Saunders)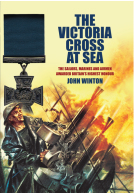 Further Reading
The Victoria Cross at Sea

(Hardback - 304 pages)

ISBN: 9781473876125

by John Winton

Only

£25.00


Naval VCs have been won in places as far apart in time and distance as the Baltic in 1854 and Japan in 1945, in the trenches from the Crimea to the Western Front, in harbours from Dar es Salaam to Zeebrugge, from the Barents to the Java Sea, from New Zealand to the North Atlantic, and from China to the Channel.

They have been won in battleships and trawlers, in submarines below the water and aircraft above it, on horseback and on foot.

…
Read more at Pen & Sword Books...
Of further interest...