Wargaming Live
Posted on Friday 28th October 2016




WARGAMING LIVE AT PEN AND SWORD HQ!
Follow us on Facebook, Twitter, Instagram, Google, Tumblr, Linked In, Pinterest and Youtube
Here's a few snaps from a fun night of Wargaming at Pen and Sword HQ yesterday. Romans vs Britons wargaming event was a success and lasted over 5 hours, during this time things were hotting up between teams and we have the photos to prove it. Check them out here and let us know what you think!

Led by commissioning editor Phil Sidnell and author and Warhammer creator Rick Priestley.
ABOUT RICK PRIESTLEY
Rick Priestley is the world's most successful and best known wargame designer. He has created many professional wargames including Warhammer and Warhammer 40K, which together have outsold all other wargames by a huge margin. He is also the author of successful sets of historical wargame rules for several periods, including Black Powder and Hail Caesar.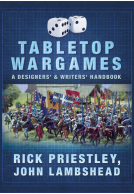 Further Reading
Tabletop Wargames: A Designers' and Writers' Handbook

(Paperback - 157 pages)

ISBN: 9781783831487

by Rick Priestley

Only

£14.99


Unlike chess or backgammon, tabletop wargames have no single, accepted set of rules. Most wargamers at some point have had a go at writing their own rules and virtually all have modified commercially available sets to better suit their idea of the ideal game or to adapt favourite rules to a different historical period or setting. But many who try soon find that writing a coherent set of rules is harder than they thought, while tweaking one part of an existing set can often have unforeseen consequences for the game…
Read more at Pen & Sword Books...
"An interesting and useful book, which will undoubtedly be frequently taken off the war gamers' shelf for reference." - STUART ASQUITH, Author
Of further interest...