Why I Wrote 'Escorting The Monarch' As Told By Author, Chris Jagger
Posted on Wednesday 18th October 2017




Why I wrote Escorting the Monarch

By Chris Jagger
Author, Chris Jagger
Some of my earliest and fondest memories are of my dad dressed from head to toe in police motorcycle uniform and white crash helmet. I was lucky, unlike my two older brothers, who shared a room at the back of the house looking out over our garden and Groveland's Park, my room sat above the front door, which meant I had a view over the street.
Some mornings I'd wake up very early at the sound of the front door closing, normally around 0500. I'd climb out of bed and sneak a look through the bedroom curtains listening carefully for the sound of the garage door opening. The next thing I'd hear was the sound of my dad's police motorcycle firing up – a sudden electric whizz shortly followed by smooth burst of power. The bike, a gleaming white BMW boxer, sounded like a cross between a spaceship from one of my brothers Star Trek movies and a purring lion.
As my dad rode the bike up the driveway I'd close the gap in the curtains in case he looked up so he wouldn't catch me watching. He'd then turn left, into the street, facing up hill, and slowly pull away, soon vanishing out of view. It was one of the coolest things ever. But what did he actually do? I'd try and find out by joining the police.
Not yet old enough to apply, my first full time job, was that of Aquatic Environmental Marine Specialist. I was the guy who caught your kid's goldfish at the garden center. When I wasn't stacking bags of gravel I was scrubbing the tanks and dreaming of motorcycles.
At the age of 18 I decided to apply for the police. On return home, dad asked me how I'd got on.
"I got nervous, stumbled the interview, and failed the psycho-madness test, so they won't let me in"
– to which my dad replied, "If they had, I would have written a letter of complaint!". Reassuring.
A few months later my luck changed. The Metropolitan Police accepted me as a 999 caller handler.
As my career progressed, I was lucky to serve overseas, working closely with specialist military and police security teams from all around the world. I found myself comparing them to the SEG - none shared the unique esprit-de-corps of the group, and few were even close to being as professional. I felt compelled to dig deeper and find out how they became the world class leaders they are today.
The SEG have been honing their skills for over 6 decades. Developing an unequivocal team culture dedicated to absolute precision, they hold a reputation for excellence among their piers; delivering their passengers (and cargo) on time, safely, in a great deal of style, and without fuss or mishap. They are neither shaken nor stirred.
Their story carries with it a scent of engine oil and polish. Although their work demands exquisitely high levels of presentation there is little room for gloss or glitter. The individuals and property they are charged to protect are assessed by government to require the highest possible levels of protection. The trust bestowed upon them couldn't be greater.
From queens, kings, presidents and emperors, to priceless works of art, terrorists and high risk prisoners, the group escort them all. The skill required to protect them demands a very special sort of team. They lead, others follow.
The book is dedicated to all of those who serve, or have served with the group, their families, but especially my dad.
Pictured, Chris Jagger with his new book, Escorting The Monarch, published October 2017 by Pen and Sword Books.
About CHRIS...
A Londoner by birth, Chris Jagger is the son of the retired SEG officer. Inspired by his dad's own career, he pursued a path of his own working for the British Government, United Nations and NATO in the field of counter organised crime and counter terrorism. His work has taken him around the world, living a numerous countries, but he now resides in Northern Europe. Chris works independently as a teacher, consultant and writer. He proudly serves as professor of Intelligence Analysis at Universidad Rey Juan Carlos in Madrid.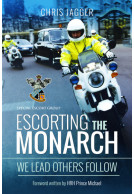 Further Reading
Escorting the Monarch

(Hardback - 156 pages)

ISBN: 9781526720412

by Chris Jagger

Only

£19.99


Escorting the Monarch is as close to an official history of the Metropolitan Police's 'Special Escort Group' (SEG) as one could hope for.

You may have seen the team at work; as the combination of motorcycles and cars pass you by, they glide elegantly and seemingly effortlessly through busy traffic. Developing a dedicated and diligent team culture, they are masters of their trade. They hold a well-earned reputation for excellence amongst their peers; delivering their passengers (and cargo) on time, safely, in a great deal of style,…
Read more at Pen & Sword Books...
Of further interest...