Winston Churchill in the Trenches
Posted on Friday 6th May 2016




After leaving the Government following the Dardanelles disaster, Winston Churchill served on the Western Front as a battalion commander, and it proved to be a most memorable experience for men of the Royal Scot Fusiliers.
Lieutenant-Colonel Winston Churchill and Captain Dewar Gibb pictured during the former's first time as a Commanding Officer of the 6th (Service) Battalion, Royal Scots Fusiliers in 1916. (Nigel Dewar Gibb)
It was on Monday, 3 January 1916, that Lieutenant Colonel Winston Churchill set off from St Omer to join the men of the 6th (Service) Battalion, Royal Scots Fusiliers. He had sent a message ahead that he wanted to meet all the officers for lunch, following which he would inspect the whole battalion. His bizarre arrival was recorded by one officer, F.G. Scott:
'Just before noon an imposing cavalcade arrived. Churchill on a black charge, Archie Sinclair on a black charger, two grooms on black chargers followed by a limber filled with Churchill's luggage - much more than the 35 pounds allowed weight. In the rear half we saw a curious contraption: a long bath and boiler for heating the bath water.'
Captain Dewar Gibb, middle row on the right, pictured with other officers of the 6th (Service) Battalion, Royal Scots Fusiliers in 1916. Captain Bryce Ramsey in on his right. (Nigel Dewar Gibb)
The tough battalion of Lowland Scots, which had suffered shocking casualties just a few months earlier at the Battle of Loos, was not impressed at having an aristocratic politician foisted upon it. Churchill's arrival with his bath in tow only served confirm the men's worst fears.
Things went even further downhill when Winston decided to demonstrate how he could handle his new battalion. The Assistant Adjutant, Captain (later Major) Dewar Gibb, reported that all the men were present and correct. Taking his position at their head Winston shouted out 'Royal Scots Fusiliers! Fix Bayonets!' Of course the men could not possibly fix bayonets with the rifles sloped on their shoulders. A few men took their rifles down and started to fix their bayonets, whilst most of the battalion simply stood mystified and immobile, unsure how they were to carry out their Colonel's instructions.
The men of the 6th (Service) Battalion, Royal Scot Fusiliers marching down to port Glasgow during their departure from the city en route to the Western Front. (Nigel Dewar Gibb)
Gibb then advised Winston to call out 'Order Arms' and then fix bayonets. This was an instruction the men could follow.
Winston then carried out his inspection of the ranks, following which he gave the order 'Sections Right!' This was a cavalry order and would have been quite familiar to the troopers of Winston's old Territorial cavalry regiment, the Oxfordshire Hussars, but to the men of the Royal Scots Fusiliers it meant nothing; again they stood confused waiting for an instruction they could obey. At this point Winston abandoned the inspection.
Bayonet Practise
In time, an instruction was received from GHQ that attention should be given to the use of the bayonet and, accordingly, Colonel Churchill instructed Captain Dewar Gibb to show the men how the bayonet should be employed.

"I parried that and summoned the Company-Sergeant-Major. He played up like a man and had begun to bellow orders at the men before the C.O saw what had happened," explained Gibb. "'No, no I want you to do it,' he then said to me. 'I want you to take a rifle and bayonet yourself and demonstrate, Mr. Gibb, demonstrate.'"
Two officers of the 6th (Service) Battalion, Royal Scots Fusiliers. Captain Dewar Gibb is on the left, whilst standing to his left is Captain Bryce Ramsey. (Nigel Dewar Gibb)
"Officious hands thrust the necessary implements into mine, and I began to indulge in a wild series of warlike gestures. I felt that it all bore no possible resemblance to bayonet exercises as "laid down," but I had to do something, and so I went on lunging and parrying and thrusting, all the while wondering if Winston would have me reduced to the ranks afterwards for such an exhibition on buffoonery. And matters were not helped out by the fact that the other companies and their officers were standing around, and at ease, to witness this amusing spectacle, and that I had already heard one hastily stifled cackle ... and Captain MacDavid, whose facial control was not sufficiently developed to cope with a strain so sudden and so unexpected."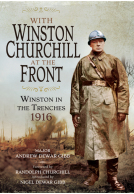 Further Reading
With Winston Churchill at the Front

(Hardback - 240 pages)

ISBN: 9781848324299

by Andrew Dewar Gibb

Only

£19.99


Following his resignation from the Government after the disastrous Gallipoli campaign, Winston Churchill's political career stalled. Never one to give in, Churchill was determined to continue fighting the enemy.

He was already a Major in the Territorial Reserve and he was offered promotion to Lieutenant Colonel and with it command of a battalion on the Western Front. On 5 January 1916, Churchill took up his new post with the 6th (Service) Battalion, Royal Scots Fusiliers. The battalion's adjutant was Captain Andrew Dewar Gibb who formed a close…
Read more at Pen & Sword Books...
"Officious hands thrust the necessary implements into mine, and I began to indulge in a wild series of warlike gestures."
No Man's land
Things soon began to improve, and the Scots began at first to admire, then even adore, their new CO, who appeared to be utterly fearless and enjoyed nothing better than creeping out into No Man's Land, much to the consternation of the men encouraged to go with him. One officer, Lieutenant Hakewell Smith, recalled:
'He was like a baby elephant out in no-man's-land at night. He never fell when a shell went off; he never ducked when a bullet went past with its loud crack. He used to say, after watching me duck: "It's no damn use ducking; the bullet has gone a long way past you by now."'
The frequent bombardment of his headquarters at Laurence Farm at Ploegsteert (Plugstreet to the British) to the south of the Ypres Salient did not stop Winston playing records on his gramophone or sitting and painting the scenes around him. His calm confidence inspired the men and his complete lack of pretentiousness endeared him to them.
Lieutenant-Colonel Winston Churchill pictured in uniform, sporting his characteristic blue French Army helmet, during the winter of 1915-1916.
Nothing could exemplify this more than when he invited a number of senior officers to join him for dinner. This group included the Divisional General, the Brigadier General on the General Staff of the Corps, two very distinguished flying-officers, and the Divisional General's A.D.C. After dinner, Winston said:
"I'm sure you'd like to see my trenches, General."

"Yes," said the General.

"Very well: you'd like to come too?" to another General .

"Oh yes, rather," said he, not to be outdone.

"We'll all go up then," said Winston. "It's a lovely night, though very quiet. We might go out in front."
The invitation was made in good faith by Winston, who imagined that all the senior officers would enjoy going into No Man's Land. But to the Fusiliers it was, as Gibb related, 'a first-rate joke to the jaded infantry to see them all out there tearing breeches and thumbs on the wire; wallowing in mud and cursing over clothes that had never been grovelled in before.'
The plaque commemorating Churchill's time at Ploegsteert which can be seen on the Mairie in the Main Square. (History Military Press)
As Major Andrew Dewar Gibb so prophetically wrote in his memoir, first published in the 1920s long before Winston had led his country in the Second World War:
'He is a man who apparently is always to have enemies. He made none in his old regiment, but left behind him there, men who will always be his loyal partizans and admirer, and who are proud of having served in the Great War under the leadership of one who is beyond question a great man.'
Soyer Farm as it appears today. (Historic Military Press)
The site of Laurence Farm, which was through the gate on the right-hand side of the bend, in a view looking east towards what would have been the British front line (beyond the houses in the distance). The well-head, all that remains of the original farm, is the concrete structure to the right. (Historic Military Press)
Looking north up the course of the top half of what was the section of the British front line held by Churchill and his men towards Le Gheer. This picture was taken from the area of Burnt Out Farm, located off what is now Rue du Gheer. (Historic Military Press)
Written by john grehan
Of further interest...