A Bomber Crew Mystery
Posted on Friday 11th November 2016




A Bomber Crew mystery by david price




In a cross between Antiques Roadshow and Find My Past, author and aviation enthusiast David Price was thrust into a 70 year old mystery and detective story that consumed 2 years of his life.

Many of us try to imagine what it would be like to find an inexpensive object in an antiques shop or car boot sale that had far-reaching historical connotations. In the perfect world such an object would lead to fame and fortune, but in my case, what I found propelled me into writing a book. It also thrust me into a new world of trans-Atlantic friendships that has improved my knowledge of the Second World War. Very often the study of aviation concentrates on technology, but this is a story about people as much as planes.

The beginning of this journey has a very precise start date, and like all unexpected discoveries, it came without warning. I make no secret of my enthusiasm for all things aviation, and my wife Trish has endured many hours of potential tedium at museums, air shows and deserted airfields. So, with the occasion of Trish's birthday, a city break in Edinburgh was something she would enjoy without having to deal with me becoming distracted. On May 7, 2014 we walked down the Royal Mile perusing shops and entertaining ourselves in coffee houses. Taking a side street, we came across a small antiques shop and went in to browse around. It had a generous display of silver and plated items and due to it being a little constricted with other visitors, my eyes wandered upward to a higher display.
The author, David Price with the 388th Trophy
On the top of a cabinet was a Victorian ornate wine cooler and, dangling from a handle a label read 'American WW2'. What I found was an engraving on the front which read; 'Outstanding Crew of the Month – 388th Bombardment Group'. On the rear, under the headings 'August 1944 and September 1944' were 18 names, obviously two bomber crews. Over the years my interests had been concentrated on British exploits in WW2, but the activities of the 8th Air Force were not unknown to me. After a night thinking about it, I decided to buy the trophy which, thankfully, was not a lot of money. Returning to our hotel I entered some search details and found a very detailed website for the 388th Bombardment Group flying Boeing B-17s. Listed on the site were 5,000 names and thankfully, the two crews were listed under their pilots names, Dong Ong and Johnnie Colburn. As any antiques expert will tell you, provenance is an essential part of any find, and whilst it would be very unlikely that such an object was fake, I was keen to find some details. The evidence I found was the type of evidence that only happens in Hollywood films, and surely not in real life. When I clicked on the name 'Ong', a crew photo appeared on my screen of a crew underneath a B-17 bomber. Dong Ong was pictured holding the engraved 'trophy'; I was amazed to say the least.
The B-17 crew names engraved, September 1944 led by Johnnie Colburn
The mystery of the engraved cooler began there and many questions circled as to why the trophy was in Edinburgh and where had it been for 70 years. The re-appearance of the trophy I later found was almost exactly 70 years to the day since the two B-17 crews arrived in Britain in preparation for their operational career. A couple of weeks later, sitting in my living room, my friend Jim Westfall and I began discussing the trophy. Jim, a typesetter by profession, impressed on me two things. Firstly, I had to find the names on the trophy and what became of them, and Secondly, I needed to write a book about it.
B-17's at Knettishall
My first venture into finding the crews was to look up phone records in the USA. These are available online, but I also found obituaries and some brief online mentions of some of the names. By choosing some of the more unusual names, a start could be made. Dong Ong was reasonably easy to find, and although he had passed away in 2007, I found one of his sons and a grandson who were very helpful. So started a long distance search with hours of phone calls, as, like a fisherman, I started reeling in the stories of these men and why their names were engraved on a forgotten piece of silver plate on the other side of the Atlantic.
Both crews were called forward from advanced training a little early in preparation for D-Day. Dong Ong and crew arrived in Liverpool by troopship, Johnnie Colburn and crew flew the Atlantic hopping from Labrador to Iceland, and on to Prestwick in Scotland. Once they had landed, their new B-17 bomber was taken off them and they were put on a train to a holding depot. Soon both crews were assigned to RAF Knettishall in Suffolk, station 136, hosting the 388th Bombardment Group. Knettishall operated in a similar fashion to the other bomb groups; the pattern and structure were similar. Four squadrons made up a group and each was accommodated around the airfield in newly built Nissen huts. Crews were warned that casualties had been high and to expect severe losses. The 388th had been flying from Knettishall since July 1943 and had experienced the flak and fighter mauling of the long distance daylight raids over Germany.
The Colburn crew, the trophy seems to rest Under Johnnie Colburn's hand, front, 2nd from right.
Spring 1944 also marked the introduction of fighter cover capable of escorting the bombers all the way to target and back. So, although the crews did not know it, their flying was marginally safer. Johnnie Colburn flew his first mission on June 4th 1944 to attack the long range guns on the Pas de Calais as part of the feint to imply the invasion was coming to that location. Both crews were flying their first proper missions on June 6th. The Colburn crew were in the first wave of bombers to attack Normandy flying over the invasion fleet in the early morning gloom. The book contains a previously unpublished account of the day by Bob Simmon, Johnnie Colburn's bombardier. Dong Ong's crew attacked a marshalling yard at Nantes.
GI Jane, flown by Colburn on early sorties
What followed in the weeks from D-Day for both crews was an intensive schedule of bombing raids both in support of the Normandy landings and continued deep raids into Germany. Each crew was expected to fly 30 missions before being rested back in the USA. The pace of missions for each crew during this period far exceeded the norm, and in Dong Ong's case, his crew were stretched to their very limits. In one five day period the Ong crew flew on raids to Munich on three occasions, one of which resulted on a return trip on two engines.
The photo that launched the search, 1st Lt Dong Ong holding the trophy, August 1944
Through the research it was clear that many of the crew had never spoken in detail to their relatives. The relatives were surprised by a stranger with an English accent phoning them out of the blue, and even more surprised that an engraved trophy existed with their loved ones name on it. Bit by bit the stories emerged, and at times the extraordinary nature of events were revealed. I was delighted to find two surviving crewmen, pilot Johnnie Colburn, now 97, and Ong's waist gunner, Morris Fleischman, in his early 90s. What impressed me was that their experiences were not unusual of the men who served with the 8th Air Army Force, but that in the context of our world now, their lives were filled with daily heroism.
The trophy itself has been far less willing to give up its secrets. Where it had been hiding for 70 years is still a mystery, we only know it came from a house clearance in Edinburgh. To date all efforts to reveal its origins have been unfruitful; but perhaps that's the way it should be. The trophy points to the men and their achievements and serves as a powerful reminder of the price that was paid for our freedoms. My personal delight is being able to tell the story of the crews to their families, many of which were not too familiar with the events. It seems that the re-appearance of the trophy has projected a pin-prick of light and clarity on otherwise forgotten events. The book, A Bomber Crew Mystery may be published, but in some senses, the story continues to form as readers comment on Facebook and provide new details. For me, antiques shops and sales will never be the same, but I doubt I shall find anything so compelling as the 388th Bombardment Group trophy.
David price - author biography
David Price has had a life-long interest in aviation and has been involved with aircraft preservation projects for 25 years. He is part of Solway Aviation Museum based at Carlisle Airport and has served in the past as a director and chairman of the group. He has written features for newspapers and magazines on military matters for some years, and he also researches and writes about the First World War.
David has a construction business in Carlisle and has spent much of 2016 working on flood damaged property after Storm Desmond. Currently he is researching the service career of his grandfather in the Royal Horse Artillery in WW1 for his next book, but still finds time to correspond with family members of the crews of the 388th Bombardment Group.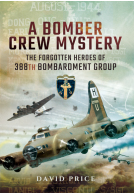 Further Reading
A Bomber Crew Mystery

(Hardback - 236 pages)

ISBN: 9781473870468

by David Price

Only

£25.00


After having discovered a discarded trophy in an Edinburgh antiques shop, author David Price endeavoured to uncover the stories of the men whose names had been engraved upon it. Praised as 'Outstanding Crew of the Month', the members of 388th Bombardment Group set out on their very first mission on D-Day. This baptism of fire heralded the start of an illustrious career; in the period between August-September 1944, they took part in over 30 missions. And yet the details of their endeavours have largely been forgotten. Having become disconnected from…
Read more at Pen & Sword Books...
Larry Goldstein, a World War Two veteran in the 388th Bombardment Group talks about his time as a B-17 radio operator at just 22 years of age.
Of further interest...