Author spotlight - John Carr
Posted on Wednesday 23rd January 2013




John Carr is a recently retired journalist, correspondent and broadcaster, with an interest in aviation and a love of Greek history who now resides in Greece. He is the author of Sparta's Kings and On Spartan Wings.




Your latest book, Sparta's Kings, was published late last year, tell us more about it...

History to me has always been more about people than 'processes.' If history is a record of events, then events are set in motion by people. That's my approach in Sparta's Kings. I take each of the occupants of the twin thrones of Sparta and through the ancient sources try and bring out what made them tick, from Leonidas at Thermopylai to the eccentric reformer Kleomenes III, all of whom made their military mark.




Is your background in the history of Ancient Greece, how did you come to specialize in that area of history?

My first degree was in history and politics. But my interest in Sparta goes back to when, as a lad of twelve, I was lucky enough to be present at the shooting in Greece of Hollywood's The 300 Spartans, on which my mother worked in the production. I'll never forget watching the final shoot, when Leonidas, played by Richard Egan, crumpled under a rain of rubber-tipped movie arrows. I describe this in my introduction to the book. It got me well and truly hooked on ancient Greece.




Are you especially interested in any particular areas of Spartan life, or is it the period itself which captures your attention?

Spartan values, as transmitted through our sources, have always fascinated me. The sobriety, moderation and discipline of Spartan public life echo a crying need today, as materialism and hedonism rule mankind. As I explain in the book, Sparta's kings with few exceptions were by no means wealthy individuals. They had no great palaces or armies of servants and guards, no golden crowns or sceptres. They didn't have overwhelming power, and to me they embodied what a monarch should be - courageous and dignified, shunning opulence and show, sharing the soldiers' privations, standing for the nation rather than any social class.




How did you go about researching this project, was it information you had gathered together over the years that you were expanding on outside of your day job, or were you concentrating on researching and writing full time? Did you come across anything new or unexpected that you felt compelled to learn more about?

I had been pulling material together for quite a long time, though the idea of condensing it into a book for Pen and Sword matured only in the summer of 2011, when I began the writing. I was greatly helped by a series of volumes on ancient Greek history published in Greek by Ekdotike Athinon, including lists of Spartan kings, Athenian archons, etc. Meanwhile I'd retired from full-time journalism, so the actual writing didn't take very long at all. Time flies when you're interested in something! My research did turn up an ancient gem -- the Apophthegmata Laconica of Plutarch, who preserves sayings and character traits of several Spartan kings, including some who remain deep in shadow, such as Kleomenes II. This man reigned for more than half a century, yet virtually nothing is known about him. No-one knows why. I attempt an explanation in the book.




Have you visited the locations mentioned in your book? How important do you think it is to really know the terrain you are writing about firsthand?

In my years of reporting from Greece for The Times, I have visited most corners of this beautiful country. For any historian or even novelist, it's absolutely essential to personally visit the areas you're going to write about. This way you put yourself in the place of the ancients, seeing what they saw, sailing over the same waters, eating even the same food. The character of the people, too, isn't all that different from the ancient Greeks. Then you can begin writing with far more of an atmosphere than if you sat at home or in a library in the UK.




You also had a Second World War title, On Spartan Wings, published in 2012, sensing a theme here! Tell us a little more about it, how did that one come about?

I've always been an aviation enthusiast. In my twenties I applied for RAF officer training at Biggin Hill but a medical board found a history of asthma and gave me a thumbs-down. In December 2010 I published a feature story on the Greek air force in the Second World War in Aviation magazine. Armed with that, I walked into Pen and Sword's offices in Barnsley to suggest a full-length book. A month or so later, the reply came back - go ahead! I was lucky enough to find extensive memoir material in Greek that had never reached an English-speaking readership.The stories of individual courage against great odds were incredible. On Spartan Wings has been well received by internet commentators. The Greek air force wants to get a translation done into Greek.



John Carr, author of Sparta's Kings.



Is there any particular figure in history that you look up to or find especially influential?
That's a tough one. If we're taking about Greek history, then my first prize for character would be split between Leonidas I and the Athenian Aristides the Just, who was not only a brave military commander but one of the most honest and incorruptible politicians in human history.



Do you have any advice that you would pass on to aspiring military history authors?
The biggest risk for a novice military historian, I think, is the temptation to glorify war. He or she must never forget that war is hell. Our subject must be the human qualities of courage, self-sacrifice, discipline and loyalty which war gives rise to. It's too easy to get derailed by the the regimental and divisional pageantry and the boys'-magazine approach of sensationalizing individual acts of bravery. It's also important to keep in mind that the ultimate goal of any war is a lasting peace. And that's the yardstick by which the military historian must judge the outcome of any human conflict, and whether all the blood and death were worth it.



Are you currently working on any new projects?
My third work for Pen and Sword, The Defence And Fall of Greece 1940-41 is now in the production process, and should see the light of day in the latter half of this year. I'm now working on my fourth, a history of the Greek armoured cruiser RHNS Averof, which is 102 years old and still anchored off Athens as a floating naval museum.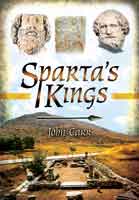 Further Reading
Sparta's Kings

(Hardback)

ISBN: 9781848848498

Only

£19.99


In ancient Greece, Sparta was unique in having a dual kingship – two kings from different clans, the Agiads and the Eurypontids, reigning simultaneously. The institution was already well-developed by the 8th century BC, when Theopompos of the Eurypontid clan emerges as the first recorded Spartan king. At least fifty-seven men held office as Spartan king between Theopompos and the Agiad Kleomenes III who died in 222 BC. For almost all this period the Spartan kingship was primarily a military office, and thus the kings embody much of the military…
Read more at Pen & Sword Books...
Of further interest...