Bristol in the Great War
Posted on Tuesday 2nd September 2014




the story of the west country's warhorses




By Jacqueline Wadsworth, author of Bristol in the Great War (Pen and Sword Books, 2014) and the forthcoming Letters From The Trenches, and the blog, Soldiers Letters.

Shirehampton remount depot

When war broke out in the summer of 1914, Avonmouth became a focus of military activity with queues of army traffic snaking over The Downs and towards the docks carrying troops and equipment bound for France. The narrow country lanes became steeped in exhaust fumes and tired drivers who had travelled long distances yearned for a rest.

Tucked in among them one day in October was a motor car from Bristol carrying Maude Boucher and her friends. They had decided to drive down and see what was going on at the waterside. But as they crawled slowly towards the docks, it was something else that caught Maude's eye. Up in the normally quiet meadows overlooking Avonmouth there were scenes of busy industry and the sound of men hard at work. They were working on the newly-opened Shirehampton Remount Depot where, for the duration of the war, horses and mules shipped into Avonmouth mainly from the US and Canada would be stabled and rested before being sent to the Front.

The depot was one of four principal remount centres in Britain, with the others in Hampshire and Lancashire. Lord Kitchener, the Secretary of State for War, had lost no time in approving the location of Shirehampton when he saw its excellent rail links and port facilities. The remount centre consisted of 35 paddocks, and long lines of huts which accommodated shoeing sheds, cookhouses and offices, fodder barns, barracks for the men, and enough stabling for 5,000 animals. There was a large veterinary hospital on site, plus a disinfectant bath for animals with mange.

Shirehampton became a full military unit in 1915, run by the Royal Army Service Corps with support from the Army Veterinary Corps. But in the early months it was staffed by civilians, under the control of army officers, and among those who worked there were colourful characters from the Legion of Frontieresmen, a paramilitary unit set up in 1905 to help defend Britain and her realms overseas. The Legion attracted men from all over the Empire, most of whom were very experienced horsemen. When war broke out the Legion offered its services to Britain's remount depots and many were employed at Shirehampton to break-in and train horses. In their uniform of Stetson hats, riding breeches and Strathcona-style boots they were often mistaken for Canadian mounted police, or even cowboys.
Shirehampton Remount Depot's veterinary corps on parade. (Photograph courtesy of Helen Frost)




Maude Boucher was a mother-of-four who lived with her family in Tyndall's Park Road, Clifton. An observant woman who took a keen interest in what went on around her, she kept a scrapbook-cum-journal throughout the war which is now held by Bristol Record Office. When she returned from Avonmouth that day she recorded what she had seen: 'Some larger fields were being turned into a cavalry station and of rows and rows of sheds were being erected for the horses which came over later when it was ready for them.' The first animals arrived on 24 October 1914.
Before the war, Britain's army had been one of the most mechanised in the world but the conflict put so much pressure on motor-vehicle production that demand could not be met and the military therefore reverted to horse-power. The role of horses would change as the war progressed. In 1914 cavalrymen were still being trained for mounted attacks with lances and swords. But trenches, barbed wire and machine guns soon open, mobile warfare and mounted soldiers were armed with carbines, to be fired when dismounted, their horses given to handlers during attacks and relied upon more as a means transport. Throughout the war, however, larger breeds of horse were indispensible for hauling guns and heavy equipment.
Domestic and working horses were requisitioned by the army from every corner of Britain, but still numbers were insufficient and so more had to be shipped in from abroad. The voyages aboard huge transport ships were long and debilitating and the conditions inside could be dire. Private Charles Day, who worked at Shirehampton Remount Depot, wrote in a letter that the horses were so tightly packed there was no room for them to lie down, and if one went over it would never be able to get up. 'There are three or four lots, one above the other, and when you get down into the bottom of the ship it is so hot and smells horrible, almost takes your breath away.'
Once put ashore at Avonmouth the animals were run through the streets in droves, and one contemporary account described convoys of mules being led by men clad in sheepskin-fronted trousers. The roads were left thick with manure and after a shower of rain became slippery and dangerous; water carts were used to spray disinfectant.
Mules – a cross between a horse and a donkey – were well suited to army life. They were strong and independent-minded (far more so than horses) and many a soldier found himself having to defer to the superior will of his mule.



A newly-arrived horse is taken in hand by men of the Legion of Frontiersmen. © Legion of Frontiersmen archives (Countess Mountbatten's Own Frontiersmen)

On arrival at the depot, animals would be cleaned, rested, and checked for infections. They were normally kept for two to three weeks before being passed on to reserve units for further training, then sent to the Front. Many horses and mules also had to be broken in. Maude Boucher wrote in her journal: 'Hundreds of horses at a time were being landed continually from Canada and other colonies and some were in quite a wild state and had to be broken in by Canadian Cow Boys and others who were stationed at Avonmouth.' She and her friends were invited to visit the remount centre by an army officer to whom they had given a lift, but it was an offer Maude never took up: 'I was rather afraid that I might see some of the men too drastic in their treatments of the poor horses whilst training them.'
Although conditions aboard the ships could be awful, the army looked after its horses well on dry land. The previous decade, 300,000 horses had been lost during the Second Anglo-Boer War and the army had learned that it paid to take care of its animals. In northern France the Army Veterinary Corps set up hospitals for injured horse, with batches arriving from the Front by train suffering mainly from shrapnel and bullet wounds. After treatment they were sent to convalescent camps nearby where they were put out to rest and graze before being sent for remount. Although conditions at the battlefields could be tough for horses and mules, they were no worse than anything the men had to endure.
A strict eye was kept on conditions at the remount centres at home. Parts of the Shirehampton depot were low-lying and swampy during winter and as a result some horses died in the unhealthy conditions. There were similar worries about a smaller depot near the Ashton Halt rail stop, south of Bristol, where animals from all over the Mendips were collected in a farmer's yard to be sent on to Avonmouth. At night the villagers of Bishopsworth could hear whinnying as horses trod the muddy ground into a quagmire. Here too, many died.
Questions were asked in the House of Commons about conditions at Shirehampton but the Under-Secretary of State for War was rejected any criticism. 'Considering the large number of horses that have been landed at Avonmouth after a winter Atlantic voyage, the percentage of deaths (0.65) is extraordinarily small,' he replied.
From the very start of the conflict, horses were requisitioned from ordinary people and that caused much distress among those who depended on them for their livelihoods, especially if they had come to regard them as pets. At a pub in the Bristol district of St George, an unexpected knock at the door one afternoon by two men in uniform came as a complete surprise to the family inside. 'Everyone was at home, my grandmother and my dad [aged four] and my great grandmother and some aunties all lived in the house,' explained Mary King in an interview with Tot Foster for Bristol's All Our Stories Heritage Lottery-funded project. It was a house full of women because Mary's grandfather was away fighting.
'There was a couple of gentlemen in uniform. Gran went out. The first my dad heard of it was when there was a load of shouting and raised voices and Gran had her sweeping brush, which used to be one of her weapons, and tried to push them out.'
The men had comes to requisition the family's horses: one was used to deliver bread from their bakery, and a pair of carriage horses were hired out to draw carriages at funerals. There was also a pony and trap. 'A lot of them were just sort of work horses,' said Mary, 'they weren't exactly cavalry officers' material.'
Gran set her dog on the uniformed men, which didn't go down very well, and two policemen were sent for to explain to the family that they had no choice but to give up their animals. 'Gran was very upset,' said Mary, 'She was told she was going to be paid for the horses, but she weren't interested in that, she wanted to keep the horses because she knew she'd never get them back. They were good friends to her.'
In the end the family was allowed to keep one mare and, despite much resistance, the rest were led away down Crews Hole Road: 'My gran's following all the way telling them how they got to treat them. My dad's hanging on to horses as he's going down and getting peeled off by different blokes. One of the guys went to whack my dad which upset my gran and she got a horse whip and went to whack him and this proceeded until they took most of them down.'
In exchange for the horses, 40 sovereigns were handed over in a leather bag. 'My gran opened it and threw all the sovereigns around the front garden,' said Mary. Later they were picked up and counted, but there were only 36. 'We were always told as children that there were still four in the garden.'
When Mary's grandfather returned from war it was a shock to discover the horses gone. His wife had not told him because she didn't want to worry him. It was an experience never to be forgotten by Mary King's father who, even as an 80-year-old man, still spoke about how upsetting it was to see the horses taken away.
In Clifton, Maude Boucher had watched unhappily as horses requisitioned from farms struggled to cope with unfamiliar city surroundings: 'Horses from all parts of the country had been commandeered and some of them had come from the depths of the country and so were not used to much traffic, and the poor things were so frightened of the trams and motor cars, and used to dash across the road from one side to the other – one felt so sorry for the poor animals!
'We went to the bottom of Tyndall's Park Road and saw several of the soldiers off on the Saturday afternoon with numbers of horses and gun carriages. Most of the horses seemed very alarmed and many of the men leading them looked so too. Somebody told us that several horses were taken from farmers at Winscombe [Somerset] at which they grumbled very much, but on all the horses except three or four being returned a few days afterwards as being unfit for the work, they grumbled very much more and were not at all pleased about it.'
A tragic accident occurred when two horses pulling a wagon full of army baggage took fright and bolted down Park Street. They ripped off an overhanging shop blind, smashed the window of another shop, then swerved across the road and collided with a wagonette in which an elderly lady was sitting. The wagonette was overturned and the woman had to be pulled from the wreckage. She later died. One of the horses was led away uninjured, but the other had fallen and broken its leg and had to be put down.
During the war years a total of 347,045 horses and mules passed through Shirehampton Remount Depot. The largest number landed in one day was 2,958, and the greatest number accommodated at any one time was 7,244. One of the more colourful characters working at Shirehampton was Mr WJ Davey, a Bristol man whose attempts to enlist in November 1915 were rejected because he only had one leg (the other had been lost in the Boer War). The Bristol Observer reported that Mr Davey was so incensed that he took his protest all the way to the King, but to no avail. The authorities did, however, find him work at the Shirehampton Remount Depot. Coincidentally, King George had inspected the depot just two months earlier during a private visit to Bristol with Queen Mary. He may or may not have been relieved that their paths never crossed.
The remount depot was dismantled in 1919 and many of the huts were put to good use when they were bought by the Bristol Corporation to relieve the city's housing shortage. Although nothing is left of the depot today, reminders of the echoing hooves that once clattered through the lanes of Shirehampton are still unearthed every now and again in the shape of horseshoes.
Jacqueline Wadsworth graduated from King's College, London, with a degree in Geography, and worked for several years as a newspaper journalist, punctuated by spells of backpacking abroad. She is now a freelance writer, specialising in history and sport. When not at her desk she is a keen runner, cyclist, follower of Liverpool FC, fan of American roots music, and supporter of The Donkey Sanctuary. She lives with her family near Bristol.
"Hundreds of horses at a time were being landed continually from Canada and other colonies and some were in quite a wild state and had to be broken in by Canadian Cow Boys and others who were stationed at Avonmouth. I was rather afraid that I might see some of the men too drastic in their treatments of the poor horses whilst training them."

(Maude Boucher)



Soldiers of the Army Veterinary Corps. (Photograph courtesy of Helen Frost)




"During the war years a total of 347,045 horses and mules passed through Shirehampton Remount Depot. The largest number landed in one day was 2,958, and the greatest number accommodated at any one time was 7,244."



soldiers' letters
For more information about the author, her work and her upcoming talks, as well as additional content on the Great War, see her blog, Letters From The Trenches, and follow her on Twitter @SoldiersLetters.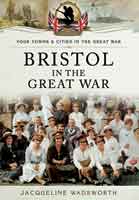 Further Reading
Bristol in the Great War

(Paperback - 192 pages)

ISBN: 9781783036356

by Jacqueline Wadsworth

Only

£12.99


When war was declared in 1914 the people of Bristol erupted in patriotic excitement - but what was it like when the cheering died down?

This book tells the city's unique story during those grinding years, when women risked their lives filling shells with mustard gas, factories turned out chocolate and cigarettes for the troops, Shirehampton's fields were full of war horses, and Filton's nascent aeroplane industry took off. Also described are the lives of the women who waited at home for news of their men at…
Read more at Pen & Sword Books...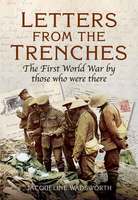 Further Reading
Letters from the Trenches

(Hardback - 208 pages)

ISBN: 9781781592847

by Jacqueline Wadsworth

Only

£19.99


A history of the First World War told through the letters exchanged by ordinary British soldiers and their families.

Letters from the Trenches reveals how people really thought and felt during the conflict and covers all social classes and groups – from officers to conscripts and women at home to conscientious objectors.

Voices within the book include Sergeant John Adams, 9th Royal Irish Fusiliers, who wrote in May 1917:'For the day we get our letter from home is a red Letter day in the…
Read more at Pen & Sword Books...
Of further interest...