Diary of a Despatch Rider on the Western Front 1915-18
Posted on Tuesday 5th May 2015




an engineer's insights into the mechanisation of war


This article by David Venner is based around Diary of a Despatch Rider on the Western Front 1915-18, published by Pen and Sword Books Ltd.



In August 1914, Albert Simpkin had just turned 30 and was enjoying a settled and promising career as an engineer with Crossley Brothers, manufacturers of marine diesel engines in Manchester. He had joined Crossley Brothers as an apprentice straight from school. Albert was an early motorcycle enthusiast - he travelled all over Britain on business on his Douglas Twin machine.


As soon as war was declared Albert enlisted with the Royal Engineers and, after a few months' training at Buxton and Tidworth, he went to France with the 31st Signals Company, attached to the HQ of the 37th Division, one of Lord Kitchener's New Army divisions.

In the autumn and winter of 1917 Albert was back in the Ypres area and his diary records the dreadful weather and trench conditions that the troops had to endure at Passchendaele. But the most interesting parts of the Diary – for an engineer certainly, and perhaps for the general reader too – are those where he comments on the first tanks and aircraft that he saw, casting a critical eye on their design and effectiveness – or otherwise.



3 November 1916


I saw some tanks for the first time today. I was disappointed; I had imagined something entirely different, something more imposing. To me they look very crude affairs, something designed and manufactured in a hurry: larger than a motor lorry yet smaller than a cottage, but resembling neither. Some say they resemble a toad, I fail to see it. The nearest description I can give is they have the shape of an eye but the most extraordinary thing about them is a pair of wheels sticking about six feet from the back. I believe the object of these wheels is to guide the affair. Their movement is like a snake but when they strike rough ground they waddle like a duck. If ugliness is useful in warfare they may have some value, but a well-directed shell would put them out of action.



As the Division rested and regrouped following their involvement in the Battle of Arras, Albert recorded the different types of aircraft he saw and the way in which they were deployed:



27 april 1917


The most spectacular part of the war is the air fighting. The slow observation planes occupy the lower strata of the air, spotting for the artillery or watching the movements of the enemy, their path strewn with puffs of shrapnel smoke from the enemy's anti-aircraft guns. Above them fly the two-seater fighters, whose duty is to guard the observation planes from enemy attacks. Higher still, with the heavens as their ceiling, the single-seater scouts range the blue skies like wolves seeking their prey. Occasionally the 'wolves' elude the vigilance of the two-seaters on 'police duty' and snatch a lone observation plane or, if the odds are favourable they may attack the 'policemen'. Other times they can be seen engaged in a battle royal with their own kind.

An aeroplane falling in flames is an ugly sight. Even in the brightest daylight the glare of the flames streaming behind show blood red as the plane dives, leaving a trail of black smoke to mark the path of its fall. The pilot's death does not bear thinking about; it is neither swift nor merciful.



Later in the war – just two months before the Armistice, he observed the shooting down of one the giant Gotha aeroplanes. He took the opportunity of examining it closely on the ground the next day:



15 september 1918


Last night, as soon as the last traces of daylight had gone, the German bombing planes began to arrive - the roaring of the double-engined Gothas filled the skies. Our searchlights were waving their beams backward and forward searching for the raiders. Suddenly they caught one in the light and immediately several other searchlights fastened on to it, making the plane stand out like a huge white moth. In a moment the machine guns were chattering madly, their flaming bullets rising like a bead curtain, and the AA joined in, bursting shells twinkling like stars. The Gotha made a slow clumsy turn and made off towards the Line. In our excitement we forgot all about bombs, but we got a stunning reminder when he dropped half a dozen which exploded almost as one, shaking the ground like an earthquake. It was quite clear he had dropped his load and taken to his heels.

There was an uncanny silence, even the artillery in the Line ceased fire to watch the spectacle. Suddenly a stream of tracer bullets flew towards the Gotha, fired from a position high above his tail. It seemed to have no effect; he sailed on but was still held in the remorseless lights. Our plane was still on his track, flashing through the searchlights as he manoeuvred for position. A moment later another stream of fiery beads ripped across the blackness, a longer burst this time, the rattle of the machine gun faintly reaching our ears.

'Missed again' we thought, but a small flame began to show on one of the wings and in a few seconds the Gotha was a flaming torch lighting the sky a blood red. It seemed to stagger in its stride, and then began to dive, gently at first but getting steeper and steeper until it was falling vertically with a wake of roaring flame like a meteor. Up to that time we had been watching the Gotha fight for life in breathless silence but now a tremendous roar of cheering broke out, rolling around the countryside like a gigantic arena. We heard afterwards that even the troops in the trenches stood up and cheered. The Gotha hit the ground about half a mile away with a tremendous thud. The fire flared up for a short time and then died down and it was all over, the most thrilling sight I have ever seen.



16 september 1918


This morning I went over to look at the wreck of the Gotha. Its size was amazing: it looked like the wreck of a Zeppelin, a mass of twisted tubes and wires. The tail, which was as large as an ordinary plane, had fallen two hundred yards away. It was one of their latest super Gothas, having a wing span of 124 feet and four engines. It carried a crew of eight. Among the wreckage was a small engine and dynamo for supplying the electricity for the wireless. The engine was a copy of that used in the Douglas motorcycles. I also noticed some fire extinguishers in the debris, which had availed them nothing.



After the war Albert Simpkin returned to Crossley Brothers and by the mid-1920s had become Chief Engineer. He was sent to Argentina to set up and manage a branch of the firm in Buenos Aires and died there in 1966, aged 80.



For more information on the life of Albert Simpkin and the book, visit www.diary-of-a-despatch-rider.co.uk.


albert edward simpkin – the diarist

Albert Edward Simpkin was born at Broughton near Manchester in 1885. After leaving school he worked at Crossley Brothers, manufacturers of marine engines, as an apprentice engineer. Albert joined the Army in December 1914 and Despatch Rider on the Western Front 1915-18 is a fine record of his continuous service in NE France and Belgium until demobilisation in early 1919.
After the War he returned to Crossley Brothers, eventually becoming Chief Engineer at their Openshaw branch in Manchester. In 1926 he married Lily Frances Saywell (sister of the Editor's grandmother). Shortly afterwards he was posted to South America to set up a new branch in Argentina. He died in Buenos Aires aged 80.


'The Gotha hit the ground about a half mile away with a tremendous thud. The fire flared up for a short time and then died down and it was all over. It was the most thrilling sight I have ever seen.'


Albert Edward Simpkin in 1917.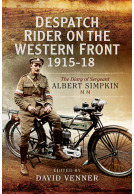 Further Reading
Despatch Rider on the Western Front 1915–18

(Hardback - 204 pages)

ISBN: 9781473827400

by David Venner

Only

£19.99


This book is a skilfully abridged version of the diary of a First World War motorcycle despatch rider, Sergeant Albert Simpkin, who was attached to the HQ 37th Division. The diary entries, and some longer descriptions of the main actions of the Division, provide a fascinating record of the life of a despatch rider on the Western Front; one day dodging shell holes and ammunition limbers to take his despatches to the front, the next observing the quaint but often courageous lives of the local populace. Throughout the diary are…
Read more at Pen & Sword Books...
.


david venner

Despatch Rider on the Western Front 1915-18: the diary of Sergeant Albert Simpkin, MM. Is introduced and abridged by David Venner. David was born and raised in Somerset. He graduated from Edinburgh University with a degree in Ecological Sciences and followed a career in Countryside Management. He is now a family history advisor based in North Devon. He has written two books previously, The Venners of Somerset and Devon (1980, privately published) and Information for a Rural Community (1986, British Library).

Of further interest...