Falklands Hero: Ian McKay
Posted on Tuesday 12th June 2012




The last VC of the twentieth century

Extracted from Falklands Hero: Ian McKay by Jon Cooksey and reproduced by permission of Pen and Sword Books Ltd.

Ian McKay joined the Parachute Regiment at the age of 17 in August 1970, a decision which caused his parents, and his father particularly, a good deal of anxiety for Ian was not a youth faced with an 'either or' choice of the army or the dole queue. He was an intelligent, bright and enthusiastic boy and passed the 11-plus examination to attend the local grammar school. That he was more interested in the lure of the playing field than the classroom was immaterial. Thousands of working class boys and youths, deemed by the education system to have some modicum of above average intelligence, would sooner don games strip and chase a ball around a muddy field or hit it with a bat or racquet than stick their noses inside a text book.

It was the army which benefitted from Ian McKay's skills and personal qualities and what was a loss to the nation's schoolchildren was the army's – and specifically the Parachute Regiment's – gain. Ian was everything that every Parachute soldier aspired to be: very fit, honest, hard-working and skilful, quick-witted, intelligent, adaptable, solid and reliable.

Within seven months of joining up Ian was in Northern Ireland at a time of cataclysmic social and political upheaval in the province. Within a week of his arrival three young Scottish soldiers were murdered by the IRA near Belfast and the dreadful news caused much anguish in the McKay household as they feared for their son's safety. That gnawing anguish never diminished throughout Ian's long months of service over two separate tours of duty and in fact was heightened when, on Sunday, 30 January 1972, his company of the 1st Battalion, The Parachute Regiment, was ordered into the Bogside in Derry to conduct an arrest operation during a civil rights march. Ian McKay found himself in the car park of the Rossville Flats with acid bombs being thrown down on him from the balconies above. His sergeant ordered him to fire at his assailants and Ian fired two aimed shots at a man he thought was responsible, although he believed he had not hit his intended target. Ian was not the only soldier who fired that day and by the time he and the rest of his company had been pulled out thirteen civilians lay dead in the Bogside, with a similar number wounded. The day became known as Bloody Sunday, a day which history would mark out as the most pivotal day in the long agony of Northern Ireland during the time known as The Troubles. Its repercussions were monumental and were felt around the globe; there was an increase in support for the IRA and a boost in volunteers to its cause; there followed the abolition of the Northern Ireland Government and Direct Rule from Westminster and the dawning of the grim realization on the part of the British that a purely military solution was now no longer possible.
As the platoon sergeant, (centre right) of 477 Recruit Platoon, Ian worked with Capt Alan Coulson to keep an entire platoon of ex-Junior Parachute Company recruits on the straight and narrow and won them over with his calm, reasoned and supportive approach. 477 Platoon passed out in February 1982. Two of Ian's young charges, Steve Tuffen, (back row, centre) and Julian Barrett, (to Tuffen's left) would be posted to be seriously wounded in the Falklands. (Freda McKay)

The 18-year–old paratrooper Ian McKay was one of those at the centre of the storm which characterized one of the most momentous events in recent British history.
In a little more than ten years after Bloody Sunday, Ian would yet again be in the vanguard of those who were shaping history as he faced the greatest test of any soldier – to be committed against an organized enemy on the battlefield. One wonders whether he ever questioned, as many soldiers do on the eve of their first battle, that he would pass that test.
As a young soldier Ian certainly took advantage of many of the opportunities for rest and relaxation offered but perhaps he didn't always feel the need to be the life and soul of the party or to follow the crowd. Being his own man, Ian didn't recognize that the generally accepted customs and traditions usually associated with male bonding in a male-dominated environment were the be-all-and-end-all of being able to fit in. After all he had had some strong role models in his life and many of them had been women. His mother Freda, his maternal grandmother and several aunts were all strong women in their own ways. His grandmother – or 'Jamjar' as Ian had called her since childhood – had followed his professional footballer grandfather around the country during the economically depressed 1930s and had later run several public houses.
After Ian's birth his mother had two more sons, Graham and Neal, both of whom suffered with cystic fibrosis which, at the time they were born in the 1950s, almost always proved fatal in childhood. Caring for them took up a great deal of her time and energy and there were times when Ian simply had to get on and do things for himself when he was still quite young. He was most certainly not unloved or neglected but by necessity was left to his own devices whilst his father was at work and his mother worked through her daily cycle of exhausting physical treatment of his brothers. This helped to foster traits of independence, resourcefulness, self-reliance and assertiveness in Ian.
The men – for it has only ever been awarded to a man, although women are eligible – who have received this most prestigious and pre-eminent of gallantry awards and have survived, have truly earned the right to wear that 'little bit' of crimson ribbon. When, on 11 October 1982, the name of Ian McKay entered into the pantheon of that select band who have been granted the Victoria Cross he at once became cocooned by the aura which emanates from that elegantly simple bronze cross which bears his name, but the story of Ian McKay is so much more than that of his association with the VC, albeit the most highly prized award 'for valour' in the world. His is a story of service and duty to his family, to the army and the Parachute Regiment and to the men he trained and led. Those men would follow him anywhere.
After Ian's death his close family chose to deal with it in different ways.
From the moment they heard the news of Ian's death, tragedy, it seemed, was intent on stalking the McKay family, paying close attention to Freda in particular. Ken McKay did not want to talk about Ian's death but that was all Freda wanted to do. These polar opposite approaches to bereavement and the grieving process eventually drove a wedge between them which could not be bridged and they separated eighteen months later after more than thirty years of marriage. Although Freda McKay went on to find happiness and some comfort over the next ten years with a new partner, she and Ken eventually worked through their differences and found a way to become friends again until they were united in grief once more with the death of their youngest son, Neal, in 1989.
Freda lost her partner Jeff Agar to cancer in 1994 and the following year, in 1995, her third and last surviving son, Graham, lost his battle against cystic fibrosis. All three of the McKay boys were now dead. It is ironic that Ian, strong, healthy and fit as he was and their protector for so many years, should die at the age of 29 whilst his brothers outlived him; Neal reaching the age of 32 and Graham 39. Had he lived, Ian would have been extremely proud of the way both his brothers had epitomized the McKay family's grit and determination to battle against overwhelming odds to survive much, much longer than the medical profession expected and that they, too, had lead fulfilling lives, albeit lives cut tragically short.
Much has been written on 3 Para's battle for Mount Longdon on the night of 11/12 June 1982 at the height of the Falklands War and the deeds of its B Company during that battle. Thousands of words have sought to describe and analyze the fighting in which B Company was engaged, and the manner in which Sergeant Ian McKay of 4 Platoon earned his VC has been the subject of much discussion and speculation.
The bare bones of that attack have been well-rehearsed in the pages of several books and magazines, including some under my name: how they came in from the west, in line with the axis of Mount Longdon and assaulted it 'end on'; how they traversed a minefield on the way and then fought their way doggedly through a series of sheer- sided and virtually parallel rock channels – some men clawing their way ever higher towards the western summit whilst others grappled with a series of Argentine sangars many feet below on the northern face of the mountain. After bitter gutter fighting of the most vicious and personal nature – bunker by bunker and often hand-to hand – somewhere in the region of that first summit, either around it or below it, Argentine resistance stiffened around a series of sangars centred on a well-sited heavy machine-gun complex. At this point Andrew Bickerdike, 4 Platoon's commander was seriously wounded along with several others and the attack stalled.
Enter 24210031 Sergeant Ian John McKay, aged 29 and with a wealth of experience accrued during eleven years and ten months of service in two of the three battalions of the Parachute Regiment. Assuming command of 4 Platoon, it is an accepted fact that Ian McKay gathered a small group of young men around him, organized them and led them in a charge against the machine-gun position which was pinning his men down. The gun was silenced and the attack was resumed but Ian was killed in the process, an act which was recognized with the posthumous award of the VC.
It was assumed that no-one would ever know the exact spot at which Ian McKay had died. A small cross has since been erected on the north face of Longdon, in the middle of a patch of open ground and directly below the sheer wall of the western summit which purports to mark that site.
This was an orthodoxy to which I also subscribed until I began the research for this book and met and spoke at length with men of 3 Para who had been with Ian McKay on Mount Longdon and had seen him in the minutes and, in some cases, seconds, before he died. I met Ian Bailey – the last man to have seen Ian McKay alive – several times, as I did Andrew Bickerdike, Ian's immediate superior who devolved command to his platoon sergeant after he himself was wounded.
The legacy of what Ian McKay did that night lives on. Ian Bailey was amongst a few others who happened to be there and if Ian McKay had picked up anything from his time as an instructor he knew quality and talent in a junior non-commissioned officer when he saw it. He was not about to let Corporal Ian Bailey scuttle off to another part of the battlefield just because he was in another platoon when the entire attack was in danger of grinding to a halt at that very point.
When Ian organized the attack and his small party broke cover to attack the Argentine bunkers the rest of Ian's party were either killed or wounded within a few seconds. Ian Bailey was shot in the hip – one of three wounds he received – and fell but he saw Ian McKay charging on as he did so. He was the last man to see Ian alive, had received a Military Medal in October 1982 for his part in the VC action and it was essential that I heard his first-hand account.
My curiosity was aroused as I sat with Ian Bailey in his front room near Aldershot one day in November 2006 on the first of my two visits to see him. A speculative question regarding his location that night, to which I admit I was not really expecting a firm answer, was met with an astounding admission. 'I know exactly where I was,' he said with absolute conviction:
In January 1983 I was at the Depot and was called in one day by Lieutenant Colonel Brewis. Royal Engineers had been clearing up on Mount Longdon and had found my dog tags. One of the three rounds which hit me went straight across the back of my neck and I didn't know it then but it severed the cord on my dog tags. When I was recovered later the dog tags were left where they had fallen. The engineers had taken a photograph of the position and sent the dog tags and the photograph back to the Parachute Regiment HQ and they were handed back to me. When I was posted back to the Falklands in 1998–99 I went back up [Longdon] and I went straight to the place. I followed the route up, where we'd gone. We were far in advance of anybody else; we were nearly at our objectives at the far end of the mountain and had to withdraw afterwards because there were so few of us up there.
He had further photographs of his return visit to Longdon during his posting in the late 1990s. In one he is pictured crossing rising ground towards a jumble of rocks further up the slope, in another he is pictured 'standing on the spot where my dog tags were found'. In both there was a distinctively-shaped rock.
I now had photographs but out of context they meant nothing. Distinctive or not there are thousands of rocks on Mount Longdon and Longdon is a very large mountain. It is also a very long way away. A visit to check for myself was out of the question for the time being. At this point I had the good fortune to be put in touch with Ailsa and Tony Heathman at Estancia House on the Falkland Islands. Well known to many soldiers of 3 Para, Ailsa and Tony had welcomed the battalion in 1982 when it had been making its epic cross-country TAB (Tactical Advance to Battle) across East Falklands towards Port Stanley. It was from positions around the Heathman farm and Mount Vernet that Ian McKay and 3 Para had begun their final advance on the night of the battle.
Ailsa and Tony had visited Mount Longdon many times in the past and kindly agreed to help find the position as had Tony Smith, another islander with whom I was put in touch. On 24 April 2007 I received an email from Ailsa:
At long last, Tony and I and a few others ventured up to Longdon yesterday in a bitterly cold wind that turned to driving rain as we were about to leave. To cut a long story short, we found the rock in Ian Bailey's photos fairly easily. It is definitely east of the bowl by 100yds or a little more. The ridge of rocks runs along the north face of Longdon and then there is a gap of open ground before you go on to Full Back [3 Para's second and final objective]. Ian B's rock is less than 100yds from the east end of the long rocky ridge. The mark showing on the rock in the photos you sent is caused by a shadow as the bottom, right corner of the rock is missing... Very recently I heard something about Vernon Steen [another Falkland Islander] being with Ian McKay that night too so I rang him this morning to see if he could throw any light on the matter. If I understood him correctly, he last saw Ian in about the same place as Ian B's photos were taken. He said he was only with Ian [McKay] for about an hour and there were four or five in the group but Ian McKay was the only one named to him. He described seeing Ian below a rock face, in a gulley, which seemed to fit the position we were at yesterday.
Towards the end of 2007 and again in early 2008 I was able to make three research trips to the Falkland Islands. I met Ailsa and Tony Heathman and Tony Smith and spent a total of some 14 hours over a period of three days walking Mount Longdon. I was introduced to Vernon Steen who had seen Ian just before he had set out on his mission to destroy the Argentine machine-gun position. We spoke at length and he and Tony Smith accompanied me onto the mountain during one of my research trips.
We set off in the direction Vernon said Ian had taken and followed a sheep track at a much lower level. Hugging a high rock wall to our right we came to a gap in the rocks. Thirty metres away, across open ground, was the rock in Ian Bailey's photograph and above it were two Argentine sangars, the second of which bore the characteristics described to me by Company Sergeant Major Sammy Dougherty who had found Ian's body. So this was where Ian McKay died; 100m or more beyond what has been accepted as the furthest point of penetration by any members of B Company and based on the testimony and evidence of those who were in a position to know. Ian's achievement that night on Mount Longdon was a staggering effort but given the advanced position of the location at which we were now standing the award of the VC appears all the more significant.
Mount Longdon 2007. Falkland Islanders Vernon Steen (left) and Tony Smith stand near a rough circle of stones in the foreground which marks the Argentine sangar where Ian McKay died. Steen saw Ian just a few minutes before his attack on the Argentine positions. Ian's party broke cover from the rocks behind Steen and Smith thirty metres away and charged across the open towards the camera. (Author)



Standing and gazing around the position, the decaying yet distinctive remains of the Argentine sangars at my feet and up ahead, not too far distant, the secondary peak which marked 3 Para's final objective, I marvelled at how far Ian McKay had come, not just on that night but during the course of his life. It was a life which had begun in a small South Yorkshire town and had for its first seventeen years traced a path very much like my own but Ian McKay chose a more difficult route. That it should have lead us both ultimately to this bleak and lonely place and for him to lose his life in the very act of saving the lives of his fellow paratroopers was a truly sobering experience.
Ian McKay has deserved his place in history. He has not and will never be forgotten. He is and will always be remembered as a man who cherished his family, who lived, breathed and was shaped by the Parachute Regiment. Ian McKay, Falklands VC, the last British hero of the twentieth century.
Ian McKay's Victoria Cross displayed with his General Service Medal 1962 - Northern Ireland Clasp - and the South Atlantic Medal. The medals were sold to Lord Ashcroft by Marica McKay in a private treaty sale on 24 November 1989 and are now on display in the Ashcroft Gallery at the Imperial War Museum.

'That photograph'. This image of Ian, taken by Rotherham photographer John Bates on Ian's first home leave after Passing Out, is the one which most people associate with him and has appeared in many publications since 1982 but it was a very ad hoc affair. Ian is not in regulation uniform and the dog - Spot - belonged to the next door neighbours. (Freda McKay)
In his element, out in the field in a trench on exercise. (Freda McKay)



'Ian McKay has deserved his place in history. He has not and will never be forgotten. He is and will always be remembered
The last man to see Ian McKay alive. Cpl Ian Bailey, a section commander in 5 Platoon of B Company, 3 Para, pictured here at Teal Inlet just two weeks before the battle for Mount Longdon. (Rod and Jan Hutchings)



The Argentine .50-calibre heavy machine gun which was a thorn in the side of 4 and 5 Platoons of B Company, 3 Para during the attack on Mount Longdon. Protected by additional machine guns and rifles it was at the heart of a formidable weapons complex. Photographed in situ by Capt Bob Darby on 16 June 1982 it had been turned to fire on the pyramidal rock outcrop of Full Back - the final objective of 3 Para during the battle. Port Stanley is just visible in the distance centre left. (Bob Darby)



Union Flags drape the coffins of the sixteen paratroopers interred at Aldershot Miltary Cemetery on 26 November 1982. Ian's coffin and bearer party are on the extreme right. (Freda McKay)



Ian's headstone in Aldershot Military Cemetery. (Author)



'To the World a soldier, to us the World.' (Ian's headstone)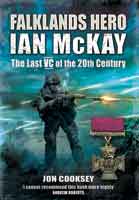 Further Reading
Falklands Hero

(Hardback - 256 pages)

ISBN: 9781844154937

by Jon Cooksey

Only

£19.99


At the height of the bitter battle for Mount Longdon during the Falklands War , 3rd Battalion, Parachute Regiment's assault has stalled in the face of determined resistance. With his platoon held up by an Argentine machine gun, it falls to Sergeant Ian McKay to act. The machine gun has to be silenced to break the deadlock. Gathering a small group together, Ian McKay leads them in a headlong dash into the teeth of a withering fire. One by one they fall until only Ian McKay is left, charging on…
Read more at Pen & Sword Books...
Of further interest...