Greenhill Books Relaunch
Posted on Wednesday 9th November 2016




GREENHILL BOOKS AND PEN AND SWORD BOOKS HAVE ANNOUNCED A JOINT PROJECT TO RELAUNCH THE GREENHILL BOOKS LIST




Greenhill Books, established in 1984 by the London Book Fair founder Lionel Leventhal, has not published any new books since 2007. It has almost 1000 military history books on its backlist (many of which are available in more than 15 foreign language editions).



Michael Leventhal and Charles Hewitt shake hands to seal the deal of a partnership relaunch.



In Spring 2017, in collaboration with Pen and Sword Books, Michael Leventhal will begin publishing new military history books. Pen and Sword will provide sales, marketing and distribution support for domestic and international sales.
Charles Hewitt, Managing Director of Pen and Sword said:
'I'm delighted to be working with Michael Leventhal again. He has an amazing ability to sniff out and commission a fascinating collection of impactful and groundbreaking projects. We look forward to working on these titles with Greenhill Books, who have an excellent reputation in the field of Military History.'
Michael Leventhal and Charles Hewitt seen here, signing the contracts.
Michael Leventhal, Director of Greenhill Books said:
'For a long time I've wanted to resurrect the family publishing company. It has an incredibly rich backlist and a tremendous reputation for publishing the finest military history books.'
Leventhal plans a programme of ten books for 2017 and says the list will focus on World War I, World War II and Napoleonic titles.
Leventhal has also been appointed interim editor of the Jewish Quarterly journal.
About greenhill books
Greenhill Books is an independent, family-owned company that publishes quality military history for knowledgeable enthusiasts.
They publish military history that matters and makes an impact.
"We are proud of every book we publish. We are confident that we publish the best authors on the most fascinating aspects of military history."
An array of Greenhill titles on the bookshelves
For more information contact Michael Leventhal 07956 275 566 or Pen and Sword Books on 01226 734555.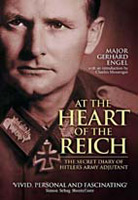 Further Reading
At the Heart of the Reich

(Hardback - 208 pages)

ISBN: 9781853676550

by Gerhard Engel

Only

£27.50


• Essential insight into the heart of the Nazi state • First-hand account by the army aide at Hitler's side, 1938-43 • Traces Hitler's military decision-making at crucial points Major Gerhard Engel was Hitler's Army Adjutant from March 1938 to March 1943. Remarkably, this atmospheric account from a member of Hitler's closest circle has never been published in English before. During his years with Hitler, Engel kept the diary in the form of six notebooks. After the war, he added material to shed further light on certain events, military and…
Read more at Pen & Sword Books...
Of further interest...