Guy Gibson: Dambuster
Posted on Tuesday 13th August 2013




By Geoff Simpson. This article was extracted from Guy Gibson: Dambuster and is reproduced here by permission of Pen and Sword Books Ltd.

That Guy Gibson, almost seventy years after his death, remains, in the public's mind, one of the great British heroes of the Second World War cannot be disputed. There were many successful and heroic RAF pilots in the war. Very few of them, seven decades later, have any claim to be thought of as names familiar to those beyond the historians, authors and researchers who study the period. In that sense, Gibson is one of the few.

To some extent this is because he was selected at the time to be a public figure as part of Britain's war effort. The attack on the dams was regarded as a spectacular success when it took place, both for the destruction it caused and for its value in lifting morale and impressing Britain's allies.

Gibson had planned and led the attack brilliantly and was the natural person to be pushed forward when a figurehead was needed. He was an heroic figure, who was placed at the forefront of a major operation which became also a significant British propaganda coup. He earned the Victoria Cross, the greatest award of all, and his other achievements include introducing the role of master bomber (though it was not called that at the time) to Bomber Command.




Preparing the way

There is always much confusion over ranks held in wartime; 'substantive','wartime substantive','acting' and 'temporary' are just some of the categorizations that may apply. Matters become worse in relation to the attack on the dams, because a number of the aircrew involved received promotions around the time of the operation. Indeed, some took off from Scampton, not knowing of their elevation.

Amongst those to be promoted at that time were Flight Sergeants Anderson, Deering and MacLean, who were commissioned. The ranks used in this book for those and other personnel are those that seem most appropriate for the time being referred to.

It is also worth pointing out that the official name for Flight Lieutenant Martin's aircraft was 'P for Peter'. However, the crew referred to the aircraft as 'P for Popsie' (a slang expression at the time for an attractive young woman) and this is the appellation that has gone down in history.

Gibson arrived at Scampton, the appointed home for the new squadron, on Sunday, 21 March, accompanied by his dog – a labrador named Nigger.

Administrators were arriving for 617 Squadron. There was an adjutant, who Gibson did not take to (fairly or unfairly, it is difficult to be sure with Gibson) and then there were Flight Sergeant George Powell and Sergeant Jim Heveron, two men who would play leading roles in the creation of this new bomber squadron from a piece of paper. Both had come across the airfield from No 57 Squadron, a Lancaster unit, resident at Scampton since September 1942.

Like most flight sergeants Powell was sometimes 'Chiefy', a tradition that dates back to the amalgamation in 1918 of the Royal Naval Air Service and the Royal Flying Corps to form the Royal Air Force. When the new RAF ranks were announced in 1919, flight sergeant was the equivalent of the naval rank of chief petty officer. Powell was also known by his peers as 'Sandy' and this was most likely to be a reference to the comedian, Sandy Powell (1900-1982), associated with the catchphrase, 'Can you hear me, mother?'

Powell and Heveron put in an enormous amount of work to bring the squadron to reality, finding personnel and equipment. Their boss was working hard too and was often not to be seen.

One person who Gibson did talk to himself was Section Officer Fay Gillon, who also came from No 57 Squadron, but in an intelligence role. This manifested itself, in particular, as a role facilitating the programme of training in low flying that would be needed and liaising with group about it.

Gillon would recall that Gibson made clear at the meeting that he rather doubted the ability of women to contribute to important matters, but his sexism was a benefit when he ensured that her new office received some basic equipment and decoration.

Gibson needed a crew and the work of assembling that had been going on. Only Hutchison had joined him from No 106 Squadron (via a heavy conversion unit to which he had been posted). Whether other potential crew members from No 106 were invited to No 617 is not clear.

No 50 Squadron provided a firm basis for the new crew. The navigator, Pilot Officer Harlo Taerum, RCAF, had gone from 50 Squadron to Wigsley, where Hutchinson was also newly arrived. It may have been 'Hutch' or it may have been Mickie Martin who put forward the name of the Canadian who would be 'Terry' in 617 Squadron.

Taerum, was from Alberta, the eldest son of a Norwegian immigrant farmer who had died young. According to his mother, Harlo was determined to join the RCAF following the invasion of Norway by the Germans and after hearing reports of the ill treatment of its citizens.

The bomb aimer selected was 24-year-old, Pilot Officer Frederick 'Spam' Spafford, DFM, an Australian friend of Taerum's from No 50 Squadron. Spafford had been born with the name Burke but had been adopted by his grandfather, bringing about a change of name. His grandfather died before Spafford enlisted in the Royal Australian Air Force and he gave as his next-of-kin his uncle, Walter James Spafford, who was then the director of agriculture for the state of South Australia. 'Spam' had spent short spells with other squadrons including No 83.

The rear gunner, Flight Lieutenant Richard Algernon Dacre Trevor-Roper, DFM was another from No 50 Squadron and was deeply experienced. He was also the man referred to by Morris as figuring in Burke's Peerage. His father, Captain Charles Cadwaladr Trevor-Roper had served with the Hampshire Regiment in the First World War and had died of wounds on 3 August 1917, being buried in Belgium. His son was born on the Isle of Wight and was two-years-old when he lost his father. The historian, Hugh Trevor-Roper (later Lord Dacre of Glanton) was a second cousin of Richard. At the time of Operation Chastise Hugh was working for MI6.



Guy Gibson, on the right, pictured about to board a Lancaster with his Wireless Operator on the Dams Raid, Flight Lieutenant R E G 'Hutch' Hutchison. Gibson is wearing a German life-jacket which he picked p as a trophy from one of the aircraft he had shot down earlier in the war. WW2 Images.



Now we come to the two NCO members of the crew and, perhaps in his usual fashion, the two with whom Gibson appeared to be rather unimpressed.
Flight Sergeant George Deering who would take the front turret on the attack, was Canadian and a veteran of more than thirty operations. Despite this, Gibson regarded him as 'pretty dumb' and not competent in handling the guns.
The Flight Engineer, Flight Sergeant John Pulford, was recruited from No 97 Squadron. Gibson stuck with him despite claiming to regard him as not very bright. Morris points out that, 'This may say more about Gibson than Pulford, for Gibson never listened to him long enough even to notice that he came from Yorkshire, rather than London', which is where Gibson placed him. Pulford was from Hull. Assuming that he had not striven to lose any hint of the East Riding in his voice, it was a remarkable example of lack of observation, or hearing, given the closeness of the relationship between pilot and Flight Engineer, both in terms of jobs and proximity in the aircraft.
The aircrew who flew in the Lancasters of No 617 Squadron in the spring of 1943, offer a most interesting study. Many inaccuracies have appeared about them. Richard Morris made an attempt to get at the truth in a study, published in the autumn/winter 2010 edition of Everyone's War, the journal of The Second World War Experience Centre. In doing so, Morris commented on the value of personal memories of those 'who were there', but also considered the dangers of extreme reliance on this form of evidence.
He made a very important point. An historian might be able to quote the strategy and the tactics, the names, the squadrons and much else that the veteran had forgotten or never knew. Only the veteran can know what it was like to go to Berlin (or the dams) in a Lancaster, be in a Hurricane or Spitfire diving into a vast German formation, fight house to house at Arnhem or face the Chinese hordes at the Imjin River.
Over many years memories blur, events merge into one another and original insights are tampered with by what others say and what is read. The experience of being in action is always buried somewhere in the mind. It is vital to record the memories of action, but so many other sources need to be considered.
Morris addressed the issue through the use of prosopography – the analysis of data about social groups whose members are not easily studied through available historical sources. In the case of the dam busting aircrew he studied data on fifty. Noting the smallness of the sample and the lack of comparative data on aircrew in other squadrons in No 5 Group, he, with considerable modesty, if perhaps strict scientific correctness, described his results as 'tentative and impressionistic'.
Analysing the backgrounds of the captains, Morris wrote:
'Of the eleven RAF and Volunteer Reserve captains, almost all were ex-public school, and from professional backgrounds. Hopgood and Maltby had been to Marlborough. Young was an alumnus of Westminster. Astell had been educated at Bradfield, Ottley at Hurstpierpoint. Gibson had attended St Edward's Oxford. Maudslay was an Old Etonian. Townsend was educated at Monmouth School. Only two appear to buck the trend: Pilot Officer Geoff Rice who attended Hinckley Grammar School, and Flight Sergeant Cyril Anderson, who went to Lawefield Lane School (later the Grammar School) in Wakefield and left it at the age of fifteen.
'Looking to background, Young's father was a London lawyer, his American mother Fannie coming from a Connecticut family that had amassed wealth through developing property. Maltby's father was a headmaster who came from a clerical family. Maudslay was the son of a midlands industrialist who in turn came from an industrial-entrepreneurial background. Gibson's father had been a senior officer in the Indian Forest Service, his mother the daughter of a Cornish sea captain. Astell's father Godfrey was company director of a Manchester cotton mill. Again, Anderson is the exception: his father was a colliery byeworker (a person who worked underground, but not at the coal face, was paid by the day and performed tasks such as processing coal and making repairs) and his grandfather had been a labourer. The census of 1911 finds the family living with grandparents in Sandal Magna.
'The milieu of the British captains, then, was strongly middle class, and characterised by teaching, law, industry, technology and empire.
'If we now assimilate Australian, New Zealand and Canadian captains to this picture, we find it partly reinforced and also subtly transformed. Those from Australia and New Zealand came from professional classes or agriculture. Martin, twenty-five years old at the time of the raid, was the grammar school educated son of a Sydney doctor. Shannon, twenty in May 1943, was the son of a South Australian MP. Robert Barlow had been educated at Melbourne Grammar School and had then gone into the motor trade. At thirty-two he was among the oldest captains to fly on the raid.
'Les Munro grew up on a New Zealand sheep station, and after high school had worked on dairy and sheep farms.
'The Canadian captains show a varied profile. Twenty-five-year-old Lewis Burpee was a graduate of Queen's University, Kingston, Ontario, where he had studied English literature. Ken Brown and Vernon Byers were countrymen from Saskatchewan, Brown from Moose Jaw, Byers from Star City. Joe McCarthy grew up in the New York Bronx. The son of a fireman, he had learned to fly as a teenager and had joined the RCAF in Ottawa before the United States entered the war.
'McCarthy was not alone in having had pre-war flying experience. Apart from Gibson himself, Cyril Anderson had been in the RAF since the mid-1930s, although he had started as ground staff and did not transfer to flying until after the war had started. Barlow had learned to fly as far back as 1928. Young had been in the Oxford University Air Squadron. Astell had learned to fly in the Reserve. John Sweetman long ago disposed of the legend that 617 Squadron's aircrew were all hand-picked veterans, although such is that legend's power that there are many who continue to believe it. Nonetheless it is interesting that all but three of the captains were commissioned (this is a higher proportion than one would find in other 5 Group squadrons at this point in the war), and that several of those with long flying experience were at the upper end of the age scale – Young was twenty-seven at the time of the raid, Anderson twenty-eight, Barlow thirty-two. Another thirty-two-year-old pilot was the Canadian Vernon Byers, who had completed only five operations before joining 617. In due course it would not be surprising to find that he, too, had flown before the war. As a footnote to the question of experience, it is worth noting that while both Astell and Young were seasoned pilots, much of their experience had been in the Mediterranean theatre, on Wellingtons, in Malta and the Middle East.'
Morris noted the inevitable tendency to 'blue collar' amongst the other members of the crews, with plenty having worked in jobs that needed technical skill. There was a considerable number too who had worked in retailing or office jobs, as well as some who had gone straight into the RAF after their education. Teaching was also a favoured pre-service occupation.
A conclusion reached by Morris is that 617 Squadron aircrew in the main represented the middle class.
'One clear finding is that 617's aircrew were not a cross-section of mid-twentieth-century British and Commonwealth society. Notable absences from the social spectrum are members of the aristocracy – only one family appears in Burke's Landed Gentry and one other in Burke's Peerage – and of the labouring working class,' he wrote.
One of the teachers was Sergeant John Nugent, the navigator in Anderson's aircraft. He came from the village of Stoney Middleton in the Derbyshire Peak District. He specialist subjects were maths and music. After qualifying at St Mary's Training College, Strawberry Hill, near London (now St Mary's University College) he had taught in London, moving when his school was evacuated to Brighton. He joined the RAF in 1940.
Another navigator who had been a teacher was Flying Officer Ken Earnshaw, RCAF, part of Hopgood's crew. He had been born in Yorkshire, but the family moved to Alberta when he was young.
If some of Gibson's own crew fell foul of him, the same was true of other crews. Sergeant Ray Lovell and his team returned to No 57 Squadron, Lovell's flying not considered to be up to the standard for No 617.
A difficulty arose too in the case of a crew, from No 57 Squadron, headed by Flight Sergeant Lanchester, RCAF. Lanchester wasn't the problem, it was his navigator, Flying Officer Cleveland. It may have been 'Dinghy' Young who decided initially that Cleveland's navigational skills weren't good enough and passed a recommendation to Gibson. The CO told Cleveland to go and this led to a revolt by the rest of the crew. They all packed their bags as a result, including Flight Sergeant Clifford, who had proved himself an excellent bomb aimer.
Another indication of the far from hand-picked nature of the 617 Squadron aircrew as a whole is that that it was not until late April that all vacancies were filled and all who were not suitable for whatever reason were weeded out.
Gibson's arrival at Scampton on 21 March was followed by a trip to Surrey on 24 March, when he met up with his old contact Mutt Summers, who introduced him to Barnes Wallis. This was the famous occasion when, to his embarrassment, Wallis was unable to tell Gibson what the target was, because Gibson's name did not appear on the right list. Wallis was able to talk about the Upkeep weapon and show Gibson some film of trials with a version that was half the intended size.
The previous day (23 March) the first reference to No 617 Squadron occurred in an Air Ministry memorandum, though this was perhaps not communicated to the squadron until 25 March. The squadron therefore fitted in after the highest numbered of the pre-war Auxiliary Air Force squadrons, No 616 (South Yorkshire) Squadron, which flew Spitfires in the Battle of Britain and was later the first unit to go operational with Gloster Meteor jets.
On Saturday, 27 March Gibson was given 'most secret' orders which did not name the target, but referred to moonlight, an objective that was lightly defended, a specific low height and a precise speed. Practice over water would be 'convenient' and precision in the release point would be required. Flight Lieutenant Bill Astell was ordered to fly over nine lakes that might be suitable for training and obtain pictures.
On Monday, 29 March Cochrane called Gibson to group and the target was at last disclosed to him. He was shown models of the Mohne and Sorpe dams. For Gibson and others when they found out, there was relief that they were not being asked to launch an attack on the German battleship Tirpitz.
Shortly afterwards there was another trip for Gibson to the temporary office that Barnes Wallis was using in Surrey, close to the Vickers works and the two men could have a frank discussion for the first time. It has been claimed that at this point Wallis was contemplating a daylight attack and that Gibson dismissed the idea. It is unlikely that Wallis did believe that the operation could be carried out in daylight.
Probably on Tuesday, 4 April, the Derwent reservoir was flown over for the first time, with Gibson flying and Hopgood and Young accompanying him. Robert Owen makes the point that this flight is sometimes said to have taken place much earlier at a date when Hopgood had not arrived on the squadron. They found meeting the requirements in daylight was not a problem, but it was much more difficult when dusk arrived.



A photograph said t have been taken from Guy Gibson's Lancaster over the Derwent Dam. Courtesy of Vic Hallam, Derwent Valley Museum. Coloured by Jon Wilkinson)



While the training for the dams operation continued, so did the Battle of the Ruhr, as well as other operations, and No 57 Squadron's involvement in it. While its aircrew watched an apparently inactive 617 Squadron across the airfield at Scampton, they themselves were flying into action and suffering losses.
On the night of 4/5 April for example, Squadron Leader Wallage and his crew – Sergeant Harbottle, Pilot Officer Weldon, Sergeants Spicer, Haddow, Evans and Woods – did not return from Kiel. Their names are on the Runnymede Memorial. Six nights later the target was Frankfurt and Flight Sergeant Lemon, RCAF and his crew fell in Germany. On 20/21 April another RCAF pilot was lost from 57 Squadron. Pilot Officer Collins and his crew disappeared during an attack on Stettin. Inevitably there was banter, even ill feeling, about the, for the time being, apparent difference in the contributions to the war effort being made by the two squadrons.
During March there had been much planning carried out at various levels – No 5 Group, Bomber Command and at the Air Ministry – to put into place the training requirements for the attack. At first it was envisaged that the Wellington modified for the Upkeep tests would be used for training, but this never happened. Modified Lancasters started to become available.
There was great pressure to produce a proficient attacking force very quickly. In May the dams were holding the peak amount of water, following the melting of water in the surrounding hills. After 19 May the amount of water held would decline as supplies were released into the industrial system. Discussion took place about selecting lakes for training that were relatively close to Scampton, though in the event, the training spread across a large area of England and Wales.
A major issue, that in different ways had plagued Bomber Command in the early days of the war, was the question of bombsights. A range of ideas and designs were considered for Operation Chastise, with the 'boffin', Wing Commander Charles Dann, the tame expert at the centre of affairs. After much consideration and experiment, a device using triangulation sighting was agreed upon, though No 617's bomb aimers were able to devise the precise method of delivery to the target which suited them best.
Dann was also involved in determining how the aircraft could approach their targets at the right height, eventually decided as sixty feet. A weighted cable descending from the aircraft was one of the ideas considered. Famously twin spotlights, with their beams converging, when the Lancaster was at the right height, were used over the dams. Among the accounts of how this device came about, the ones that can be rejected are those from the film and Gibson's book, involving inspiration coming from the spotlights during a theatre visit.
Robert Owen has pointed out that the idea had originated in the First World War, with the 'Night Height Projector'. In theory, any height could be worked out up to 500ft and later 1,000ft.
Trials at Orfordness threw up difficulties and the concept was not proceeded with at that time. It remained under consideration between the wars and during the Second World War. It is likely that Ben Lockspeiser of the Ministry of Aircraft Production conceived its use by No 617 Squadron.
Less impressed than the 617 Squadron crews was Arthur Harris whose annotation of a Bomber Command document included the words;
'I will not have aircraft flying about with spotlights in defended areas. Get some of these lunatics controlled, if not locked up. Note – beams of spots will not work on water if glassy calm. Any fool knows that.'
For once, an order from Harris was not implemented. Low level navigation in moonlight was one of the issues and, with the 19 May deadline in mind, 10 May was set as the date for competence to be achieved. Despite its depiction in the film, one thing that did not take place was the actual dropping of bombs for practice at the Derwent or any other dam, though this was an idea that was contemplated. Practice weapons were dropped at the Wainfleet bombing range on The Wash.
During the run up to Chastise, Flying Officer Charlie Williams, Barlow's Wireless Operator, was writing letters to his fiancée, Gwen 'Bobbie' Parfitt in Nottingham. They intended to marry when Williams was given leave after the operation. Charlie Williams did not return. In the 1990s, Gwen sold the letters and other papers to the the State Library of Queensland, Charlie's home state.
These extracts are reproduced by courtesy of the State Library's, John Oxley Library.

22 april 1943
Got chipped today by my Flight Commander [Squadron Leader Young]. I was late getting up this morning and did not have time to shave, and really meant to shave at lunchtime, but was late coming over and forgot about it.
I was standing quite close to him about three o'clock and he looked at me and said 'Did you shave this morning?' I said, 'Yes Sir! I was late and had a very hurried one', he said, 'yes, I think you must have'. Later he turned to me again and said, 'My how you must have had a rough shave, see that you use a new blade tomorrow. I said, 'Yes, Sir!'
14 may 1943
They were very excited at home the other day to hear over the news that F/Lt Norm Barlow and self had taken part in the big Berlin raid and no doubt they will be interested to learn that the same Norm Barlow is now my skipper.
15 may 1943
Norm is very thrilled about his DFC and he has every reason to be, he certainly has earned it as he has done thirty-two successful trips.
And later in the same letter;
I am very glad darling that you were there for the take off and the return, and now you will fully realise what a strain we are under the whole time, without the actual operations, and you will not now wonder why our nerves are bad at times. You will have an idea what we feel like every time some of our pals or even just aircrew acquaintances fail to return, we get hardened to it to a certain extent but cannot help feeling depressed every time some of them fail to return.
Many of the chaps I knew well who did not return were some of the finest chaps I have ever met and there are many more of them in every RAF station in England.
Light flak, particularly effective between 250 feet and 2,500 feet was seen to be one of the most likely causes of casualties on Operation Chastise. Hence the decision to fly very low (in theory under the flak) to the targets, though this was at the cost of greatly increasing the difficulty of map reading.
Losses would be sustained as a result of the very low altitude used. Air Vice Marshal Cochrane reflected on that fact in his post-operation assessment, though further losses:would be sustained by the squadron later at low level.
Gibson meanwhile was clearly unwell as the deadline approached. There were various symptoms and hereditary gout was diagnosed. The medical advice that the CO should have a rest from flying was of course dismissed completely. Gibson had an objective and he was going to lead the way in meeting that objective whatever might happen.
At the last moment, there was almost a postponement of Chastise. Trials of Highball, the naval version of Upkeep, had not progressed well and a case was being made in some quarters that to use one weapon when the other could not be used would present the concept of Highball to the enemy. The Royal Navy was for putting off the use of Upkeep until Highball could be put right.
Gibson visited a sealed off area at Reculver near Herne Bay in Kent on a number of occasions. Here, where there had once been a Roman fort and an Anglo Saxon monastery, he saw for himself the struggles of Barnes Wallis to perfect the weapon to be used against the dams.
The late possible delay was averted. The chiefs of staff were in Washington with Churchill, but, urged on by an assessment from London, prepared by Air Marshal Sir Douglas Evill, Vice Chief of the Air Staff, they ordered the separation of Upkeep and Highball. This message was decoded and ready for reading on the afternoon of Friday, 14 May. Now the race was on to take advantage of favourable weather, the full moon and the fullness of the lakes.
The final preparations were made in an atmosphere of national rejoicing. On Thursday, 13 May Axis forces had surrendered in North Africa. The tide of the war could now be seen to be firmly with the Allies. The outcome of Chastise would be announced to a British people now coming to expect good news.
It was a good juncture for Bomber Command too. Harris compiled for Churchill a list of the 100 German towns most important to the war effort and on 14 May the joint chiefs of staff also approved the plan for a joint offensive against Germany from the UK by the RAF and the USAAF. The terms of the agreement clearly showed a belief that the USAAF was capable of precision bombing by day, while the RAF was not nearly so capable during the hours of darkness. Operation Chastise presented the opportunity to paint another picture.
'Gibson had an objective and he was going to lead the way in meeting that objective whatever might happen.'



Wing Commander Guy Penrose Gibson VC, DSO and Bar, DFC and Bar.



'Gibson had planned and led the attack brilliantly and was the natural person to be pushed forward when a figurehead was needed.'



Wing Commander Guy Gibson's office at RAF Scampton was on the first floor of the annex to the right of the No 617 Squadron hangar entrance. Martin Mace/HMP.



'Gibson needed a crew and the work of assembling that had been going on.'



The final resting place for Gibson's dog, Nigger, can be seen in the foreground. Martin Mace/HMP.



617 Squadron's objectives.



Canadian pilot FLight Sergeant Ken Brown who, on the night of the raid, bombed the Sorpe Dam.



The Dambusters Remembered.



A portrait of Wing Commander Guy Penrose Gibson VC, DSO and Bar, DFC and Bar: Gibson's decorations are displayed at the RAF Museum, Hendon.



Bomb aimer and Dambuster George 'Johnny' Johnson talks to the RAFBF about WC Guy Gibson.



Air Marshal Arthur Harris, also known as 'Bomber Harris'.



The crew board their Avro Lancaster, ED932/G, for the Dams raid. Left to right: Flight Lieutenant R D Trevor-Roper DEM; Sergeant J Pulford; Flight Sergeant G A Deering RCAF; Pilot Officer F M Spafford DFM RAAF; Flight Lieutenant R E G Hutchison DFC; Wing Commander Guy Gibson; Pilot Officer H T Taerum RCAF.



The specially adapted Lancaster releasing the oil drum-shaped bomb. This was not the original design planned for the bomb by Wallis.



The Dambusters - 70 years on (with Dan Snow).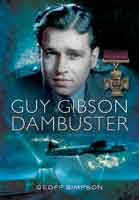 Further Reading
Guy Gibson: Dambuster

(Hardback - 190 pages)

ISBN: 9781781590553

by Geoff Simpson

Only

£19.99


A new assessment of the life of one of the most famous and controversial airmen of the Second World War, this book covers Guy Gibson's sometimes troubled upbringing and the impact on him of his time at St Edward's School, Oxford. In particular, the story of his career in the RAF is relayed, including his stunning leadership achievement in creating No 617 Squadron and leading its attack on the dams of western Germany. The much discussed circumstances of his unnecessary death and the theories which have grown up around it…
Read more at Pen & Sword Books...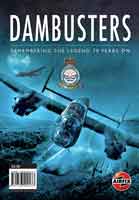 Further Reading
Dambusters

(Commemorative magazine)

ISBN: 9781783400133

Only

£6.00

RRP £6.99


The mission became popularly known as the Dambusters raid, and was immortalised in a 1954 war film. It was one of the most famous air operations of World War II.

Casualties for the raid were high. Eight of the original 19 Lancaster bombers were damaged or shot down, and of the 133 aircrew, 53 were killed and three captured.
On the ground, too, almost 1,300 people were killed, including 749 Ukrainian prisoners of war based in a camp just below the Eder dam.

…
Read more at Pen & Sword Books...
Of further interest...