Joseph of Arimathea
Posted on Monday 18th December 2017




Joseph of Arimathea

Mention the name, Joseph of Arimathea, and it will be familiar to a number of people, although perhaps few could say very much about him. It is to rectify this fact that so little is generally known of his life, that I have written a biography of Joseph of Arimathea.

The first written account of Joseph is his one and only appearance in the Gospels, where Joseph bursts onto the scene and approaches the Roman Governor, Pontius Pilate, to claim the body of the crucified Jesus, and then places the body of Jesus in his own tomb in the garden of his Jerusalem property. Then, three days later, Jesus' body disappears from the tomb, which for Christians is his resurrection, and so does the man who placed the body there: Joseph, too, disappears – certainly from the scriptural record, which now becomes as silent as Joseph's empty tomb.

A manuscript in the Magdalen College Library at Oxford, titled, 'Life of Saint Mary Magdalene', compiled by Maurus Rabanus, Archbishop of Mainz, who lived from 776 to 856, says that a group of people, whose number included Joseph of Arimathea, fled Judea and arrived by boat at what is now Marseilles in the south of France. Throughout the region of Provence one still finds the names of those first missionaries perpetuated in traditions, monuments, relics and liturgies.

The traditions that place Joseph's companions at different locations in Provence say that Joseph did not remain with them in France, but that he was sent on a mission to evangelise Britain, taking with him his son, and ten companions.

There is a Welsh tradition referenced in a Chronicle written by John of Glastonbury in the 14th Century that Joseph began his mission in North Wales, that he then evangelised large parts of Wales as he journeyed south, and eventually crossed the Severn via the old Aust ferry, to arrive at Glastonbury.

And Glastonbury, which of all the places in Britain makes the greatest claim for a connection with Joseph of Arimathea, had water-borne trade coming in via the mouth of the Severn, well-established trackways linking it with the Midlands, Wiltshire and Somerset, and these would have made Glastonbury an ideal centre for Joseph's mission.

One tradition holds that Joseph and his companions crossed the flooded Somerset Levels and arrived at Glastonbury by boat, finally coming to rest on Wearyall Hill on the western side of Glastonbury. Here, it is said, Joseph struck the ground with his hawthorn staff, which he had cut for himself back in Judea; the staff grew, budded, and thereafter flowered on each Old Christmas Day, the 6th January, thereafter known as the Glastonbury Thorn. The thorn is a Levantine species, originating in the eastern Mediterranean, and the Arimathean legend that the arrival of this species in Britain is due to Joseph's hawthorn staff is recognised by Kew Gardens in their literature pertaining to this species of thorn. There is a thorn tree in the churchyard of Saint John's Church in Glastonbury, and one in the Abbey grounds. It is been for centuries the custom to send at Christmas a sprig of flowers from the tree to the reigning Monarch to grace the breakfast table.

There are depictions of Joseph in several churches in Somerset, usually showing Joseph holding two cruets in which it was said that he had collected the blood and sweat of Jesus when Joseph took Jesus' body down from the cross. Legend attributes two springs of water at the foot of Glastonbury Tor, known as the Blood Spring or Chalice Well and the White Spring, to Joseph of Arimathea having buried these two cruets containing the blood and sweat of Jesus' wounds below the adjacent hill. In the dry years of 1921 and 1922 it was the sole water supply available and saved the town of Glastonbury from drought. The suggestion that Joseph of Arimathea's buried cruets saved Glastonbury from drought by supplying an unceasing flow of life-sustaining water provides us with a nice Christian parable of Joseph's actions restoring fecundity and life to the town that celebrates Joseph's name and presence.

Before it was destroyed by fire, there was at Glastonbury a building known as the Old Church. Built in the 1st Century, and acknowledged for eleven centuries as the earliest building used for Christian worship in England, it was originally constructed of clay and wattle and thatched with reeds or heather, and it was believed by many that Joseph and his companions constructed the church. The church must have been constantly maintained and repaired for it was still standing when Augustine saw it in 597, and again when William of Malmesbury stayed at Glastonbury in 1124, who described it as 'a heavenly sanctuary on earth.' The Old Church perished in the fire of 1184, and with it the loss of Joseph of Arimathea's place of worship.

My book is a celebration of Joseph and his presence in Britain. In my book I set out in detail the manuscript evidences for the tradition of Joseph in Britain, as well as responding to the criticisms sometimes levelled at the tradition. My chief aim, however, has been to bring out of obscurity the life of this great man who was willing to risk losing his home, his wealth, and his position in Judean society in order to give the body of Jesus a decent burial, and who later, thanks to his continued courage, brought the life and story of the risen Christ to Britain.

Glyn Lewis

Glyn Lewis' book, Joseph of Arimathea, is published in hardback by Westholme Publishing.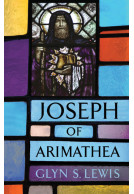 Further Reading
Joseph of Arimathea

(Hardback - 120 pages)

ISBN: 9781594162909

by Glyn Lewis

Only

£19.99


The name Joseph of Arimathea is generally well known, either from the accounts in each of the New Testament Gospels that tell of his providing a tomb for the burial of Jesus; from his depictions in medieval and Renaissance art; from his associations with the Holy Grail that later found greater expression in Medieval Arthurian stories; and even from the story that has endured in western Britain that as a trader in tin, copper, and lead, he had traveled often to the region—and with him came the Christian religion. These…
Read more at Pen & Sword Books...
Joseph of Arimathea
Joseph of Arimathea in Saint John's Church Glastonbury
Of further interest...