June 1943: Pantelleria - the Axis-held fortress island blocked the invasion of Sicily
Posted on Friday 14th June 2013




By Bryn Evans, author of With the East Surreys in Tunisia, Sicily and Italy 1942-1945 - Fighting for Every River and Mountain. Currently working on The Decisive Campaigns of the Desert Air Force.

It is the 70th anniversary this month, when in June 1943 air power sent a message that would reverberate down the years to the present day. In three weeks of sustained aerial bombardment, Allied air forces forced the Axis garrison of the fortress Mediterranean island of Pantelleria, to surrender without any armed conflict on the ground.

the axis threat

In early 1943 in the planning for the invasion of Sicily, a major concern was that the fleet would have to sail close to the Axis-held Italian island of Pantelleria, which was a 'Malta-like' threat to the invasion fleet. It allowed the Axis to dominate both the air and sea routes between Tunisia and Sicily. It was critical for the Allies to achieve a dominant air superiority, so as to protect the open sea voyage and landings of a vast invasion fleet, which would be larger and more concentrated than Operation Torch in North Africa.

Pantelleria was about 50 miles from the Tunisian coast, about half-way to Sicily with a civilian population of some 10,000. Around 14 miles long and 5 wide, it possessed an airfield with modern, underground aircraft hangars, a garrison of some 12,000 Italian and 600 German troops, and 112 fortified gun emplacements. Pantelleria was both a trip-wire that would give advance warning of the invasion fleet by Axis reconnaissance aircraft, and a launching pad for damaging air strikes against the Allied ships, and potentially cause the invasion to be aborted.

Besides the threat of reconnaissance flights, some 80 or so Pantelleria-based aircraft could be rapidly increased by the Luftwaffe from Sicily and Italy. Axis aircraft known to be operating from Pantelleria included Italian Macchi 202 fighters, Savoia Marchetti 79 torpedo bombers, and the German, twin engined Messerschmitt Bf 110 fighters and fighter-bombers. The slow moving invasion fleet could be seriously damaged by air raids mounted from Pantelleria.




operation corkscrew - 3 weeks of bombing

Employing the UK's Professor Solly Zuckerman and his Operational Analysis Unit to advise on bomb tonnages needed, Eisenhower decided to attempt to bomb Pantelleria into submission.

The first phase of the bombing campaign, Operation CORKSCREW, was launched from 18 May to June 5. Nearly 1,000 aircraft were deployed – ranging from heavy bombers including B-17 Flying Fortresses dropping 1,000 pound bombs, B-26 medium bombers, Wellington, Baltimore and Boston bombers, P-38 and Hurricane fighter-bombers, to Spitfire fighters. In the final week of bombing raids between 6-11 June the Allies' Tactical Bomber and Strategic Air Forces in 3,712 sorties hammered Pantelleria's airfield runways, underground hangars, the island's gun positions, port facilities and town with 5,324 tons of explosive.



A coastal view of Pantelleria.



Combined with naval shelling, it was hoped that Pantelleria was being blasted into complete submission. In a vain attempt to stem the onslaught, the Luftwaffe called on aircraft from Sicily and Italy. Spitfires from a Free French squadron shot down a Junkers Ju 88 bomber and a Focke-Wulf Fw 190 fighter bomber. In all 23 Axis aircraft were shot down or destroyed, as against 15 Allied losses. In the three week campaign around 6,600 tons of bombs were dropped on every possible target across the island to bludgeon the defenders into submission. When it came to landing troops, some of whom could face sheer cliffs rising out of the sea, the Allies did not wish to risk the loss of many men prior to the invasion of Sicily.
The location of the Mediterranean island of Pantelleria.



the result, and the message
In the absence of any response to repeated calls upon the Axis forces to surrender, on 11 June British troops landed at Pantelleria's main harbor. There was no resistance. In widespread damage to buildings, gun positions and the airfields, telephone communications and the water supply had been put out of action. Just one Allied soldier was lost, knocked over by a maddened mule running out of control! At 17.30 that day the Italian Admiral Pavesi signed a formal surrender in an underground aircraft hangar.
The subsequent invasion of Sicily went ahead in July 1943, and assisted by other mis-information and deception measures, achieved complete surprise.
The impact of dominant air power demonstrated at Pantelleria, has echoed down the years in every conflict ever since. The decisive nature of overwhelming air superiority, the destruction of an enemy's infrastructure, and the consequent No Fly Zones able to be imposed, just as at Pantelleria, was illustrated once again as an essential precursor in the removal of the Gaddafi regime in Libya.



Sources: 1. Owen, Roderic, 'The Desert Air Force', Hutchinson and Co Ltd, London, 1948. 2. Belogi, Marco, and Leoni, Elena, 'Pantelleria', 'After the Battle' Number 127, 15 February 2005, Battle of Britain International Ltd. 3. Brookes, Andrew, 'Air War over Italy', Ian Allen Publishing Ltd, 2000. 4. Thomas, Andrew, 'Spitfire Aces of North Africa and Italy', Osprey Publishing Ltd, Oxford, UK 2011. 5. Evans, Bryn, 'With the East Surreys in Tunisia, Sicily and Italy 1942-45', Pen and Sword Books Ltd, UK, 2012. 6. Wikipedia, April 2013.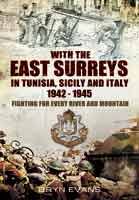 Further Reading
With The East Surreys in Tunisia and Italy 1942 - 1945

(Hardback - 240 pages)

ISBN: 9781848847620

by Bryn Evans

Only

£25.00


The East Surreys were in near continuous action from November 1942, when they landed in North Africa (Operation TORCH) through to the end of hostilities in May 1945. During these three years of bitter fighting they cleared the Germans from Tunisia, took part in Operation HUSKY, (the invasion of Sicily) and fought up through Italy as far as the River Po.

Trained as mountain troops, the East Surreys saw set piece and patrol action in the Atlas Mountains, on the slopes of Mount Etna and Monte Cassino,…
Read more at Pen & Sword Books...
Of further interest...