MEMOIRS OF A RED CROSS DOCTOR – BETTER TO LIGHT A CANDLE
Posted on Friday 19th January 2018




MEMOIRS OF A RED CROSS DOCTOR – BETTER TO LIGHT A CANDLE

by Frank Ryding

I first worked for the Red Cross in 1980 as a junior doctor and since then did over 14 missions for them interspersed with my career in anaesthetics and intensive care in the NHS. Working in war zones became almost a way of life – I always had a bag ready packed as it was usually at very short notice that I upped and flew off to some conflict hotspot ... Cambodia during the 'killing fields era, Afghanistan, Chechnya, Somalia, Sudan or Pakistan. There seemed to be few wars I hadn't experienced. Or perhaps it would be a natural disaster, an earthquake, a tsunami, or the Chernobyl nuclear accident.

I was very naïve and inexperienced when I started on that first mission in Cambodia but I gradually passed through a whole range of emotions during the following 35 years. At first it was just curiosity and an urge to do something different that attracted me to the work, and needing a short break from NHS hospital medicine.

I walked unprepared into a new and often vicious world. I made mistakes, often embarrassing ones; struggling with professional and moral dilemmas – perhaps the person whose life we'd just saved would then go out and kill someone else. Surprisingly there were also surreal episodes, even moments of high comedy. There was the making of long lasting friendships. I saw heroism, cruelty, chaos and the highest vision of the human spirit – to survive and to help others to survive. It was heart-rending and heart-warming. It was human drama observed at first-hand, but it was also often a tale of my own survival against the odds.

When it comes to working with the Red Cross, I found that the best colleagues in the field are not the ones with a halo, the potential saints with a fierce conviction to change the world, because they often come away disillusioned. I preferred the ones who realised that aid agencies can only hope to scratch the surface of the world of human suffering - whether in conflict areas or natural disasters. I know several co-workers who've left depressed even angry that they could do so little. But if we could just leave the place a little better than when we found it ...

As for myself, I progressed through experience, overconfidence, sometimes disillusionment, compassion fatigue, and eventually through a more pragmatic approach to the realistic and positive philosophy of the subtitle of my book "It is Better to Light a Single Candle than to Curse the Darkness."

I was soon asked to give after-dinner speeches and lectures about my Red Cross work. Still working as an anaesthetist in the NHS, I was in the strange situation of spending the day in a theatre keeping people asleep and the evening in a theatre trying to keep people awake. But I'd got so used to working in conflict areas that I had forgotten that this was way outside the experience of most people in the UK. People would inevitable come to me after the talks and ask where they could buy the book so I decided I'd better write one.

ARTICLE WRITTEN BY Frank ryding
'The Road to Nong Pru' Taken from the book 'Memoirs of a Red Cross Doctor'.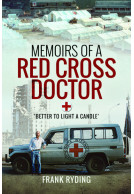 Further Reading
Memoirs of a Red Cross Doctor

(Paperback - 238 pages)

ISBN: 9781526716880

by Frank Ryding

Only

£16.99


Synonymous with conflict and humanitarian aid, the mandate of the International Red Cross (ICRC) is to protect the wounded victims of war, civilians, prisoners and refugees alike.

In Memoirs of a Red Cross Doctor, Frank Ryding recounts the missions he undertook with the Red Cross during a career spanning 35 years. Having worked as a doctor in many of the world's war zones and natural disasters – from the 'killing field' era of Cambodia, to Afghanistan, Chechnya, Somalia, Pakistan and Sudan – his is an account of…
Read more at Pen & Sword Books...
Of further interest...