Murderous Tommies
Posted on Friday 21st September 2012




Soldiers murder to order. During the First World War hundreds of thousands of soldiers were urged to slaughter the enemy and got congratulated for their butchery. British soldiers who objected or jibbed at the prospect of discharging their soldierly duties were charged with military crimes and faced being gunned down by a firing squad.

While hostilities were in progress, British Army courts martial condemned hundreds of men to death for various offences. Confirming officers approved the execution of over 300 convicted deserters, cowards, sleepy-eyed sentries, a few men who thumped their NCOs and a couple of dozen murderers. Much has been written about the soldiers executed for military offences but until now very little has been written about the murderers or their victims. The postponement was prolonged by official secrecy and somewhat paradoxically by the campaign to secure posthumous pardons for soldiers executed by the British Army.

The Army condemned soldiers to death in order to intimidate the rank and file 'for the sake of example', to maintain military discipline. The procedure was quite straightforward: after they had been tried and sentenced to death, all the condemned men were executed by firing squad and ritually damned. Their identities, crimes and punishment were communicated to the rest of the Army via Routine Orders; the executed men's next of kin were sent a brutally frank letter from the War Office; payment of dependants' allowances was stopped and the deceased soldiers' military decorations were generally withdrawn.

Thereafter, the executed men were officially 'unpersoned'; the Army and the War Office embargoed disclosure of details about their cases, including written proceedings of the capital courts martial. This was accomplished via official regulations decreeing that copies of the courts martial proceedings could only be disclosed to the accused, and not his family or legal representatives. The papers were kept under lock and key by the Judge Advocate General's office and when transferred to the Public Records Office, affixed to the cover of each case file lodged in official archives was a label stating that the contents had to remain secret for 100 years.

Much has been written about the soldiers executed during the First World War for military offences, all of whom were conditionally pardoned in 2006. However, until now very little attention has been paid to the cases of men who were tried under the Army Act and executed for murder. Until now there has been no readily accessible, historically reliable and balanced narrative about the activities and courts martial of all the murderous Tommies of the Western Front.

'Alec Has done it'

On 22 April 1915 the German Army released massive clouds of chlorine gas that billowed across the front lines, breaching the defensive perimeter around the Belgian city of Ypres. As part of the British military response to the ensuing crisis, the Royal Flying Corps developed more airfields and improved facilities in which to accommodate and maintain extra aeroplanes. In the vicinity of Bailleul, flimsy canvas aircraft hangars were replaced with more robust wood and metal structures. The project involved a small groups of NCOs, craftsmen from the 20th Fortress Company, Royal Engineers being redeployed to act as managers and site foremen, supervising construction and assembly work that was carried out by locally hired civilian labour.

The arrangement suited the Army because fighting troops did not have to be diverted to carry out labouring work and it was a welcome assignment for sappers already billeted in Bailleul. The latter included some who had been residing in the town since February, like Acting Corporal Alexander Chisholm and half a dozen of his comrades residing at the Estaminet du Pelican, in the Rue des Capucins. Their congenial lodgings were within easy walking distance of the hangars but appreciation of their 'cushy number' was soured by mutual antipathy that developed between Chisholm and one of his fellow NCOs, Lance Corporal Robert Lewis.

Alexander (Alec) Chisholm, a 32-year-old Tynesider from Newcastle, was a professional soldier who had been a railway steam engine fitter before enlisting with the Royal Engineers. Robert Lewis, a 42-year-old from Whitchurch, Glamorganshire, was a highly skilled carpenter, latterly employed working on railway wagons. Over several weeks, what started as tetchiness between the two men matured into undisguised mutual hostility, with Lewis repeatedly undermining Chisholm's authority. Though he was militarily subordinate, Lewis had a good deal more experience of construction work and used every opportunity to criticize Chisholm for being incompetent.

The aircraft hangars that the sappers were assembling consisted of large sheds made of wood, corrugated iron and canvas, built around a wooden sub-frame that was reinforced with steel angles or 'iron knees'. It was not high precision work but Chisholm made an error when procuring the iron knees. On delivery, the items turned out to be the wrong size for the job in hand, which Lewis interpreted as further evidence of Chisholm's ineptitude. Chisholm threatened to file a disciplinary charge against Lewis but the latter retaliated in kind.

Lewis had noticed for some time that some of the French labourers finished their day's work and went home suspiciously early. He was well aware that whether construction work involved hourly-rated labour or 'job and knock' piecework, sub-contracting offered a variety of opportunities for fraud. Lewis felt convinced that Chisholm was engaged in false accounting. The nature and scale of the alleged corruption was never fully exposed but it may have involved Chisholm accepting bribes, perhaps pocketing money in return for approving payment for work that was incomplete, under-paying workers or falsely inflating their hours of work. Even if Lewis was unable to produce evidence, the allegation would still have proved damaging for Chisholm.

Matters finally came to a head on 4 May 1915, shortly after orders arrived from Headquarters, 3rd Corps, posting the men at the Pelican across the border to Nieppe, closer to the firing line. No official explanation was furnished but Lewis convinced himself that Chisholm was somehow personally responsible for the move, and freely aired his suspicions to his fellow sappers. At 12.50 pm, the sappers' kit was loaded onto a horse-drawn General Service wagon, parked on the opposite side of the street to the estaminet. Chisholm went into the bar, chatted with the other sappers, and sat down at a table with Lewis, Second Corporal Thomas Freeman, and Sapper Norman Griffiths. It was an unwise move because Lewis was in a belligerent mood, so Chisholm stood up and went out into the street, to be followed shortly afterwards by the other sappers.



Bailleul airfield, hangars and aircraft, 1917.



The latter were still grumbling about the movement order when a rifle shot rang out. Lewis staggered and then toppled over onto the road, shrieking in agony. Pandemonium ensued. Some went to aid the wounded man, who was writhing in agony, moaning and cursing; others promptly seized Chisholm, who had been standing beside the wagon. Before marching him off to the guardroom, Corporal Freeman demanded to know why he had opened fire but Chisholm said nothing.
Lewis remained conscious for a while but was in great pain because the bullet had blasted a hole through his guts. A British military policeman soon arrived on the scene and took Chisholm into custody; Lewis was put on a stretcher, hoisted into an ambulance and transported to the nearest Casualty Clearing Station. There was little that could be done for the wounded man, who was haemorrhaging badly. Even had it been possible to stem the bleeding, peritonitis would have developed as his intestines had been perforated and the wound would have been fouled with fragments of dirty clothing. In an era before the development of blood transfusion and antibiotics, other than administering pain-relieving doses of morphine there was precious little that doctors could do for men with such a serious abdominal wound. Lewis eventually died at 1.25 pm in No. 8 Casualty Clearing Station.
Within a few hours Major Alexander Stevenson, the officer commanding 20th Fortress Company, began gathering witness statements. Chisholm was brought from the guardroom, cautioned and allowed to ask questions after each witness had finished having their statement written down but the NCO said very little. Once the pre-trial statements had been completed they were forwarded to the Major General Sir John Keir, commanding 6th Division, who promptly arranged for a general court martial to be convened at the mairie (town hall) in Armentieres to try Chisholm for murder.
The trial began shortly before midday on 10 May. The President of the Court was Lieutenant-Colonel Francis Towsey, 1st Battalion West Yorkshire Regiment. The other four Members consisted of Major William Ash, 1st Battalion Middlesex Regiment and a trio of captains: Harman Potter, 1st Battalion Buffs; Francis Hamilton, 1st Battalion Cameronians, and Captain John Macartney, 2nd Battalion Leinster Regiment. The Judge Advocate assigned to advise the court on points of law and procedure was Major Edward Luard, 1st Battalion King's Own Shropshire Light Infantry, and Captain William de la Pryme, Adjutant of the 1st Battalion West Yorkshires, conducted the prosecution
Chisholm was wholly unassisted in presenting his defence. Defendants were legally entitled to be represented by a Prisoner's Friend but in practice few soldiers facing capital charges during 1915 were aided by a defending officer. In any case, having four days in which to mount a credible case for the defence would have challenged a seasoned barrister let alone an acting corporal with no legal expertise.
The trial went ahead on schedule; Chisholm entered a plea of not guilty and Captain de la Pryme called his first witness, Lieutenant Richard Charles RAMC, who formally reported that Lewis had been killed by a gunshot wound.
The second witness was Second Corporal Thomas Freeman, who recalled:
Corporal Chisholm ... tapped me on the shoulder and said that I should be wanted. He passed out of the estaminet into the street, I followed him about one and a half minutes later. I stood close to the door of the estaminetand on hearing a shot looked in that direction, when I saw the accused standing with the rifle in the firing position. He was about twenty yards off. I saw a man staggering... Corporal Lewis, who was about 20 yards from the accused. There was no obstruction between the firer of the rifle and the man I saw staggering. The rifle was pointing in the direction of the staggering man.
Freeman continued:
After I heard the shot he remained a few seconds in the firing position before lowering his rifle. He then threw the rifle on the ground. I went up to the accused and said what is the meaning of this. He said, 'I have shot my comrade, place me under arrest.'
Freeman ended by recalling that, 'There was nothing unusual in Corporal Chisholm's demeanour during lunch, or when he told me that I was wanted outside.'
Freeman was then cross-examined by Chisholm.
As subsequent witness testimony was to indicate, there was a good deal more that Freeman could have disclosed. However, Chisholm lacked the necessary experience to cajole Freeman into divulging more about the sensitive topic being discussed immediately prior to the shooting.
By the time Freeman ended his testimony the court rose for an hour's break. After a midday meal, the hearing resumed and the court heard evidence from Sapper Harry Harris, who briefly stated that he had been inside the estaminet when the fatal shot had been discharged. He added:
At about 1.00 pm on hearing a shot ring out, I went out into the street. The first man I saw was the accused who said to me 'make me a prisoner.' The accused had no rifle.
Harris was then cross-examined by Chisholm. Before standing down, Harris answered a couple of further questions posed by the Court.
Harris's testimony and cross-examination did not add a great deal to what had already been revealed about the shooting. His reference to the unidentified 'tall sapper' eroded Freeman's claim to have been the first man to have seized Chisholm and Harris repeated the improbable allegation made in his pre-trial statement, that he had never noticed any ill feeling between Lewis and Chisholm.
The third witness for the prosecution was Driver George Williamson, an artilleryman who had been eating his midday meal in a house opposite the estaminet when he heard the fatal shot. Williamson recalled:
I heard a shot and immediately ran to the side door. I saw the accused bringing his rifle down from the present. I heard him mutter words to the effect either 'I have done it now' or 'now I have done it.' I then ran across the road to the assistance of the wounded man... It was about ten seconds between the time I heard the shot and saw the accused. There was a distance of between 15 or 20 yards between the accused and the wounded man. There was no obstruction between the accused and wounded man.
In court, he did not refer to anything being said by Lewis, yet in his pre-trial statement Williamson claimed the mortally wounded man had declared, 'He's done it – the corporal – have you got him?' Given the overwhelming evidence that Chisholm had fired the fatal shot, perhaps Williamson felt it unnecessary to repeat the allegation.
The following witness, Lance Corporal William Hann, in his pre-trial statement had alluded to a possible motive that lay behind the shooting. Hann had been chatting in the street to Lewis a few minutes before Chisholm opened fire. In his pre-trial statement, Hann recalled:
I said... 'Have you decided anything about the billet? L.Cpl Lewis said, 'no not yet' and after a pause added, 'I told Chisholm this morning that I had three charges against him for falsifying accounts.' I then heard the report of a rifle and saw L. Corporal Lewis reel and fall. He remarked, 'Alec [sic] done it.'... I had never noticed any ill feeling between the accused and L.Cpl. Lewis. I know no reason why Lance Corporal Lewis should have referred to the question of bringing charges against the accused as having anything to do with the question of billets.
Hann's written statement also recorded Chisholm demanding to know exactly when Lewis first mentioned the charges, and noted Hann's response:
Within ten days previous to the shooting, Lance Corporal Lewis said to me that the accused could not run him in because he could bring charges against the accused.
However, when Hann came to testify in court he omitted all reference to the three (sic) falsification charges:
I came out of the Estaminet du Pelican and joined Lance Corporal Lewis. We walked off together. I noticed the accused on the opposite side of the street. He was standing behind the General Service Wagon. When we had got about thirty paces from the side door of the estaminet, I heard the report of a rifle. I saw Lance Corporal Lewis stagger and fall. When I turned round, I saw the accused throw the rifle to the ground. I know both the accused and Lance Corporal Lewis and have never seen any ill feeling between them. Lance Corporal Lewis was walking the further side of me from the accused. When the shot was fired, we were about twenty-five paces past the accused.
Hann lied on oath. In his pre-trial written statement he had candidly admitted knowing that, at least ten days prior to the shooting, Lewis was threatening to press charges against Chisholm. In the statement he had also referred to chatting with Lewis immediately before the latter was shot but in court Hann testified he had never noticed any ill feeling between the two men. Hann concluded his evidence by denying that he had been in the bar before he encountered Lewis outside the Pelican.
Hann's evidence was followed by testimony from Sapper Norman Griffiths, who had been friendly with both Chisholm and Lewis.20Griffiths drew attention to developments that played an important part in prompting Chisholm to shoot Lewis. Griffiths began by explaining that on 4 May he had been outside the estaminet, chatting to a couple of other sappers when he saw Lewis shot. He heard the sound of a rifle clattering to the ground and saw the gun on the ground about a metre away from the rear wheel of the wagon, where Chisholm was standing.
The court then set to work, cross-examining Griffiths. Sapper Griffiths' answers directly challenged the evidence presented by Freeman, Hann and Harris, all of whom had denied hearing Lewis threaten Chisholm in the estaminet. Because the four men had been sitting in close proximity to one another, it is most unlikely they could have failed to hear comments made around the table, including Freeman's rhetorical comment about Lewis: 'What does he want to blab that out in here for?' Thus far in the proceedings, the entire prosecution case rested upon the evidence of three unreliable witnesses. If Griffiths was telling the truth then Freeman and Hann should have been recalled and further cross- examined about Chisholm and Lewis's relationship.
The next witness to testify was probably the 'tall sapper' to whom Harris referred in his testimony. He was Sergeant Charles Scott, a strapping 1.8 metre tall, 32-year-old military policeman who had been standing in the Rue de Capucins when Lewis was gunned down. He saw Chisholm fling down his rifle and told the court what happened thereafter:
I... saw a wounded man lying on the opposite side of the road so I went to his assistance and found that it was not an accident, as the wounded man said 'Alec done it.' I then went towards the accused and found that he already been arrested. I took the names of witnesses and proceeded to the guard room to get the prisoner's particulars when he made the following voluntary statement: 'Don't trouble about evidence Sergeant, I've done it, I'll plead guilty.'
Scott admitted under cross-examination by the court that he had neither seen the shot discharged nor checked the discarded rifle to see if it had recently been fired. However, Lewis's dying declaration needed to be treated with scrupulous care by the court and Chisholm's voluntary confession was uncorroborated by any other witness. Since he was not cross-examined, it is impossible to gauge the significance of Scott's allegations but it seems likely that they were taken at face value by the Court.
In the immediate aftermath of the shooting, while Scott busied himself collecting the names and details of potential witnesses, Driver William Whittaker had stood beside Chisholm until the latter was escorted away to the guardroom.24 When it was his turn to give evidence, Whittaker explained that he had been in the street and confirmed the general sequence of events that had already been recounted by other witnesses. However, instead of being cross-examined about what Chisholm may have said, Whittaker was directed to stand down.
The rifle that fired the fatal shot was the primary focus of attention when the court heard evidence from the final witness for the prosecution, Sapper David Kennedy. Under cross-examination, he confirmed that the gun at Chisholm's feet had been recently fired but in response to a supplementary question, he flatly denied ever having heard Lance Corporal Lewis threaten or annoy Corporal Chisholm.
The case for the prosecution having been completed, Alec Chisholm opened the case for the defence. He began by presenting a narrative reflecting his own version of events on 4 May:
At about 12.45 pm, I went to the Estaminet du Pelican for the purpose of falling in a party of sappers to march to Nieppe. I sat down beside 2nd Corporal Freeman. Lance Corporal Lewis looked over towards me and said 'I see you have done it Alec, got us cleared out of the billet.' I said 'It is not my fault I left it to your officer.' He said 'All right, I will make it damned hot for you. I have three charges of falsifying accounts to bring against you.' I said 'Don't talk about that in here.' I then got up to leave the estaminet. 2nd Corporal Freeman took hold of my arm and said 'What does he want to blab that out in here for?' I said 'Never mind, come outside.' I went to the tail of the G.S. wagon. Lance Corporal Lewis came down the street past me and looked over and smiled. That is all I remember until the Corporal – 2nd Corporal Freeman – came and asked me what I had done. Previous to this, Lance Corporal Lewis had threatened me with exposure. I never knew what the charge was until the 4th of May.
Sapper Griffiths was the only witness called by Chisholm:
For the last thirteen weeks about, Lance Corporal Lewis, Corporal Chisholm and myself have been on the same job. For the first week things went alright. Since then there have been constant quarrels between Corporal Lewis and Corporal Chisholm about the work; Corporal Lewis being a carpenter, and Corporal Chisholm not being one, though in charge of the job, each finding fault with each other's work. About three weeks ago there was a special quarrel about some iron knees. On May 4th, in the Estaminet Du Pelican, I was sitting at one end of the table. Corporal Freeman was at one end of the table, with Corporal Lewis on his right, and Corporal Chisholm on his left.
The Prosecution evinced little interest in Griffiths' revelations. For Captain de la Pryme the case was wholly concerned with proving who killed Lewis and naught else; he dispensed with a closing address and the trial ended without a summing- up by the Judge Advocate, Major Luard.
After closing to consider its findings, the court decided that Chisholm was guilty of murdering Lewis. On reopening, Chisholm declined an invitation to advance a plea in mitigation but the court heard a very positive appraisal of Chisholm's character and work from his commanding officer, Major Stevenson. Stevenson was unable to produce any written records but elected to make the following statement:
The accused joined the unit under my command as a reinforcement in October 1914. Most of the time since he has been employed on detached duty under the Chief Engineer 3rd Corps [,] where he has been practically in sole charge of some construction work. The Chief Engineer has always expressed himself very satisfied with the way the accused has executed his work. And as far as I have seen I can personally endorse the above. He has had no entries against him since he has joined the company.
Thereafter, the court sentenced Chisholm to be hanged, a punishment that was subsequently endorsed by all the confirming officers, including Sir John French. Alec Chisholm was duly executed in the Asylum, Armentieres, at 6.10 am on 17 May but as his death certificate confirms, Chisholm did not perish on the end of a rope. He was instead shot by a firing squad under the command of Major John Tufton, Assistant Provost Marshal, 6th Division.
There is no doubt that Chisholm fired the shot that killed Lewis but whether the condemned man was given a fair trial remains open to question. Sapper Griffiths' unchallenged testimony drew attention to Lewis's practice of persistently undermining Chisholm's authority for over three months. Although 'doing that which he has a legal right to do' could not be construed as provocation, Lewis certainly did not have any right to bait, malign and undermine the authority of a superior officer. No effort was made by thecourt to consider whether Chisholm had temporarily lost his reason and acted 'under the influence of passion arising from extreme provocation'.
The Manual of Military Law adds, the provocation:
Must also be great, that is to say, practically speaking, such as might reasonably be expected to put an ordinary person, not of an exceptionally passionate disposition into such a passion that he would lose his power of self control.
However, Corporal Chisholm was not 'an ordinary person'; he was a junior non- commissioned officer in the British Army. The Army did not apply the civil standard of the 'reasonable man'; Chisholm was on active service and his work and conduct had to be exemplary. It is therefore not difficult to imagine how Lewis's persistently divisive behaviour may have gnawed away at Chisholm's self- confidence and caused the latter to snap. Lewis was well aware that he had driven Chisholm to breaking point, and immediately after being wounded he had no doubt about who had fired the shot. According to Sapper William Cox, Lewis had cried, 'Do something quick – Alec has done it the coward – why did he not shoot me in the leg?' For reasons that remain unclear, Cox was not called to give evidence in person.
The court was also manifestly disinterested in allegations about false accounting, so what was said in passing about the matter was insufficient to prove that Chisholm was an embezzler or part of a conspiracy that involved French civilians or fellow sappers. Certainly Corporal Freeman appeared keen to prevent the issue being discussed openly. In the Pelican estaminet, when he heard Lewis threaten to bring charges, Freeman had exclaimed, 'What did he want to blab that out in here for?'
What should be made of evidence from Sergeant George Ballard? Chisholm had made a confession to Ballard, one of the military police in charge of the guardroom. In his turn, the NCO had told Major Stevenson, who had written down the details in a pre-trial statement that was signed by Ballard. It read:
About one fifteen on the 4th May I went down to the cell to handcuff the accused. I said to him 'you have done a very serious thing.' He said 'Well I will tell you all about it if you won't tell anyone.' I made no reply. He said 'There are some civilians in this affair.' The accused then appeared to change his mind and he said, 'I will not tell you as I'm afraid you will open your mouth.' I applied the handcuffs and left him in charge of the guard. About 5.50 pm on the 4th of May, the corporal of the guard told me the accused complained of the handcuffs being on him so I went to him and the accused asked me to remove the handcuffs. I told him that they were to stop on. He asked me for some blankets as his kit had been taken from him. I reported to the sergeant major of the platoon to get the accused some blankets if possible. Before I left him he asked me 'Is he dead?' I replied 'no but I'm afraid he will die.' I asked him where he shot him he replied 'in the back.' He said 'I levelled the rifle at his heart. I meant to shoot the bastard through the heart as he has been worrying the life out of me these last three months.'
Ballard's deposition tends to erode Griffiths' contention that Chisholm appeared unconcerned at the time they emerged from the Pelican. However, the statement also challenges Chisholm's own declaration that he could not remember anything after leaving the estaminet. These issues remain unresolved because Ballard was not summoned to testify in court.
Having shot Lewis, Chisholm dropped his rifle to the ground and was in shock. Unfortunately, the written proceedings do not disclose the manner in which he uttered the phrase, 'I've done it now.' No less than an expression of triumphant vindication by a cold-blooded killer, it may equally have been a sigh of relief or the anguished cry of a soul in torment.
Alec Chisholm did not get a fair trial and justice was not well served. Like many other soldiers who faced a court martial undefended, he received no assistance whatsoever from those who were duty bound to ensure that he suffered no prejudice. Although the Army always maintained that capital courts martial observed the standards of contemporary civil courts, the vacuity of the claim has long been demolished by the sorry treatment of soldiers who were executed for desertion and other military offences. Because Chisholm's case involved murder, a more direct comparison may be made with civilian judicial practice. If the case had been heard in a criminal court Chisholm would probably have been found guilty of killing Lewis, but with appropriate legal representation a civil court may not have sentenced Chisholm to death.
14780 Corporal A Chisholm, Royal Engineers, 17th May 1915, age 31.

'Until the day breaks and the shadows flee away.'



Bailleul, Rue des Capucins.



About the authors:
Mark Dunning combines his successful career as a lawyer specialising in representing the disabled with a twenty year long research interest in British Army capital courts martial cases. In 2010 he was awarded an MA in Modern History by the University of York.



Julian Putkowski is an established military historian, college lecturer and broadcaster. With Julian Sykes, he co-authored Shot at Dawn, the book that first identified all the soldiers executed by the British Army during the First World War.
He actively supported the 'Show at Dawn' war pardons campaign that secured their conditional pardon in 2006.



Further Reading
Murderous Tommies

(Hardback - 224 pages)

ISBN: 9781848846265

by Julian Putkowski

Only

£19.99


Much has been written about the soldiers executed during WW1 for military offences, all of whom were conditionally pardoned in 2006. However, until now very little attention has been paid to the cases of men who were tried under the Army Act and executed for murder.

The British Army has always been reticent about publicising courts martial and eighty years elapsed before the government was compelled to prematurely declassify the written proceedings of First World War capital courts martial. Even then, public attention tended to concentrate…
Read more at Pen & Sword Books...
Also by Julian Putkowski...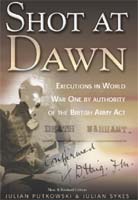 Further Reading
Shot at Dawn

(Hardback - 304 pages)

ISBN: 9780850526134

by Julian Putkowski

Only

£25.00


Based on years of painstaking research, Shot at Dawn, here fully revised and updated, was the first book to give complete details of all these executions, including names of victims; their 'crimes'; the circumstances, dates and places of executions, and of burial (where known); names of regiments and other units; and victims' personal histories and private circumstances (where known).

By demonstrating the ineptness and unfairness of the British court martial system at the time, the authors can claim to have prompted successive governments to review the tragic…
Read more at Pen & Sword Books...
Of further interest...