Operation Torch 70 Years On - An Anniversary to Connect the Generations
Posted on Tuesday 6th November 2012




By Bryn Evans, author of With the East Surreys in Tunisia, Sicily and Italy 1942 - 45: Fighting for Every River and Mountain.

Sometimes an anniversary can bring people together in unexpected ways. Combine an anniversary with the publication of a new book, and the world can shrink and roll back time.

It is 70 years since the Allies' Operation Torch invasion fleet left the Clyde estuary in Scotland on 26 October 1942, to land on the night of 7/8 November 1942 on the coast of North Africa. The East Surreys 1st Battalion were part of the landings by 78 Division at Algiers.

In near three years of battles the Surreys' 1st and 1/6th Battalions fought through Tunisia, Sicily and mainland Italy, and became some of the Allies' finest troops in mountain warfare. Like many others in these campaigns, the two battalions' casualty rates were very heavy, with a combined number for killed, wounded and missing of 2,153. From their original strength of 796 officers and men, the 1st Surreys suffered total casualties of 1,301, a loss of rate of more than 150%.

In these three campaigns the two Surreys Battalions helped to make the first major breach of occupied Europe. The Surreys fought through the winter rain and mud of Tunisia's Atlas mountains, the sulphur fumes of Sicily's Mount Etna, the swollen rivers of Italy's Abruzzo, the icy killing grounds of Monte Cassino, the trench-warfare at Anzio, and a third winter of snow and ice in the Tuscan Apennines on the Gothic Line.

In March 1945 the Surreys came down from the Apennines to re-join Eighth Army in the dreaded final battle, for the flooded rivers and canals of the River Po valley, through the Argenta Gap and finally break open the Gothic Line. Frank Weston, a veteran of 1st Surreys from that time now residing in a New Zealand nursing home, believes that at the end of the war in May 1945 when they moved into Austria, there were only 18 men remaining from the 1st Surreys original complement.

I met Louise, the granddaughter of Frank Weston, on the afternoon of Sunday 28 October 2012 while giving a talk on my book, 'With the East Surreys in Tunisia, Sicily and Italy 1942 – 45: Fighting for Every River and Mountain', at the Surrey Infantry Museum at Clandon House near Guildford. Louise had flown into Gatwick that morning with her 5 year old son, Nicholas, Frank's great grandson, from Glasgow to meet me at Guildford.




'Sometimes an anniversary can bring people together in unexpected ways. Combine an anniversary with the publication of a new book, and the world can shrink and roll back in time...'



As the battles for Cassino raged, so too did the fighting in the Anzio beachhead. British soldiers look out for danger in Anzio. (Linda Standen)




Soon after our meeting Louise telephoned her grandmother and Frank's wife, Doreen, despite my protestations not to do so, it being 2 am for Doreen in New Zealand. Apparently it had all been pre-arranged at Doreen's insistence, and she was overjoyed to speak to Louise and myself. Meanwhile Nicholas was engrossed as he walked around and gazed at the Museum's exhibits. After only an hour or so of their fleeting visit, Louise and Nicholas had to leave for their flight back to Glasgow.
Unfortunately Frank's condition meant that he was not able to speak to his granddaughter. But Doreen as always would tell him the details. That telephone conversation by Louise and Doreen was almost 70 years to the day since the launch of Operation Torch. Sometimes an anniversary and a book can connect people around the world, and sometimes re-connect families across the generations.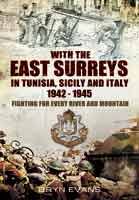 Further Reading
With The East Surreys in Tunisia and Italy 1942 - 1945

(Hardback - 240 pages)

ISBN: 9781848847620

by Bryn Evans

Only

£25.00


The East Surreys were in near continuous action from November 1942, when they landed in North Africa (Operation TORCH) through to the end of hostilities in May 1945. During these three years of bitter fighting they cleared the Germans from Tunisia, took part in Operation HUSKY, (the invasion of Sicily) and fought up through Italy as far as the River Po.

Trained as mountain troops, the East Surreys saw set piece and patrol action in the Atlas Mountains, on the slopes of Mount Etna and Monte Cassino,…
Read more at Pen & Sword Books...
Of further interest...