Peter Stone - How I wrote My Book
Posted on Monday 25th September 2017




Peter Stone - Writing THe History of the Port of London
Mr Stone with his brand new book 'The History of the Port of London' Out Now at Pen and Sword Books.
In writing my new book The History of the Port of London – A Vast Emporium of All Nations I could explore aspects of two of my passions: the development of London as a city, as well as waterborne transport.
The latter interest was kindled when, during the 1970s and '80s, I lived on a narrowboat on the canals around London. My boat had originally been built in the early years of the 20th century to carry coal around the north-west of England. Now over a hundred years old and fully restored, it is again happily plying the northern canals. Exploring England's inland waterways gave me a deep appreciation of canals, rivers, docks, and our industrial heritage. Our canal network was created at about the same time – and largely by the same engineers – as the great London docks of the early 19th century, such as the West India and East India Docks. The Industrial Revolution was then in full swing. Around the world Britain ruled the waves and a great empire was being formed that created a trading network linked back to ports such as London, Liverpool and Bristol.
I have lived in London throughout my life, as have my family going back many generations. My grandfather was a delivery-man based at Hermitage Wharf, Wapping, in the early days of motor-transport, his earliest vehicle being steam-driven. Previous ancestors were Thames watermen and ferrymen in the centuries before the numerous bridges had been constructed on which to cross the river. When the bridges were built there was much less employment for watermen and the last of my family in that work went off to help build the Crystal Palace for the Great Exhibition of 1851.
Interest in my home city began in my early teenage years when, along with school friends, I began exploring London, discovering its many districts. I have now spent the past two decades investigating and writing about the development and growth of London, which I continue to document in my website www.thehistoryoflondon.co.uk.
For the first one thousand five hundred years, from the time of its foundation by the Romans in the 1st century, London was a relatively minor trading port on the periphery of Europe. That was to change from the 17th century and by the early 19th century it had become the world's largest port. There are many books that document various aspects of maritime London but few up-to-date general histories that tell the entire story. Thus, when I was invited to propose to Pen and Sword a subject for a book about London I jumped at the chance to produce exactly that. Now it is finished and available I hope you get a chance to pick up a copy or download it for Kindle. And I hope you enjoy reading it as much as I enjoyed writing it.
About Peter Stone
Anative of the city in which he lives, Peter Stone has for well over adecade studied London's history and during that time written numerousarticles for magazines and websites. His family has a longassociation with the East End of London and his ancestors worked aswatermen on the Thames in the 18th century. Peter is a regularcommentator about London on social media and is the creator of thepopular website www.thehistoryoflondon.co.uk.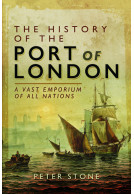 Further Reading
The History of the Port of London

(Hardback - 256 pages)

ISBN: 9781473860377

by Peter Stone

Only

£19.99


The River Thames has been integral to the prosperity of London since Roman times. Explorers sailed away on voyages of discovery to distant lands. Colonies were established and a great empire grew. Funding their ships and cargoes helped make the City of London into the world's leading financial centre. In the 19th century a vast network of docks was created for ever-larger ships, behind high, prison-like walls that kept them secret from all those who did not toil within. Sail made way for steam as goods were dispatched to every…
Read more at Pen & Sword Books...
Peter at the West Indian Dock
Of further interest...