The 75th Anniversary of Jock Lewes founding the SAS
Posted on Wednesday 30th March 2016




by John lewes

In the Spring of 1941, members of the British Commandos in Egypt became increasingly disillusioned with both a lack of training and a fighting role that they had been promised time and time again. Lieutenant Jock Lewes of the Welsh Guards was to change the fortunes of a select group of soldiers by pioneering and developing a raft of training that he alone created as early as March 1941. By September 1941, the basic training SAS course had evolved and was ready to run and led by Jock Lewes.

"I interviewed and recorded the 'engineers' of the SAS who had been leading the Non-Commissioned Officers at that time. Men like Major Almonds MM, Major Pat Riley DCM and Warrant Officer Reginald Seekings MM DCM talked about early 1941, before they met Jock, when [they] were being dragged from pillar to post with no clear role or training.

Lieutenant David Stirling was also struggling with the lack of direction that the so-called Special Service was taking. Stirling had spent much of 1941 in and out of hospital with injuries and facing a charge of malingering that was leading to a court martial before he had been shown the new way of fighting by Jock Lewes."

How did Jock Lewes, this formidable young leader and manager, lift such Guardsmen out of a military limbo and into the spotlight?

"Those same NCOs told me that it was 'Jock who gave us a proper job'. They had learned to trust Jock Lewes' leadership in raiding behind enemy lines in Tobruk in July 1941, where Jock honed the training he had begun with his men in the Spring. The NCOs learned he was going to officially start the SAS Brigade with Stirling and begged Jock to take them with him.

The anniversary of the SAS is timed to coincide with the 'L' detachment's first raid in mid-November that was aborted after parachuting in a hurricane – though Jock Lewes' training showed that the survivors could navigate themselves back to base in the most appalling conditions."

How did Jock Lewes have the elite course, the template for all evolving global Special Forces, ready to go and run for only two months before raids began the destruction of hundreds of aircraft in the following year?

"As Lieutenant-Colonel David Stirling DSO, the other first co-founder conceded, 'Jock Lewes could far more genuinely claim to be the founder of the SAS than I.' Few Army officers were researching the empty solitude of the Libyan desert, which the Long Range Desert Group were learning to chart, but Jock began to drill his men in precise navigation and long distance marching, which were to become known as the legendary Lewes Marches, as soon as he stepped off his troop ship in early March that year.

That month he also improved their stealth, stamina and presence of mind in assessing where the 'sniper' firing rounds close by them was hidden.

The ethos of the SAS was derived from the philosophy of Jock Lewes, who had always expressed great concern about how 'the typical regular officer' underestimates the ordinary recruit, who were content with catchphrases like, 'we must never expect the soldier to think.' Jock Lewes valued his men and developed them so that as individuals they could at times lead their small groups, irrespective of their rank, as they were trusted to be the specialists he had trained them to be. He honed his own skills; his letters and unpublished notebook reveal how he rehearsed everything himself before taking his men through his own exacting form of special service – a term that now had true and profound meaning."

                                                           John Lewes is the nephew and biographer of Jock Lewes                                

Copyright John Lewes 2016
David Stirling and Jock hatching a plot, 1941. John Lewes Archive
John Lewes, Lieutenant Jock Lewes' nephew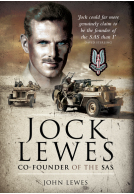 Further Reading
Jock Lewes: Co-Founder of the SAS

(Paperback - 286 pages)

ISBN: 9781844156153

by John Lewes

Only

£14.99


Drawing on hitherto unpublished personal journals, this account of John Lewes's life, tragically cut short on 31 December 1941 during a SAS deep penetration patrol, makes for a compelling read. Brought up in the Australian out back where he learnt self-discipline and self-reliance, he went on to have a brilliant career at Oxford University, as President of the Boat Club he was instrumental in the dramatic 1937 victory against Cambridge. Thereafter he spent time in pre-war Berlin where he was first seduced by Hitler's socialist policies and by a young…
Read more at Pen & Sword Books...
Of further interest...