The Air Battle for Burma began 75 years ago
Posted on Wednesday 16th November 2016




7 December 2016 - 75 YEARS SINCE THE JAPANESE ATTACK ON PEARL HARBOR, AND INVASION OF MALAYA AND BURMA

On 7 December 2016 it will be 75 years since the Japanese surprise air raid of 7 December 1941 on the US Navy at Pearl Harbour. Only a few hours before the first bombs fell on US ships, Japanese forces invaded the Malay peninsula, and on the same day bombed Singapore. A week later the Japanese army surged into south east Burma.

When the Japanese air force bombed Burma's capital Rangoon on 28 December 1941, the threat to Burma and India was brutally clear. A major strategic goal of the Japanese was to capture the port of Rangoon, and take over Burma's oilfields. Japanese occupation of Burma would also close off the Burma Road to China, and halt American supplies over a land route to Chiang Kai Shek's Nationalist Army, which was fighting the Japanese invasion of their country.

In Air Battle for Burma two of the most prominent stories are those of Wing Commanders Noel Constantine and Frank Carey. In May 1940 shortly before the evacuation of the British Expeditionary Force from Dunkirk, Pilot Officer Frank 'Chota' Carey in a Hurricane of No 3 Squadron RAF, shot down a Luftwaffe Dornier reconnaissance aircraft over France. However as it spiralled down its rear gunner also hit Carey's Hurricane, and he was lucky to survive a crash landing. Despite being wounded in the leg, he escaped capture, and by commandeering an abandoned Bristol Bombay transport aircraft with other downed RAF airmen, he found his way back to Britain. Carey went on to become one of the top scoring fighter pilots in the Battle of Britain.
Wing Commander Frank 'Chota' Carey in April 1943, standing by the nose of a Hawker Hurricane. In early 1942 Carey was commanding No.135 Squadron RAF at Mingaladon, Rangoon, and in the fighting withdrawal from Burma. Carey was the eleventh highest scoring RAF fighter pilot of the Second World War and, as Officer Commanding the Air Fighting Training Unit (AFTU) at Amarda Road, near Calcutta, India, became the mentor and inspiration for RAF fighter pilots in the air battle for Burma. (IWM C171 Public Domain)
During the Battle of Britain in the summer of 1940 Carey notched up further victories and survived being shot down and wounded again. In August 1941 he was promoted to Squadron Leader of No. 135 Squadron RAF which, in November 1941, embarked for the Middle East. In December, while en route and after the Japanese attacks on Pearl Harbor and Malaya, Carey and No. 135 Squadron were redirected to India Command to be based at Rangoon, Burma.
In February 1942 Singapore fell. In March and April Allied forces retreated from Burma into India. In the fighting withdrawal Carey notched up more victories to his tally, and first as a Squadron Leader then as a Wing Commander played a central and stabilising role. He then established the Air Fighting Training Unit (AFTU) at Amarda Road near Calcutta, where his hands-on mentoring of every fighter pilot became legendary and beyond valuation in the ensuing air war with Japan.
Fast forward to 20 January 1944 in India, and in the skies above Calcutta another veteran fighter pilot of the Battle of Britain confronted a huge formation raid of the Japanese air force. Estimates at the time put their number well over fifty. Undaunted Australian Squadron Leader Noel Constantine led his nine Spitfires of No 136 Squadron RAF, vastly outnumbered, onto the massed enemy fighters below. In the confused and chaotic engagement that followed, and on his eighth diving attack, Constantine found two of the Nakajima Ki-44 'Tojo' fighters on his tail.
I went into an inverted spin and blacked out completely. I came to, thought I was in hospital and remember calling for tea.
Seconds after he had recovered some control of the Spitfire, Constantine passed out again.
When I recovered the second time, I was very near the jungle, and found the two Japs were firing immediately ahead of me. At treetop height I darted down some gullies and luckily lost them.
In the ensuing dogfights, lasting about twenty minutes, Constantine's Spitfires claimed five victories, four probables and six damaged.
At the outbreak of the Second World War in September 1939 Australian Flying Officer Noel Constantine was a fighter pilot in the RAF. Throughout the Battle of Britain in the summer of 1940, and the following winter, Constantine served with No 141 Squadron RAF. On one occasion he baled out, only to have his parachute caught up in the branches of a tree, where he hung until the morning brought some rescuers to his aid. He was also shot down over the North Sea, pulled from the waves by a Royal Navy destroyer, on which he survived further attacks by U-Boats, before reaching port in Rosyth, Scotland.
In late 1941 Constantine was promoted to Squadron Leader, with orders to embark for the Far East, and after the Japanese invasion of Malaya and Burma in December 1941, was posted to command No 273 Squadron RAF in Ceylon reaching there in March 1942. In mid-1943 he was appointed Squadron Leader of No 136 Squadron, based close to Calcutta in India. It was one of the squadrons selected to convert to Spitfires. They and other Spitfire squadrons would lead the fight to wrest air superiority from the Japanese air force.
'Spitfire Squadron "bags" fifteen Japs in one day.' Squadron Leader Noel Constantine is seated in the centre on the wing of Spitfire Mark Vc HM-E with four pilots of No.136 Squadron RAF, on a muddy forward airfield of Arakan in January 1944 during the Burma campaign. From left: Flying Officer D.J. 'Barney' Barnett (RAAF), Flying Officer Frank E. Wilding DFC (RAF), Squadron Leader A.N. 'Noel' Constantine (RAAF), Flight Lieutenant A.G. 'Gordon' Conway DFC (RAF), and Flight Lieutenant Dennis E.W. Garvan DFC (RAAF). (Private collection of Noel and Geoff Constantine, and Interservices Public Relations Directorate, India, Pen 547)
In the first half of 1944 when the Japanese invaded India, the Spitfire squadrons were thrown into a desperate 'last ditch' battle against the Japanese Army Air Force (JAAF). As in the Battle of Britain they were the last line of defence as they fought for ascendancy in the skies above the crucial battles, first of the Admin Box then Kohima and Imphal. Constantine's No 136 Squadron became the highest scoring fighter squadron in the Burma campaign. In mid-1944 Constantine was promoted to Wing Commander Tactics at Far East Command HQ. His first act was to meet with Wing Commander Carey at his AFTU at Amarda Road.
By wrenching air superiority from the JAAF, Carey and Constantine were two of the most influential leaders in winning the air war. The eventual air supremacy gained over the JAAF enabled Allied ground forces to be supplied totally by air, putting the Japanese at a decisive disadvantage. It also allowed Allied air forces to eliminate air reconnaissance by the JAAF, minimise enemy interception of Allied air reconnaissance flights, and intensify their air-to-ground offensives against the Japanese army.
It can be argued that these two fighter pilots, Wing Commanders Carey and Constantine, made the most vital contributions to the Allies' defeat of Japan in the Burma campaign. This may seem an astounding claim. Yet it is incontestable, and widely accepted, that only the gaining of air supremacy by the Allies in the skies of India and Burma in 1944, allowed General Slim's Fourteenth Army the logistics and air protection, to drive back into Burma, and finally recapture Rangoon in May 1945.
Constantine survived the war and resigned from the RAF in December 1946. Then in July 1947 he and his passenger wife Beryl were shot down and killed by Dutch fighters, whilst flying a Red Cross humanitarian flight of medical supplies from Singapore into Indonesia. It was as if fate, so miraculously avoided during the war years, had finally caught up with him. In the most tragic circumstances Wing Commander Noel Constantine had lost his life. He had joined countless other pilots who had lost their lives, but in the end won the Air Battle for Burma.
Frank Carey also survived the war, and in 1956 was promoted to Group Captain. Two years later, as if there was an invisible thread connecting him to Constantine's homeland, he was appointed Air Advisor to the British High Commissioner in Australia. On 6 December 2004 at the age of ninety two, Frank Carey died. It was sixty three years to the day when he had embarked from Greenock, Scotland, on the journey that took him to Rangoon.
Frank Carey and Noel Constantine had been two extraordinary fighter pilots and leaders, without peer in the air war that turned the tide against the Japanese in India and Burma. Their stories and those of many other Allied airmen in Air Battle for Burma, recount the essential truth of how the Burma campaign was won.
Bryn Evans, 8 November 2016, Sydney, Australia
ABOUT BRYN EVANS, author of "air battle for burma"
Bryn Evans is a management consultant with many years' experience of finance and IT at boardroom level. As well as military history Bryn writes extensively across a wide range of categories, be it business management, sport, travel, or fiction, and his work has been widely published. His fiction work has earned a Second Prize in the Catherine Cookson Short Story Competition and other awards.
Bryn is the author of With the East Surreys in Tunisia, Sicily and Italy 1942 – 1945 (2012), and The Decisive Campaigns of the Desert Air Force 1942 – 1945 (2014), both published by Pen and Sword Books Ltd, UK. In his research he has interviewed veterans and their families world-wide, and visited battlefields and campaign locales in Egypt, Tunisia, Sicily and Italy.
After periods residing in UK, Zambia, and Germany, Bryn his wife Dr Jean Evans have lived for many years in Sydney, Australia.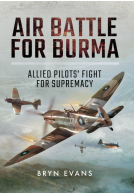 Further Reading
Air Battle for Burma

(Hardback - 251 pages)

ISBN: 9781473858923

by Bryn Evans

Only

£25.00


After a long series of crushing defeats by the apparently unstoppable Japanese air and ground forces, the eventual fightback and victory in Burma was achieved as a result of the exercise of unprecedented combined services cooperation and operations. Crucial to this was the Allies' supremacy in the air coupled with their ground/air support strategy.

Using veterans' first-hand accounts, Air Battle For Burma reveals the decisive nature of Allied air power in inflicting the first major defeat on the Japanese Army in the Second World War. Newly equipped…
Read more at Pen & Sword Books...
Of further interest...