The Charge of the Light Brigade
Posted on Wednesday 5th April 2017




The Charge of the Light Brigade

History's Most Famous Cavalry Charge Told Through Eye Witness Accounts, Newspaper Reports, Memoirs and Diaries

The Charge of the Light Brigade at the Battle of Balaklava last just seventeen minutes. Casualties among the five regiments of cavalry amounted to 110 dead and 161 wounded out of just 670 men engaged. It scarcely seems possible that such a minor affair could have aroused so much controversy. The Siege of Sevastopol, in which the Light Brigade played its part by helping defend the British army' supply base in the Crimea, lasted for eleven months and resulted in the death of 128,387 Allied soldiers and a not dissimilar number of Russians. Yet, apart from the possible exception of Florence Nightingale, it is the Charge of the Light Brigade for which the Crimean War is best remembered.

The reasons why (apologies to Cecil Woodham-Smith) are not hard to find. The first is the unquestioning obedience of the officers and men who walked, trotted and then galloped into what Alfred Lord Tennyson memorably called the Valley of Death. Their stories, and there are many later related by the survivors and other observers, make for stirring reading. William Howard Russell of The Times was watching from the heights above the valley:

They advanced in two lines, quickening their pace as they closed towards the enemy. A more fearful spectacle was never witnessed than by those who, without the power to aid, beheld their heroic countrymen rushing to the arms of death. At the distance of 1,200 yards the whole line of the enemy belched forth, from 30 iron mouths, a flood of smoke and flame, through which hissed the deadly balls. Their flight was marked by instant gaps in our ranks, by dead men and horses, by steeds flying wounded or riderless across the plain.

Down below in that plain was Private Mitchell of the 13th Light Dragoons:

In a few minutes, several casualties occurred, for by this time the guns in our front were playing on us with round shot and shell, so the number of men and horses falling increased every moment. I rode near the right of the line. A corporal who rode on the right was struck by a shot or shell full in the face, completely smashing it, his blood and brains bespattering us who rode near.

Riding with the 11th Hussars, was Private Robert Martin:

The fire from the enemy then became most murderous from the flank batteries on our right and left, while the guns in front were belching forth their deadly missiles and making complete streets through our ranks. [Private David] Ward in front of me was blown to pieces, [Private George] Turner on my left hand side had his right arm blown off and afterwards died, and [Private Richard] Young, on my right also, had his right arm blown off. Just at that moment my right arm was shattered to pieces. I gathered it up as well as I could and laid it across my knees.

Sergeant Seth Bond was also with the 11th Hussars:

The smoke was almost too blinding. Horses and men were falling in every direction, and the horses that were not hurt were so upset that we could not keep them in a straight line for a time. A man named Alfred who was riding on my left fell from his horse like a stone. I looked back and saw the poor fellow lying on his back, his right temple being cut away and his brain partly on the ground.

Private Robert Grant rode with the 4th Light Dragoons:

In the early part, a peculiar thing happened. A shot came over the hill and dropped on the neck of the horse of a man named Gowens [actually Private George Gowings]. The shot cut off the head as cleanly as with a knife. The horse stood still for a moment, and then dropped. Gowens got on a spare horse running by, and in a few minutes this horse's head was also shot clean away. On being asked if he was hurt, Gowens replied, 'Not a bit of it.'

Troop-Sergeant-Major Loy Smith wrote of his experiences:

We swept down the valley much nearer the Fedioukine Hills than any other regiment. The round shot passed through us and the shells burst over and amongst us, causing great havoc. The first man of my troop struck was Private Young, a cannon ball taking off his right arm. I, being close to his right ear, fancied I felt the wind as it passed me, I afterwards found I was bespattered with his flesh.

The Light Brigade charged into the heart of the Russian army, some 25,000 strong, which was concentrated at the head of the North Valley with cavalry, infantry and artillery posted on the low hills that flanked the valley. Across the valley was the Don Cossack Battery No.3, and despite the fire from both sides and in front, the light cavalry charged right into the guns.

Joseph Grigg of the 4th Light Dragoons was one of those that reached the Russian battery:

As I passed the wheel of the gun-carriage the gun was fired and I suppose some of the 8th Hussars [behind] got that shot, or shell or whatever it was. The wind was blowing from behind us, and the smoke from the guns prevented us seeing very well what work there was to do. The first man I noticed was a mounted driver. He cut me across the eyes with his whip which almost blinded me, but as my horse flew past him, I made a cut at him and caught him in the mouth so that his teeth all rattled together as he fell from his horse. I fancy I can hear the horrible sound now.

Against all odds, the Light Brigade not only charged through the Russian guns but also into the massed enemy cavalry beyond. After creating chaos amidst the Russian horse, the men had to try and fight their way back through more Russian cavalry which had swept down from the hills to try and cut off the Light Brigade's retreat. By sheer determination, most managed to break through the encircling enemy to reach the safety of the British encampment. 'We rushed in amongst them,' recalled Private James Herbert, 'and there was a renewal of the cutting, slashing, pointing and parrying of the earlier part of the fight. There was no fancy work, but just hard, useful business, and it fulfilled its object, for we cut our way through the opposing lancers.'

The drama and courage of the charge was truly remarkable but, in many respects, this was what was expected of British soldiers. What led to the enduring interest in the charge was that it should not have taken place at all. As Tennyson put it 'someone had blundered' and sent 'The Six Hundred' into the mouths of the Russian cannon. How such a mistake could have occurred has taxed the minds of historians and armchair generals for the last 150 years or more. There have been many excellent books written on the Charge of the Light Brigade, each of which has proposed its own theory. Most place the blame on Captain Nolan, the man who delivered the order from the Commander-in-Chief, Lord Raglan, to the commander of the Cavalry Division, Lord Lucan. Some see Lucan to have been at fault for misinterpreting the order and not seeing clarification of the instructions before sending the Earl of Cardigan's Light Brigade into the middle of the Russian positions. Others believe that the strained relationship between Lucan and Cardigan, who were brother-in-law and detested each other, led to the debacle. The one man who could have provided the answer, Captain Nolan, was killed by the very first shot fired by the Russians just moments after the Light Brigade had moved off. If Nolan had survived there would have been no mystery and the Charge would have become just another noble episode in the long and proud history of the British Army.

Yet the words of the other main characters, Raglan, Lucan and Cardigan, related immediately after the Battle of Balaklava do indeed reveal exactly what went so disastrously wrong. Before any of them realised how great a controversy the charge would generate, they spoke openly – only later would they change their stories. So, to discover exactly what led to the most famous cavalry charge in history, read the words of those who were there.

Article written by John Grehan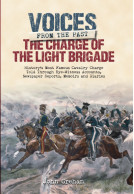 Further Reading
The Charge of the Light Brigade

(Hardback - 260 pages)

ISBN: 9781848329423

by John Grehan

Only

£19.99


The most notorious, and most contentious, cavalry charge in history still remains an enigma. Though numerous books have been written about the charge, all claiming to reveal the truth or to understand the reason why; exactly what happened at Balaklava on 25 October 1854 continues to be fiercely debated. Voices from the Past, The Charge of the Light Brigade relives that fateful day not through the opinions of such historians but from the words of those that were there.

This is the story of the charge…
Read more at Pen & Sword Books...
The View from the Sapourne Heights looking into the 'Valley of Death'. The Fedioukine Heights are to the left with the North Valley and the causeway Heights in the centre and right of the photo. The Russians troops were occupying both heights and the valley when Raglan ordered Lucan to attack. It said that the Light Brigade commenced it's charge in the approximate position of the white buildings seen in the middle distance. ( Courtesy of David Rowlands )
The Old Woronzoff road can be seen winding it's way along the Causeway Heights. ( Courtesy of David Rowlands )
Of further interest...