Tyrant out but tyranny remains by Paul Moorcraft
Posted on Thursday 23rd November 2017




Tyrant out but tyranny remains

Paul Moorcraft

Zimbabweans are so desperate they will celebrate the slight change in tyrant. Emmerson Mnangagwa is smarter, younger and far more ruthless. At least he doesn't have a mad bad wife (yet). The Chinese and the Western intelligence agencies like him so international relations will improve. Internal ones may not.

The advantage of being an old fart is that I can remember seeing exactly the same celebrations when Mugabe came in as the new leader – 37 years ago. I was a young reporter then in the new Zimbabwe. Since then Mugabe has completely destroyed the economy – with 90 per cent unemployment. And it is practically the only country in the world without its own currency. You would have to be a destructive genius with eight degrees, including two in economics, to completely devastate such a naturally wealthy country.

Westerners are not allowed to talk about clans or tribes. It's not PC. Even Zimbabweans talk carefully. The BBC played over and over again the tears of Vimbaishe Musvaburi last night. Powerful stuff. She just said: 'I am from Bulawayo.' That carried all the weight of the genocide of the Ndebele people – tens of thousands of people killed, often buried alive or burned to death in their huts. Supervised by Emmerson Mnangagwa.

He is the former head of the much-feared Central Intelligence Organisation, more powerful than the party in many ways. He was also minister of defence. This was Mugabe's utterly cruel enforcer.

This is a slight rearrangement at the top of the savage power machine that is Zanu-PF. It is also a tidy up of the clan arguments. Mugabe is a Zezuru – Mnangagwa is a Karanga, a major Shona clan that thinks it is their turn to run the trough. Just as Mandela, a Xhosa, was expected eventually to give way to a Zulu (Jacob Zuma).

If Mugabe had lost an election and the opposition had come in then there would be cause for celebration. The opposition is divided and some of their leaders have no clue how to run a union let alone a country.

It is a century exactly since the Russian revolution. Mugabe may well play Kerensky to a Lenin or Stalin (Mnangagwa). A better analogy might be Hitler giving to Himmler in 1944.

There is a slight chance that local southern African pressure plus a little bit more foreign money/food might ease things. Mugabe used to rail against the British and Americans, the same people who were feeding hundreds of thousands of his people. Zimbabwe became less and independent the longer Mugabe stayed in power.

This is clan re-alignment in the ruling party. Not democracy. Moreover, the trade union of ruling dictatorships of revolutionary parties in Angola, Namibia, Mozambique and especially South Africa, will never allow a fellow ruling party such as Zanu-PF, to fall. That would be the first domino.

Pity they can't be like President Ian Khama who put on a special dance to celebrate the end of the tinpot dictator he hated. It would be good if Theresa May or Boris could shake their rears like Khama, who runs an efficient country.

As I said before, this is not the end, it is the beginning. There is some hope but don't over-celebrate all you dear friends in Zimbabwe – a crisis of expectations is bound to follow.

Article written by paul moorcraft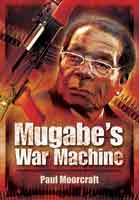 Further Reading
Mugabe's War Machine

(Hardback - 208 pages)

ISBN: 9781848844100

by Paul Moorcraft

Only

£15.00

RRP £19.99


Mugabe's dictatorship in Zimbabwe has survived only because of the vicious suppression of all internal dissent. At the same time, the dictator fought in external wars, regardless of the domestic costs. This revealing book tracks the rise of Mugabe and decodes his psychology in the context of Zimbabwe's military history. His leadership of a guerrilla army against white rule explains how Mugabe continued to rule Zimbabwe as though he were still running an insurgency. Mugabe used military power – the armed forces, militias, police and the dreaded Central Intelligence Organization…
Read more at Pen & Sword Books...
About Paul Moorcraft
Professor Paul Moorcraft is a prolific author and war correspondent who served in the Rhodesian/Zimbabwean Police and worked closely with the British armed forces for many years. His book The Rhodesian War (Pen and Sword 2008) has been a huge success. He lives in the Surrey Hills, near Guildford.
Of further interest...