A GI In The Ardennes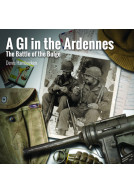 Released: 29th June 2020
RRP: £25.00
Introductory Price:

£9.98



Type: EPub

Buy from Pen & Sword Books for

£9.98



A GI In the Ardennes focuses on the human experience during wartime. What was life like for a regular American soldier who gave his life to combat fascism?

By immersing himself in historical documents, hundreds of letters and several interviews from that period of time, Denis Hambucken managed to accurately reconstruct the daily life of an American soldier in impressive detail. The author takes a closer look at the weapons, equipment and personal belongings of the soldiers who fought at the Western front, while sharing numerous personal anecdotes and moving stories.
Of further interest...