A History Of The Dukes of Bolton 1600-1815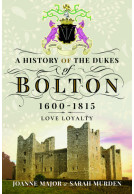 Released: 8th January 2021
RRP: £25.00
Introductory Price:

£20.00



Publisher: Pen & Sword Books
Author: Joanne Major
Type: Hardback
ISBN: 9781473863507
Pages: 240

Buy from Pen & Sword Books for

£20.00



Discover over two hundred years of fascinating history relating to one of Great Britain's foremost aristocratic dynasties, the (Orde-) Powletts, for several generations the Dukes of Bolton. The family motto, Love Loyalty, references their devotion to the monarchy, but it applies equally to their hearts. Willing to risk all in the pursuit of love, this is the previously untold story of the Dukes of Bolton and their ancestors.
Of further interest...