Arsenal: The Story of a Football Club in 101 Lives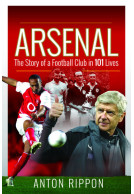 Released: 30th July 2020
RRP: £14.99
Introductory Price:

£11.99



Publisher: Pen & Sword Books
Author: Anton Rippon
Type: Paperback
ISBN: 9781526767745
Pages: 240

Buy from Pen & Sword Books for

£11.99



Arsenal: The Story of a Football Club in 101 Lives tells the history of the Gunners through the biographies of key individuals associated with the club from its formation in the gas-lit days of Victorian Britain through to the present day.

From David Danskin, the Scottish mechanical engineer and footballer who was the driving force behind the team raised at Dial Square, a workshop at the Royal Arsenal in Woolwich, to Arsene Wenger, the longest-serving and most successful manager in Arsenal's history, these in-depth stories of the characters – players, managers, chairmen – here paint a fascinating picture of how the club – indeed, the game of football itself – has developed from workers playing for fun to today's multi-million-pound business.
Of further interest...