British Diesel and Electric Locomotives Abroad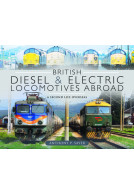 Released: 6th November 2019
RRP: £30.00
Introductory Price:

£30.00



Publisher: Pen & Sword Books
Author: Anthony Sayer
Type: Hardback
ISBN: 9781526744692
Pages: 288

Buy from Pen & Sword Books for

£30.00



This book was originally envisaged as a purely photographic overview of those British main-line diesel and electric locomotives which managed to find further useful employment across Europe after completion of their careers in the United Kingdom. However, such was the quantity of information collected regarding these exported locomotives and their operational deployment over the past twenty years that the scope of the book was expanded to incorporate both the factual and the pictorial into a detailed history of these locomotives. The geographical use of the locomotives is surprisingly extensive including France, the Netherlands, Spain, Italy, Kosovo, Hungary, Romania, Bulgaria and Croatia in the twenty years since 1998.

A significant amount of exclusive factual information and over 200 previously unpublished photographs combine to provide a comprehensive insight into the British locomotives now finding a second life overseas, including coverage of Class 37, 56 and 58 locomotives on high-speed line construction work in France, Class 37 mishaps in Spain, Class 86s on their day of arrival in Bulgaria, and various types of a.c. electric locomotives in their new "natural habitats" across Eastern Europe.
Of further interest...