Castle Builders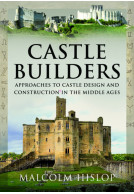 Released: 1st March 2021
RRP: £18.99
Introductory Price:

£15.19



Publisher: Pen & Sword Books
Author: Malcolm Hislop
Type: Paperback
ISBN: 9781526796615
Pages: 272

Buy from Pen & Sword Books for

£15.19



In Castle Builders, Malcolm Hislop looks at the hugely popular subject of castles from the unusual perspective of design and construction. In this general introduction to the subject, we discover something of the personalities behind their creation - the architects and craftsmen - and, furthermore, the techniques they employed, and how style and technology was disseminated. Castle Builders takes both a thematic and a chronological approach to the design and construction of castles, providing the reader with clear lines of development. Themes include earth, timber and stone construction techniques, the evolution of the great tower, the development of military engineering, the progression of domestic accommodation, and the degree to which aesthetics contributed to castle design.
Of further interest...