Catastrophe at Spithead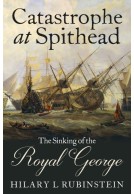 Released: 15th January 2020
RRP: £25.00
Introductory Price:

£20.00



Publisher: Pen & Sword Books
Author: Hilary L Rubinstein
Type: Hardback
ISBN: 9781526764997
Pages: 288

Buy from Pen & Sword Books for

£20.00



In one of the most sensational and perplexing incidents in naval history, Rear Admiral Richard Kempenfelt, a much-voyaged veteran and outstanding officer, drowned along with more than 800 crew and many civilian visitors, male and female, on a calm summer's morning and in a familiar anchorage. This new work examines that tragedy – the sudden capsizing at Spithead on 29 August 1782 of the mighty flagship HMS Royal George.

This is the first comprehensive account of the calamity and is based on a wide variety of contemporary sources, including reports by survivors and eyewitnesses. It discusses such issues as how and why she sank; on whom, if anyone, the blame should fall; the number and nature of the casualties; and the disaster's impact on the nation's psyche, including its treatment in literature. In its pages are encountered, by name and fate, some of the hitherto anonymous seamen who were on the ship and who lived to become the last remaining survivors; these included the only woman to be picked up alive, out of perhaps 300 who were on board.

As well as describing the sinking, the book provides information never before uncovered on the life and career of Kempenfelt, whose flagship Royal George was, ranging from his hitherto unknown maternal ancestry (through which it is shown that he was related to his great contemporary, Admiral Rodney) to accounts of his whereabouts when the ship sank. These call into question the now-set-in-stone scenario in William Cowper's famous poem, which depicts Kempenfelt writing in his cabin when she foundered.

Although the Royal George has receded from national memory in recent years, the tragedy was for a long time front and centre in representations of British naval culture, and this absorbing account – part detective story, part historical narrative – will bring to a new audience an extraordinary tale from the heyday of Britain's naval power.
Of further interest...