Code Wars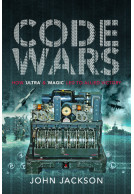 Released: 6th April 2020
RRP: £12.99
Introductory Price:

£10.39



Publisher: Pen & Sword Books
Author: John Jackson
Type: Paperback
ISBN: 9781526774910
Pages: 224

Buy from Pen & Sword Books for

£10.39



When the top secret codebreaking activities at Bletchley Park were revealed in the 1970s, much of the history of the Second World War had to be rewritten. Code Wars examines the role of ULTRA (the intelligence derived from breaking secret enemy signals) on major events of the Second World War. It examines how it influenced the outcome of key battles such as D-Day, El Alamein, Crete, key naval battles, the controversy surrounding Churchill and Coventry, the shadowing of Hitler's V1 pilotless aircraft and the V2 rocket.

The book also examines the pioneering work in breaking Enigma by the Polish cryptographers, and the building of Colossus, the world's first digital, programmable computer, which helped unravel the secret orders of Hitler and the German High Command. It also tells the story of the American successes in breaking Japanese signals, known as Magic.

It also stresses the vital role of the intercept stations which took down the enemy messages, providing the raw material for the cryptographers to break.

The book shows how the codebreakers were able to shorten the war by as much as two years and bring Signals Intelligence, in the post-war years, into a new era of military intelligence gathering.
Of further interest...