Cross & Crescent in the Balkans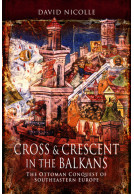 Released: 14th February 2020
RRP: £15.99
Introductory Price:

£15.99



Publisher: Pen & Sword Books
Author: David Nicolle
Type: Paperback
ISBN: 9781526766731
Pages: 272

Buy from Pen & Sword Books for

£15.99



This is not just another retelling of the Fall of Constantinople, though it does include a very fine account of that momentous event. It is the story of an extraordinary century, which began when a tiny force of Ottoman Turkish warriors were invited to cross the Dardanelles by the Christian Byzantine Emperor. They crossed from Asia into Europe to assist him in one of the civil wars, which was tearing his fast-declining empire apart. 108 years later, the Byzantine capital of Constantinople fell to what was by then a hugely powerful and expanding empire of the Islamic Ottoman Turks. The new rulers came to see themselves as the natural and legitimate heirs of their Byzantine, and indeed Roman, predecessors.

David Nicolle sets the scene by explaining the background of the military, political, cultural and personal history, of the winners and the losers, plus those 'outsiders' who were increasingly drawn into the dramatic story of the rise of the Ottoman Empire.
Of further interest...