Dresden and the Heavy Bombers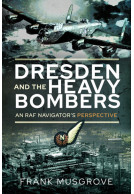 Released: 8th January 2021
RRP: £12.99
Introductory Price:

£10.39



Publisher: Pen & Sword Books
Author: Frank Musgrove
Type: Paperback
ISBN: 9781526791009
Pages: 128

Buy from Pen & Sword Books for

£10.39



This is the first hand account of a young man's entry into World War II in 1941, culminating in his role in the bombing of Dresden in February 1945 by RAF Bomber Command. This is not a gung-ho account of flying with Bomber Command, instead Musgrove takes the form of a basic narrative in his memoir, paying particular attention to fear, morale and, as the author explains, the myth of leadership felt by those involved first hand.

Several raids are described in detail and illustrate the variety of experiences, problems and dangers involved in such hazardous warfare. First published nearly 60 years after his experiences, Musgrove delves in to his recollections of the bombing of factories and cities to reflect on the grave moral issues brought on by this particular raid.
Of further interest...