Following in the Footsteps of Edward II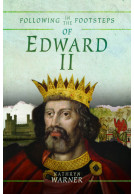 Released: 12th August 2019
RRP: £12.99
Introductory Price:

£4.99



Type: Kindle

Buy from Pen & Sword Books for

£4.99



Edward II is famously one of England's most unsuccessful kings, as utterly different from his war-like father Edward I as any man possibly could be, and the first English king to suffer the fate of deposition. Highly unconventional, even eccentric, he was an intriguing personality, and his reign of nineteen and a half years from 1307 to 1327 was a turbulent period of endless conflict and the king's infatuation with his male favourites, which ended when his own queen led an invasion of his kingdom.

Following in the Footsteps of Edward II presents a new take on this most unconventional and puzzling of kings, from the magnificent Caernarfon Castle where he was born in 1284 shortly after his father conquered North Wales, to his favourite residences at King's Langley in Hertfordshire and Westminster, to the castle of Berkeley in Gloucestershire where he supposedly met his brutal death in September 1327, to Gloucester Cathedral, where his tomb and alabaster effigy still exist and are among the greatest glories surviving from medieval England.
Of further interest...