Hitler's Girls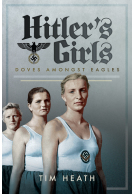 Released: 18th August 2017
RRP: £19.99
Introductory Price:

£11.99



Type: Kindle

Buy from Pen & Sword Books for

£11.99



Hitler's Girls is not just another Hitler Youth history book. Concentrating purely on the role of German girls in Hitler's Third Reich and taking unpublished first-hand accounts, we learn of their home lives, schooling, exploitation and eventual militarisation. From the prosperous beginnings of 1933 to the cataclysmic defeat of 1945, this insightful book examines in detail their specific roles as defined by the Nazi state.

Written in an attempt to provide a definitive voice for this unheard generation of German females, it will leave the reader to decide for themselves whether or not the girls were the obedient accessories to genocide and it will lead many readers to question many aspects of what they have previously thought about the role of girls and young women in Adolf Hitler's Third Reich. This is their story.
Of further interest...