Knight's Cross Winners of the Waffen SS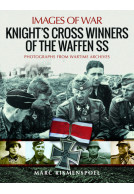 Released: 15th September 2020
RRP: £14.99
Introductory Price:

£11.99



Publisher: Pen & Sword Books
Author: Marc Rikmenspoel
Type: Paperback
ISBN: 9781526767585
Pages: 144

Buy from Pen & Sword Books for

£11.99



Knight's Cross winners of the Waffen-SS details some of the most-decorated personalities of that infamous organization. Rare photos will portray men such Sepp Dietrich, Theodor Eicke, and Michael Wittmann. The images are a mix of studio portraits and shots taken in the field.
Of further interest...