Lake Ilmen, 1942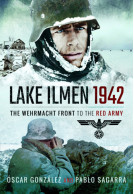 Released: 11th February 2019
RRP: £25.00
Introductory Price:

£25.00



Publisher: Pen & Sword Books
Author: Oscar Gonzalez
Type: Hardback
ISBN: 9781526719935
Pages: 130

Buy from Pen & Sword Books for

£25.00



In January 1942, south of Lake Ilmen (Russia), the 16th German Army clashed with Morozov's 11th Soviet Army for possession of the strategic Russian city of Stelaia.

In this battle, which has gone almost unnoticed in studies of the Eastern Front, the Blue Division (Spanish volunteers) fought alongside the 250th Skier Company. The Spaniards, along with their German and Latvian comrades, endured hard fighting in extreme winter conditions.

In addition to providing a strategic framework of the battle itself, including the Soviet perspective, this book also looks at the human aspect of the battle by analysing a selection of the volunteers who fought in it.
Of further interest...