Land Craft 4: Stryker Interim Combat Vehicle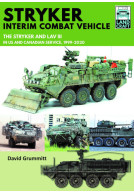 Released: 8th January 2021
RRP: £16.99
Introductory Price:

£13.59



Publisher: Pen & Sword Books
Author: David Grummitt
Type: Paperback
ISBN: 9781526774187
Pages: 64

Buy from Pen & Sword Books for

£13.59



The Stryker interim combat vehicle was a stop-gap measure, designed to meet the needs of the United States to project its military force quickly by air into hotspots around the world. In 2003 it had its baptism of fire in Iraq and has since proved itself an integral part of the US's warfighting capability and now, two decades into its service, the Stryker has been adapted to face the new threat of a resurgent Russia.

This volume in the LandCraft series of modelling guides examines the Stryker and LAV III in US, Canadian and New Zealand service. In addition to describing in detail the design, development and operational history of the Stryker and LAV III, David Grummitt gives a full account of the wide range of modelling kits and accessories available and features six builds covering the most important variants. Detailed colour profiles provide both reference and inspiration for modellers and military enthusiasts alike.
Of further interest...