Last Post over the River Kwai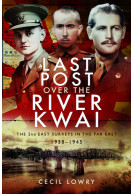 Released: 28th November 2018
RRP: £19.99
Introductory Price:

£19.99



Publisher: Pen & Sword Books
Author: Cecil Lowry
Type: Hardback
ISBN: 9781526736918
Pages: 211

Buy from Pen & Sword Books for

£19.99



Last Post Over the River Kwai is the carefully researched account of the experiences of the officers and men of 2nd Battalion The East Surreys during the Second World War.

Stationed in Shanghai in the early 1940s, the Battalion was deployed to Malaya and fought gallantly to slow the Japanese advance. After heavy losses the survivors found themselves POWs in Singapore in February 1942 after the humiliating surrender which Churchill described as Britain's worst ever military disaster.

The next three and a half years saw members of the Battalion suffering appalling hardship at the hands of their brutal Japanese captors, whether in Singapore, on the Death Railway, Malaya or Japan itself, as wells as on hellships. Many died but remarkably the majority survived to tell their story. Their prolonged captivity with unbelievable hardship, deprivation and cruelty makes for distressing but inspiring reading.
Of further interest...