Living with Allergies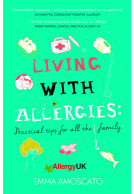 Released: 7th October 2019
RRP: £12.99
Introductory Price:

£12.99



Publisher: Pen & Sword Books
Author: Emma Amoscato
Type: Paperback
ISBN: 9781526751607
Pages: 144

Buy from Pen & Sword Books for

£12.99



An allergy diagnosis can be overwhelming and life changing but this book provides brings together all the in-depth information and practical tips you need. It includes interviews with the country's leading allergy experts, advice from people living with allergies and has been endorsed by Allergy UK.

Living With Allergies provides insight into each allergic condition, how to cope at different life stages and information on diagnosis, treatment and everyday management. It also includes tips the doctors don't tell you: How do you manage allergy anxiety? How do you keep your child safe at school? How can you travel abroad with allergies? This book will help you learn how to live with allergies in a proactive and positive way.
Of further interest...